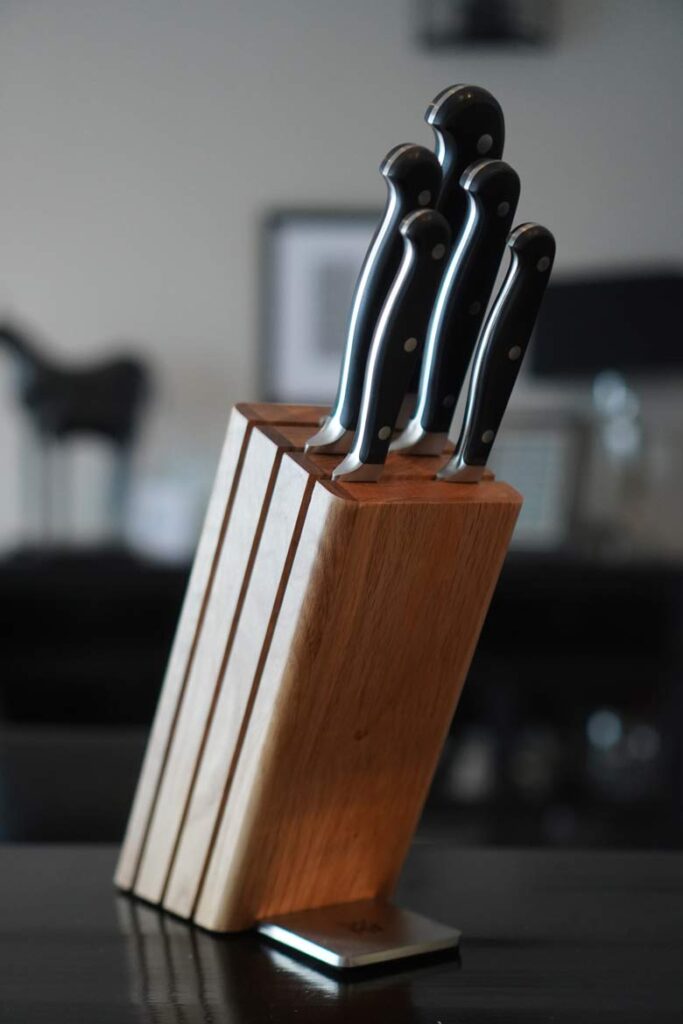 Looking for a new knife set for your kitchen? Read on to find out if the WMF Spitzenklasse Plus range is for you…
Purchasing a new knife set is never the easiest of decisions – are they all the same, or do some offer more features than others? We're excited to take the WMF Spitzenklasse Plus Knife set for a spin to see just how it measures up.
Obviously, a lot of what is discussed in this review will relate to the individual WMF Spitzenklasse Plus Knives also, but as we're reviewing the set, the knife block is definitely worth mentioning. We love the sophisticated oak block that comes packaged with the 6-set and personally, we find it a lot classier and more modern than the rather yellow-toned wood blocks that are so common on the market. Sat on a stainless steel base, this is a block that looks the part. Keeping your knives in a block will also keep them sharper for longer, another plus.
The six-piece WMF Spitzenklasse Plus knife set includes:
1 x Double Serrated Utility Knife (12cm)
1 x Carving Knife (16cm)
1 x Chefs Knife (20cm)
1 x Double Serrated Bread Knife (20cm)
1 x Vegetable Knife (8cm)
Obviously, the price depends on your market, but the one constant is that this set represents great value, coming in significantly cheaper than if the knives were purchased separately. We think the set is the clear way to go, and this one really ticks all the boxes with the knife styles selected. You've got your essential chefs and bread knives, a great medium-sized carving knife and two handy smaller knives – the serrated utility knife is particularly handy for tomatoes.
The knives are sturdily crafted from high-quality hardened, special blade steel (15% chrome-molybdenum-vanadium steel) which is finer, harder and less prone to corrosion. The scales of the handle are attached to the tang of the knife via steel pins and ergonomically shaped; whether you hold your knife towards the end of the handle or towards the bolster, it's a comfortable fit. The only downside of the resin handles is the finish where the scales have been ground down to meet the bolster doesn't look as polished as some knife sets, but we do have to consider the price point of these knives – one that's definitely in the range of more affordable sets.
WMF knives have a specific Performance Cut blade angle of 20 degrees and to keep them in the best condition, we recommend washing by hand and using WMF's own knife sharpener for easy sharpening.