Will Indochine Dubai be a hit or just another disappointment?
Fabulous Asian restaurants in Dubai? We can count them on one hand – so naturally, we're more than keen to put new(ish) DIFC arrival Indochine through its paces. After our recent visit to Hutong, which we found to be rather, well, ho-hum, we're keen to find more Asian venues that truly deliver.
We fell in love with the interiors from the moment we walked in. The tropical decor stays true to the New York location's Havana-like vibes, but honestly, we think the Dubai fit out is much more luxe. That really shouldn't come as a surprise, as the celeb-fave OG has been around for over 35 years. Inspired by the French founder's love for the Beverly Hills Hotel's iconic "Martinique" banana leaf wallpaper, the theming is immersive without losing sophistication.
We begin with starters both cold and hot; fresh and sticky-sweet. The Pomelo salad with shaved fennel, kohlrabi ribbons, red onion, crispy shallots, orange and miso soy dressing (46dhs) delivers just what it says on the label, its clean citrus vibes perfect for cutting through the rich Crispy eggplant with its spiced caramel, chilli, scallions, sesame and cilantro (48dhs).
Although we were strangely discouraged from ordering these as a pairing as we were told they are both quite strong flavours, personally, we think they complimented each other perfectly. The crispy eggplant, in particular, was rather wonderful with its soft, juicy insides and fresh herbs (we seriously don't see enough herbs on plates these days).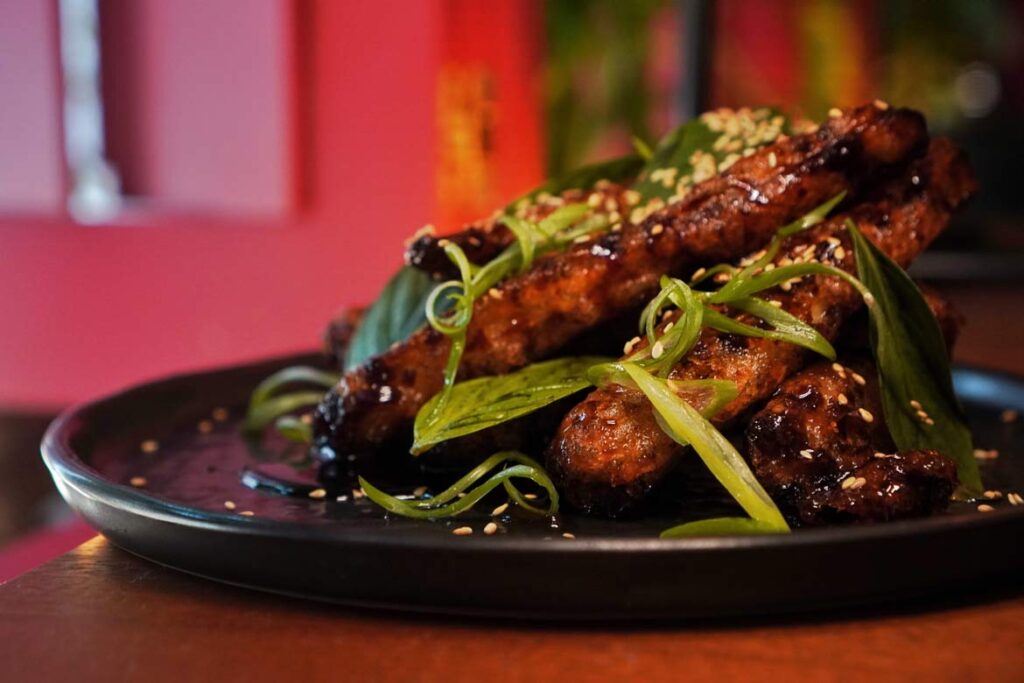 Mains are up next, and surprisingly, they aren't a step down from the starters, which is too often the case in Dubai. Colour us impressed. The larger plates really do deliver, and consistently. We start off on the milder side of things with the Hanoi crispy cornfed chicken, lemongrass chilli paste, spice salt, scallion ginger relish, lemon(145dhs) which is perfectly, well, nice, but just doesn't pack the flavour punch we love when it comes to Asian cuisine. Don't get us wrong, it's good, we just lean more towards bombastic flavours.
The Wok tossed rice noodles with asparagus, king oyster mushroom, chilli, scallion, mushroom sauce, sesame (76dhs) are not your average noodle – they are in fact rolled noodles (think more gnocchi-like pillows than thin strands of noodle) and the dish as a whole is utterly delicious – this one had Haiya of PassMeTheDimSum.com going bonkers (so much so that she almost ordered a second portion).
We now come to our two favourite dishes of the meal – they're not just good, they're must-order level dishes. We're talking fight-your-tablemates-over-the-last-bite good. We're talking Dubai's-best-dishes level good. We're talking about the Slow cooked lamb char siu, honey glaze sauce and pickled ginger (190dhs) and the Charred corn with Sriracha butter, coconut milk and scallions (40dhs). There's no point trying to describe these in any further detail – just go and taste them for yourself. Stunning.
Considering how consistently excellent the meal had been so far, we thought it would be an easy sprint through desserts to the finish line for Indochine, but sadly this seemed to be the hurdle that caused a bit of a stumble. The chocolate ganache with honeycomb and was fine if not particularly exciting, save for the five spice ice cream – but we didn't really find it exciting in a good way. Similarly, the matcha tart didn't impress, with the the matcha-obsessed diner at our table noting that there wasn't really any matcha flavour of note, and the other diners at the table (the pork eaters) noting that, rather bizarrely, that the tart reminded them of well, baloney. Yes, we realise comparing a dessert to a deli meat sounds rather weird, but there was just something, well, odd about it.
Being that we're not really dessert fans, we opted for a cocktail instead, which we think was the best choice – it was excellent (and honestly, the whole list sounds divine), even if it the glass did come with a chip and the very pointy missing glass shard stuck to the outside of the rim. Not ideal, but it was promptly replaced when we pointed it out – in general though, we'd love to see restaurants check glasses more before sending them out.
Overall we were truly impressed with the truly fab food on offer at Indochine – maybe Dubai is starting to get there when it comes to Asian cuisine worthy of the calories (and the price tag). We'd head back in a heartbeat – Indochine kills it in so many areas with fabulous food, exotic-yet-refined decor, great cocktails and reasonable prices (we would love it, however, if they could update the playlist as it feels like it would have been a better fit 35 years ago when Indochine first opened). Indochine is absolutely one of Dubai's best restaurants right now. Book with confidence.