Translating to 'heat' in Japanese, is Netsu as hot as its moniker implies?
Billed as 'a contemporary Japanese Steakhouse with a focus on Warayaki cooking style' (that's a straw fired grill from the Kochi region of Japan, just FYI), Netsu by Ross Shonhan resides in one of Dubai's newest luxury hotels (and a favourite of ours), the Mandarin Oriental Jumeira.
The Kabuki-inspired decor is and light and airy, with no wall-adjacent seating such as booths or banquettes, giving the restaurant a more casual feel. If you enjoy watching the action in the kitchen during your meal, there's plenty of chefs' counter seating, including around the famous grill. As we prefer, like cats and soldiers, to have our back to the wall, we were relieved we still managed to find a cosy table to tuck ourselves into in a corner. We love the decorative sake barrels provided as handbag 'seats', and the neon lighting from the former lounge above (we can't have such things in COVID times) gives it just enough Dubai factor.
Being the first to arrive, we had plenty of time to peruse the cocktail menu and believe us when we say, it's a good one. We elected to commence our evening with the 893 (El Jimador Reposado, St-Germain, Passion Fruit Puree, Lime Juice, Sugar Syrup, Red Chilli, Beer Foam, 80dhs), though choosing from Netsu's expertly-curated list is no easy task. The 893 is deliciously spicy with hints of fruity sweetness tamed by the sour notes of the beer foam, and overall it's a killer drink that feels like a fabulous match for the food on offer.
We also loved the Sho Jam Fizz (Gin, Homemade Basil & Fennel Cordial, Peach Jam, Yuzu Tonic) and the Japanese Margarita (El Jimador Reposado, Yuzu Juice, Agave Syrup, Shiso Leaf). Cocktails are 80dhs across the board, and we think you'll have a hard time stopping at just one…
The starters are priced very reasonably, with each of the three we tasted coming in at under 55dhs a piece. Being mad fried chicken addicts, our first order simply had to be the Korean fried chicken with spicy sour sauce and sesame (55dhs). The chicken was crispy and juicy but felt a touch heavy on the sour side of things for us. Similarly, the other two starters we sampled also felt a bit out of balance, with the Seaweed salad with sesame ponzu, nashi, crispy nori (52dhs) being very heavy on the sesame element, and the Eggplant with sweet miso, bubu arare (42dhs) a good measure too sweet for us.
We're suckers for Wagyu sushi and Netsu's take truly impresses. We enjoyed ours sans-caviar, and felt none the poorer for the exclusion. Both the Wagyu & foie nigiri sushi (340dhs with black truffle and Oscietra caviar) and the Wagyu gunkan sushi (175dhs with Oscietra caviar) were to die for. Netsu's offering definitely ranks up there with our favourite sushi in Dubai. Netsu also gets points for serving real wasabi root in the traditional way, grated at the table on shark skin. A nice touch.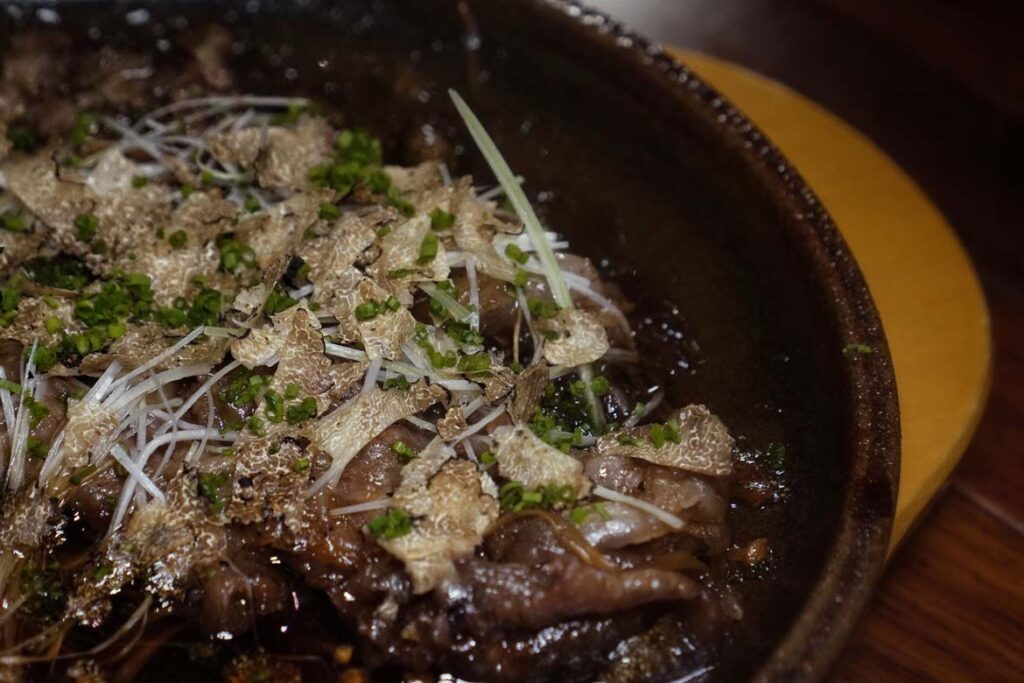 Dish of the night, however, has to go to Netsu's Wagyu truffle sukiyaki with sweet soy and caramelised onions (275dhs). We grew up feasting on sukiyaki at home on a regular basis, so to say we were excited to see this rarely-offered dish on the menu would be an understatement. It was our must-order of the night and more than lived up to our high expectations. Paper-thin, ultra fatty Wagyu, super sweet soy and caramelised onions…this is our idea of heaven. We think it probably would have been smart to have ordered some rice alongside to soak up all the decadent sauce, but regardless, it was simply perfection. One of the best dishes in Dubai, in our books. Admittedly, 275dhs feels a little steep for the portion size, but it was so good that we can't complain too much.
Given that Dubai now seems to be the global hotspot for Wagyu sandos outside of Japan, we couldn't resist putting Shonhan's version through its paces. The Amazing steak sando with Wagyu beef tenderloin, Japanese milk bread and gold flakes (240dhs) is perhaps the most Dubai of the sando bunch we've seen so far, adorned with piles of gold flakes, but we think in the age of the pandemic recession we'd rather see less gold and more focus on making a great product at a great price point. Aside from the gold, it's a very simple take on the sando, with just a tomato-based sauce accompanying the meat and milk bread. At the price point and given the comps in the market when it comes to Wagyu sandos, we feel this one has a ways to go to trump the competition.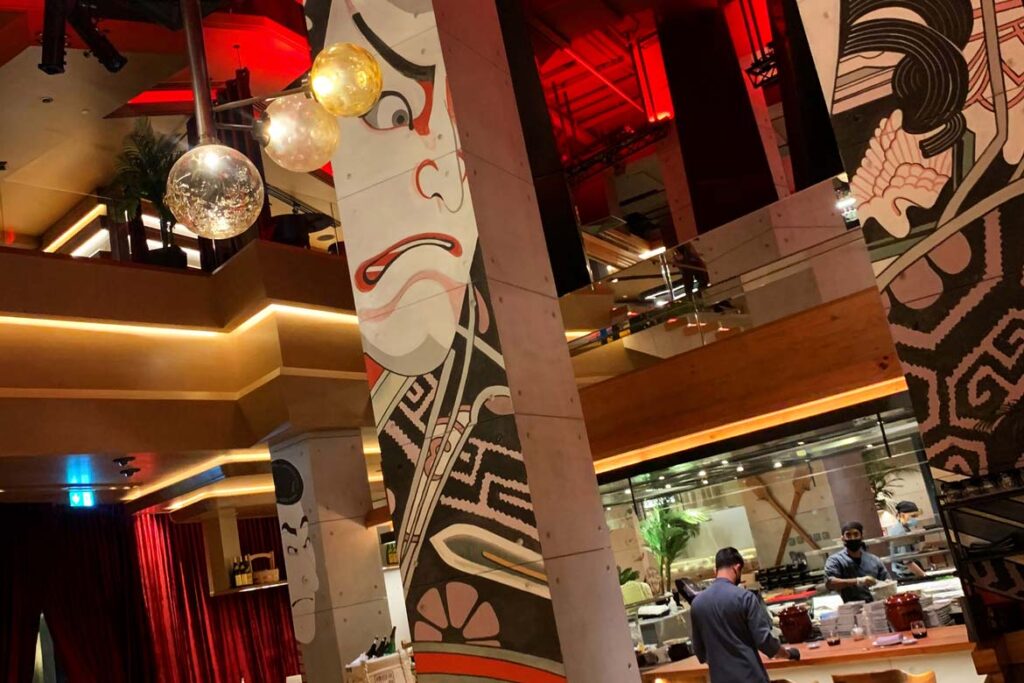 It's worth noting that we hear Netsu's prices have come down recently (something we're seeing quite a lot across the city) and the talking point 1000dhs sando and1500dhs rice dish are gone – and honestly, it's about time. We're loving seeing Dubai get a little more realistic.
Of course, we had to try something from the famous 900 degree Warayaki grill – we tasted the Australian Wagyu Short Rib "bo ssam" style 220g (350dhs) which was very much recommended to us by the team, coming served with lettuce leaves and kimchi. We think this one is for serious Korean BBQ fans – we'd say go for the Rib Eye perhaps instead, which offers 300g at the same 350dhs price point. We also tried the Grilled broccoli with wafu dressing and toasted sesame (45dhs), which we'd file in the heavier, smokier category alongside the short rib, and the Grilled corn with salted kombu and shiso powder (52dhs) which was our pick of the grilled offerings.
Given that we were really out of room by the time dessert rolled around, we opted to just sample a couple of bites of mochi, which were excellent. Perhaps the most standout element of the night, however, was the extraordinarily friendly and personal service from the staff at Netsu, really next level compared to the general standard in Dubai. We did have a couple of mix-ups with drink orders, but even this can't sway us from giving the service at Netsu a 10/10.
Would we recommend Netsu? We think there are dishes that are absolutely worth the journey – in particular, any of their Wagyu sushi options and that divine sukiyaki. We definitely advise you go deep on the fabulous cocktail list, and finish with some of their moreish mochi. Pair this with service as personable as that at Netsu and you're sure to be in for an excellent dining experience.