Le Royal Meridien's Maya offers Mexican and margaritas by the seaside…
It's our second visit to Le Royal Meridien's Mexican eatery, Maya, our first being for their brunch around a year or two prior. While that experience didn't particularly knock our socks off, we're always keen to test out some a la carte dishes as invariably, they are more exciting than those offered in an all-you-can-eat brunch format.
The restaurant itself has had a facelift, its newly-painted deep teal walls feeling much more modern than the previous pale green, and they've also covered in a huge amount of the formerly outdoor terrace. Their usually colourful outdoor area is currently closed given the heat, but we're keen to return to experience Maya's cuisine alfresco – we think their food probably tastes its best while dining outside in Dubai's balmy winter climes and tropical vibes.
The starters are mostly variations on nachos and tacos, but we managed to find a couple of more interesting dishes to order – first up, burrata. Being Dubai, it's not at all unusual for a Mexican restaurant to have burrata on the menu – and given how much we love burrata, of course, we had to order it. Maya's Burrata salad (80dhs) has a lot going on – the menu lists mixed greens, balsamic reduction, Mexican pesto, fried plantain, preserved mango, pomegranate and dehydrated tomato – and overall, we think it works, just, but if you omit the rather unusual preserved mango, it works better.
Another menu item we can never resist? Chicken wings. Maya's habanero glazed version (70dhs) are sticky, spicy, sweet and pretty damn good, if perhaps a little less juicy than we've become accustomed to.
We love spicy food and even spicier cocktails – so Maya's Caliente margarita (58dhs) was simply irresistible. Featuring house-infused jalapeño tequila, Grand Marnier, jalapeño, pineapple and citrus, this is about as good as a margarita gets. We'd have downed multiples if we didn't feel a duty to test more of the cocktail menu; thankfully our next choice, the Maya Zombie (58dhs) was just as fabulous. Sailor Jerry, Grand Marnier, absinthe, grapefruit, mango and yuzu purée combine to make another killer cocktail, and if we'd had more energy, we think we would have delved even further into the list – instead, our impending food coma called for an espresso martini which was also very well executed (even rebelliously topped with four beans over the traditional three).
The mains section of the menu is very fajita-heavy, and while we love a good DIY taco, we feel fajitas are a bit overplayed so the Bandeja de carne (200dhs) seems like the perfect compromise. Thin slices of beef rib eye, beef flank steak and beef chorizo arrive with all the accompaniments one could wish for – grilled cheese, smoked guac, tatemada sauce (a smoky tomato salsa), sour cream, rice, roasted pearl onion and serrano chilli, all ready to be assembled into the (very authentic) corn tortillas as you wish. The 200dhs price point isn't too bad when you consider it easily fed two (admittedly not that hungry) diners.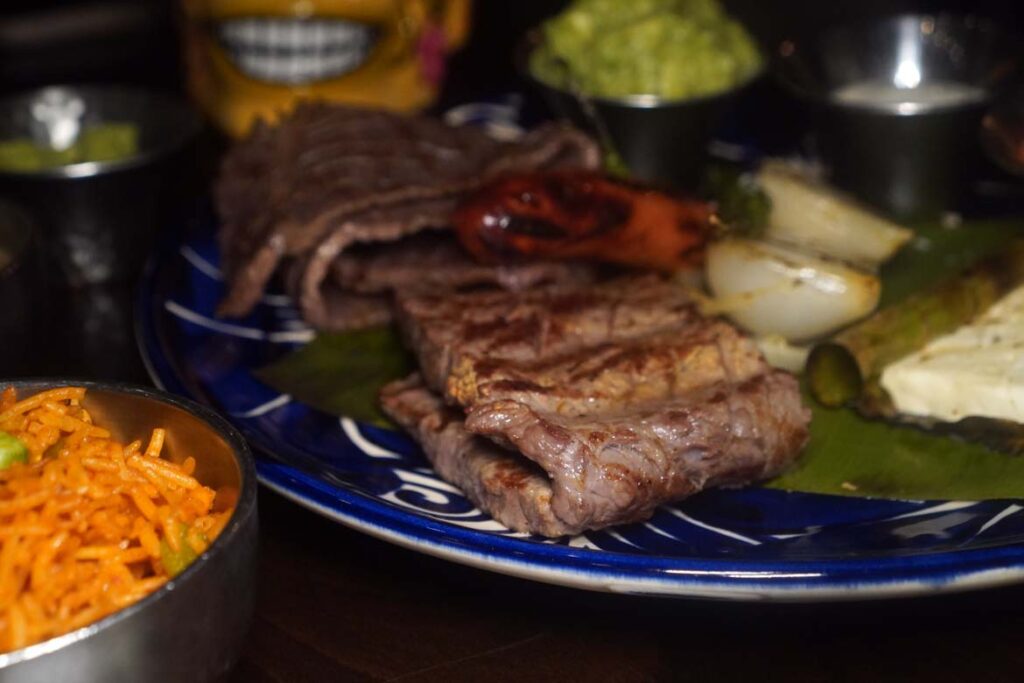 We can't go past churros when it comes to Mexican desserts, and Maya's are spectacular. They're thick, golden brown and perfectly crispy – we absolutely love these churros (55dhs). We can't say the same about the sauces that accompany them, however, the goat milk-based Cajeta caramel being just too funky for us – we'd prefer the cow's milk-based equivalent, dulche de leche.
Our only complaint? The menu seems a bit, well, basic. Given how taco and fajita heavy it is, it just feels a bit dated, more like a menu we'd expect to read at mall-favourite Rosa Mexicana. We feel this may be due to the restaurant mostly servicing in-hotel guests (the majority of which are on a limited half-board menu), many of which are families, but we think they'd attract a lot more non-hotel guests if they made the menu a little more interesting. Chef Richard Sandoval's recipes, the food quality and the authenticity are all definitely up there – we think just think Maya could benefit from stepping outside its comfort zone a little.