If you thought Gochu's famous JFC was the pinnacle of Korean chicken, you're in for a treat with this recipe…
When we asked Gochu head chef Jason Kim if he might like to contribute a recipe to our collection, we were shocked when he offered to disclose the secret to his incredible Charred Chicken with Comté Sauce. Whilst Gochu is most famous for their JFC (Jason's Fried Chicken), we think this is actually the best dish on the menu – and those wings are hard to beat, that's for sure.
If you've been fortunate enough to dine at Gochu, then we know you'll understand why this is such a big deal to us. It's one of our favourite dishes in the world, and we're jumping out of our skin with excitement over being able to give it a crack at home when we can't get our Gochu fix. A warning though – this is a seriously addictive dish. It's a 10/10.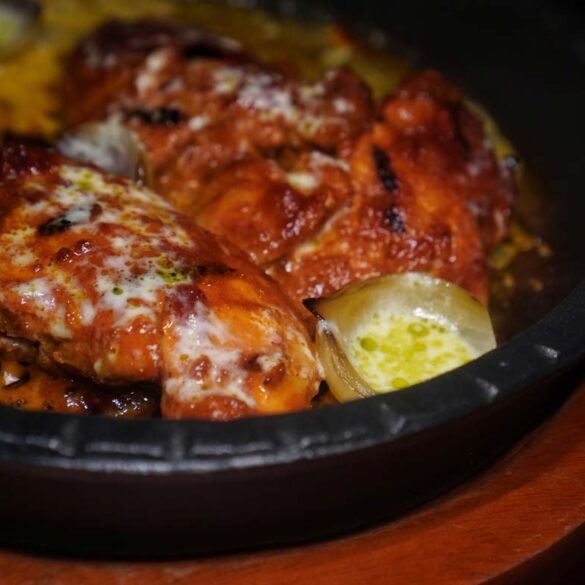 Ingredients
500g skinless boneless free-range chicken thigh
-----
GOCHUJANG SAUCE (Dak galbi)
2 red apples (peeled and cored)
1 onion (peeled)
5 cloves garlic (minced)
8 Tbsp Gochujang (Korean chili paste)
4 Tbsp Gochugaru (Korean chili powder)
3 Tbsp corn syrup
2 Tbsp soy sauce
1/2 Tbsp salt
1 tsp ground black pepper
-----
COMTÉ CHEESE SAUCE
1L milk
250g Comté cheese (cut into small cubes)
1/2 onion (chopped)
1 bay leaf
3 black peppercorns
Instructions
1. Place all ingredients for the marinade into the blender, blend well until it becomes a paste
2. Chop the chicken thigh into 4cm x 4cm pieces
3. Place the chicken thigh pieces in a bowl, pour the sauce over and marinate for at least 4 hours (overnight if possible)
4. Place all ingredients for the cheese sauce into a pot over medium heat, stirring occasionally. Cook until the comté melts through. Sieve the sauce and set aside.
5. Preheat a large skillet on medium-high heat. Once heated, add some cooking oil and cook the chicken until cooked or check it with a thermometer (cook until the meat reaches 80 degrees)
6. Preheat a sizzling plate on high heat and once it's smoking hot, place the cooked chicken on
the plate and pour the sauce over the chicken. Wait until the sauce has reduced and enjoy.