Where Japan meets Spain: Haku Hong Kong delivers a unique take on the traditional dining style
It's our second visit to Hong Kong's Haku and we think it still qualifies as a hidden gem, despite the fact that it's rapidly gaining fans and famous chef collabs (Central's Virgilio Martinez is just one of the many chefs who've shared the kitchen at Haku recently). It's definitely hidden – despite its shopping centre location, we've struggled to find it both times we've visited, and it's absolutely a gem.
Haku is small, dark and intimate. With its dimly-lit tables and chef's counter seating, you'd be forgiven for thinking you've wandered into a small Japanese Kaiseki. And with good reason – Kaiseki is exactly where Haku takes its inspiration from, but here it's served up with a twist. Argentinian raised Head Chef Agustin spent 6 years cooking at top Japanese establishments and this fusion of cultures shows on the menu. You'll find traditional Japanese dishes with Spanish ingredients such as Iberico ham and manchego served alongside Spanish dishes conversely brought to life with traditional Japanese ingredients. It's definitely an aspect that makes the menu at Haku unique – we doubt you'll see quite this combination anywhere else.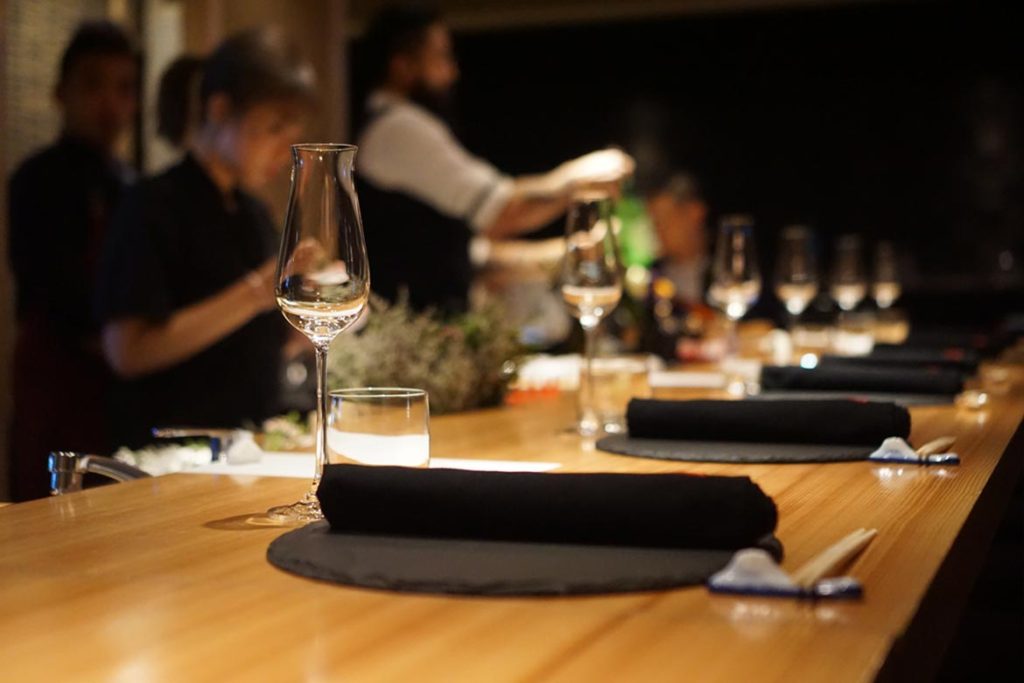 Our evening begins with a welcome drink of an umeboshi sake, the first of many sakes we will enjoy throughout our evening. Haku sommelier Wallace Lo expertly intersperses sake with wine as the evening unfolds, and despite the fact that we're not sake lovers, manages to win us over time and time again with his excellent pairings.
We're really putting Haku to the test on this occasion – being Japanese inspired, their menu is understandably seafood heavy, but given that we are allergic to seafood, this presents a challenge for the kitchen that we're eager to see if they'll rise to. Our dining partner will be having the 'normal' menu so we'll be sure to check out both options.
First up is CHAWANMUSHI / SAKEKASU for us, with the addition of smoked Kristal caviar for our fellow diner. Ours is topped with a reduced chicken broth and shiso flowers and whilst it's a pretty dish, we can't say we loved the slightly grainy texture of the chawanmushi. Paired with the fact that we don't particularly enjoy the strong amaretto/cherry/marzipan flavours of our first sake, we're off to a somewhat iffy start…but thankfully, it's all uphill from here onwards.
Our second snack, BEEF TARTARE / PEAS, is just divine – two of our favourite ingredients in one dish certainly makes us happy. The super-fresh green peas burst with flavour and the tartare is sweet and spicy thanks to the addition of Japanese mustard and a touch of citrus.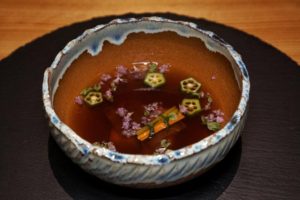 A bowl of KONBU DASHI / HAM is up next, and this one really plays on the fusion element of Chef Agustin's signature cuisine. The rich dash broth surrounds two mochi so glutinous they stick to your teeth, imparting a rich, almost cheesy flavour to the mix. Add to this 100 day aged Bellota ham and a gorgeously sweet sake to pair and this dish is as unusual as it is delicious.
Haku's take on the salad, VEGETABLES / MISO, follows and while we applaud the fact that it's sourced from local farms in the new territories and handpicked by the team, we're not digging the sour dressing and soft root vegetable elements. It's probably the only dish of the evening (apart from the chawanmushi), however, that we didn't absolutely love.
"SASHIMI" is rather as it sounds for the seafood diners in the house (and excellent, so I'm told), but what truly impresses us is the non-seafood 'sashimi' we are served. The effort that has gone into making our trio of items as good as the seafood version is clear and we don't feel like we're missing out at all. Our three items are comprised of radish and ham (elevated by some insane olive oil), soy basted duck and chicken with sake kasu – all knock it out of the park when it comes to both texture and flavour.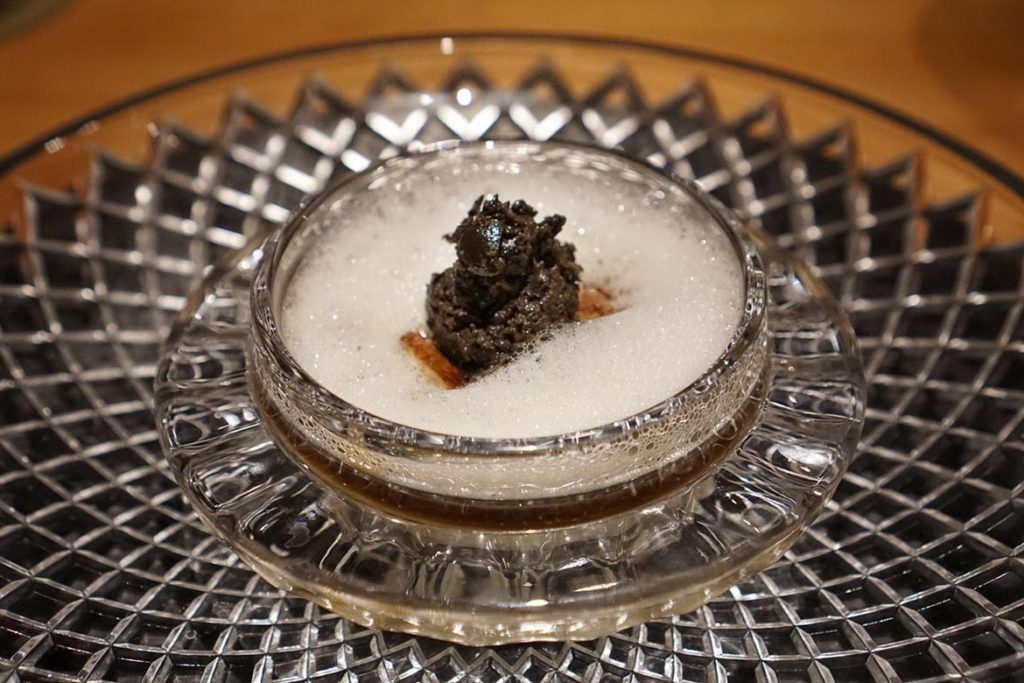 FOIE / TAMANEGI presents the unusual combination of foie, cauliflower cream, chicken broth and fermented olive – sounds strange, but it's oh so delicious. We're not the biggest fans of foie but we're quickly devouring this dish in its entirety – the olive cuts through the richness of the fatty foie superbly. We even enjoy the paired sherry – something you won't often hear us say.
We should have expected magic when we saw the combination of CORN / MANCHEGO written on our menu, but nothing could have prepared us for just how good this dish was. Think the best macaroni cheese you've ever had, then turn the umami up to 10. The umami is probably attributable to the tiny noodles of cured shio kombu, a great touch, and the dish finishes with a satisfying spice heat on the back of the palate. It's so good that I didn't even spare a mouthful for the seafood-eater, which admittedly I felt a little mean about after – they simply couldn't have had a dish that was better than mine. Definitely one of the most delicious dishes I've had the pleasure of eating.
If I thought the remainder of the meal likely couldn't surpass the high of the previous corn dish, I was quickly proven wrong with the following course, WAGYU / PLANKTON. Haku serves A4 Nozaki beef, the only Kagoshima beef allowed to be named after its farmer. Cooked over a Japanese charcoal grill, this beef was perfection. The grill imparted just enough bark on the meat and the flavour and texture were Wagyu at its absolute best. Silky, unctuous, melt in your mouth…this is the Wagyu that dreams are made of. Beef lovers, you need to taste this.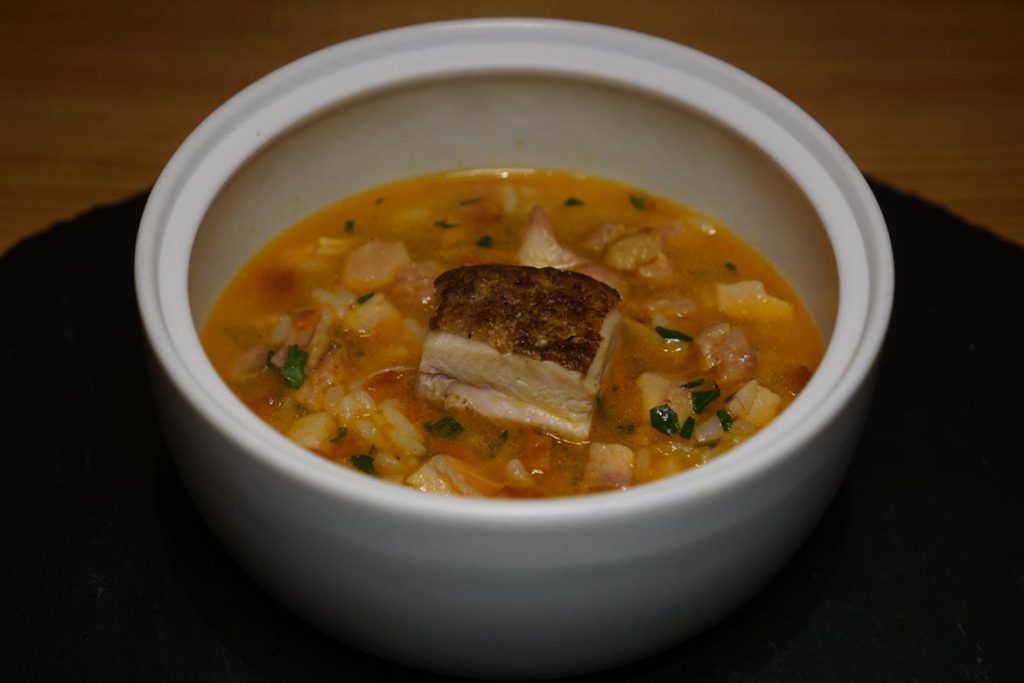 A tribute to Chef Agustin's grandmother is next – an inviting bowl of Arroz Caldoso. Billed as RICE / CHORIZO, this takes us to the fusion side of things, mixing Japanese rice with Spanish chorizo. It's comforting, rich and so tasty we finish the entire bowl in rapid fashion.
Pre-dessert comes in the form of APPLE / DAIKON, a dish that gives us serious Japanese apple pie vibes. The sake-cooked apple imparts a rich sweetness, cut through by the ribbons of bitter daikon. It's exactly what we want – delicious and refreshing, yet not too sweet or rich. The main dessert, MERINGUE / YUZU follows a similar flavour profile to great success. Even the petit fours comprising of a peanut nougatine of sorts and red bean encased in a clear gelatinous wrap are fantastic. We can't remember the last time we ate a whole petit four, quite honestly, and both of these were gone in mere minutes.
The only thing we're disappointed about at the end of our meal at Haku is that it's over – both my dining partner and I would happily devour another three or four courses. Not to say that the menu is too short – it's perfectly sized and won't leave you feeling heavy at the end of the meal – but the food was just so fabulous that we want the surprising and wonderfully tasty dishes to keep coming. To say we left very happy diners would be an understatement – the food and beverage pairings both truly shine at Haku, coming together to produce a tasting menu experience that is truly worth a visit. Don't miss this gem when you visit Hong Kong (as long as you can find it, that is)…