If you're looking for a small, boutique island property to get away from it all, Avani+ Koh Samui might just have what you're looking for.
Relaxed, chilled out and uber low-key, our two-bedroom beachfront villa at Avani Koh Samui reminded us of the typical 'Kiwi bach' experience – but with a beachfront location, air conditioning and a huge private pool.
Avani+ Koh Samui is the antithesis of the large scale resort. You won't find mammoth buffet restaurants and cliche cultural dance dinners here – and that's definitely not a bad thing in our books. There's just one restaurant, where you'll find a mix of buffet and a la carte breakfast dishes in the morning and both European and Asian dishes for lunch and dinner. We have to say, the Thai food being served up is delicious – despite the fact that we didn't eat outside the property for the duration of our three-night stay, we didn't tire of the cuisine. Quite to the contrary, we actually looked forward to re-ordering our favourite dishes (come at me, satay).
There's also just one bar at the resort, in the form of a converted VW Kombi van. The cocktail list isn't particularly extensive, but we found ourselves enjoying many a Mai Tai and Pina Colada from the retro bus – don't miss happy hour, which generously runs from 12-2pm and 5-7pm each day. You'll score cocktails from 250 THB for two, which is a crazy $4 USD/15 dhs a cocktail! Personally, I file that under 'you'd be insane not to' (especially when you're used to Dubai prices).
There's a gym and two communal pools on offer, but given how many of the rooms are equipped with their own private pools, you likely won't need to use them. There's also a cute spa, which we highly recommend you check out.
Avani Koh Samui's location is quite secluded, but if exploring is your thing, they do offer free daily shuttles to Chaweng and Lamai and free daily longtail boat trips to Koh Madsum. I had no intention of leaving our pool villa, however, so I chose to do none of the above. You do you.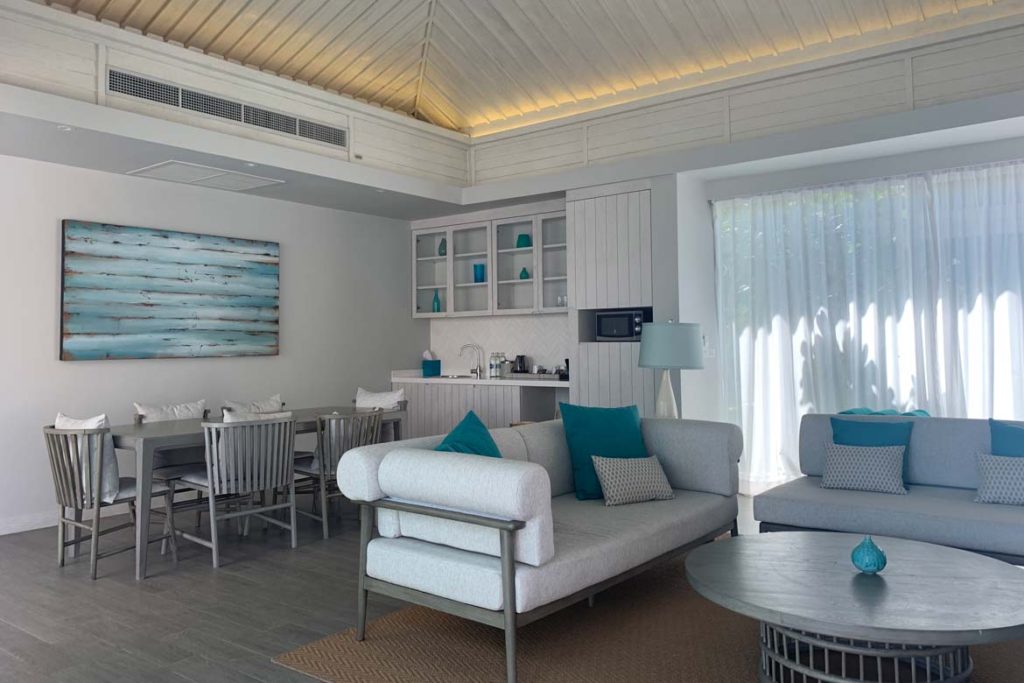 But, we digress – back to the villa. When it comes to accommodation, size does matter, and this one clocks in at a respectable 227sqm, boasting 107sqm of interior space and 120sqm of outdoor space. Our villa had two bedrooms, separated from the main living pavilion by a courtyard – great if some of your group want to stay up but not disturb those who'd like to sleep.
Each bedroom has its own TV and rather lovely bathroom with plenty of natural light, and whilst ours was set up in a (very comfy) king / twin configuration, we're sure this can be changed to suit your group's needs. The living room is equipped with Apple TV and a bluetooth speaker, so connecting your fave music and videos won't be a problem. There's a kitchenette in the living area and an almost-full-sized fridge – if you want to self-cater, this is a great option.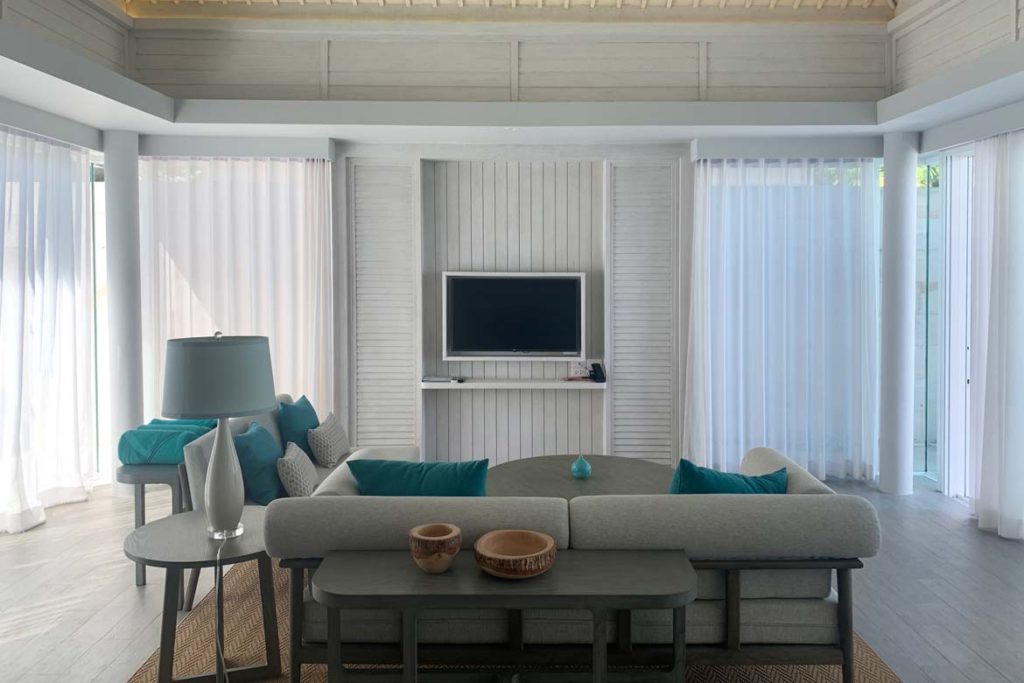 On the alfresco side of things, the sizeable pool is framed by two sun loungers and a lounge setting, plus roller gates that open the outdoor area to the beachfront if you so wish. We'll admit the beach and views aren't as picturesque as some, but one has to remember that spectacular locations usually come with a price tag to match.
Is AVANI+ the right for your Koh Samui getaway? If a huge property with many restaurants isn't a must, you're happy to stick to your villa and entertain yourself (or even cook for yourself in the larger villas), you're happy to take a shuttle or drive yourself to local towns/activities and you want a group getaway that's fantastic value, it's a yes. You'll only be shelling out around 2500dhs for the two-bedroom beachfront villa and around 1500dhs for the one bedroom. We think it would be a good option for group getaways and families, especially if you're planning on visiting more than one destination.