Bangkok. A city with many sides, from party to posh, from street to suite – and while we enjoy a bit of the Bangkok craziness from time to time, it's the emerging fine dining and luxury hotel scene that has us coming back for more (and more). The Siam has long been a favourite of ours, but it has a new competitor vying for top spot when it comes to acclaimed accommodation in Bangkok – the Rosewood.
The Rosewood brand is synonymous with refined luxury and their Bangkok property, one of their newest openings, has only further cemented this reputation. Located in Phloen Chit (it even conveniently has a sky bridge to the Phloen Chit BTS station, accessible from the third floor), the Rosewood delivers five-star service from the moment you check-in.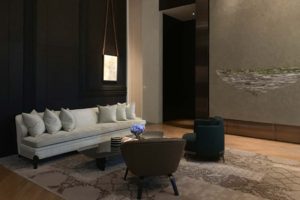 The property, built to resemble a 'wai', the prayer-like Thai greeting of palms pressed together, is an oasis of serenity amongst the city's non-stop chaos. Its dimly-lit palette of dusky mauves, soft browns and greys is instantly calming, especially when paired with the luxurious textures that abound in the hotel's design – sleek marble, dark wood, refined metallics and silky soft velvets and linens (we'll elaborate on those linens later). It's like stepping into an effortlessly chic New York townhouse.
We were the very first guests to stay in our Rosewood Suite, one of only three in the building, a privilege not often afforded even to reviewers travelling as frequently as we do. We're escorted to our suite by our in-house butler, who is on hand for any need you may have – our morning order of celery juice (not on the menu) was never a problem.
The Rosewood Suites clock in at 88sqm, not the largest we've stayed in by any means, but definitely one of the most well designed and appointed. The suites feel spacious yet cosy, with a large bedroom, bathroom and lounge room that even houses a full-size dining table that seats six.
There's plenty of room to entertain in this suite should you have friends or family in the hotel or in Bangkok. You'll find a 49 inch LCD screen in the lounge and a 43 inch screen in the bedroom, both of which are ridiculously easy to connect your mobile devices to – perhaps the most streamlined we've experienced (and there's a Bluetooth speaker too). A well-equipped mini-bar offers cocktail making equipment (including a recipe book) as well as convenient, ready-made top-notch cocktails if you'd prefer to keep the self-shaking to a minimum. Of course, there's a Nespresso machine, complete with compatible tea pods if that's more your thing, and an abundance of Evian (they even swapped every bottle of Evian in our suite out for Acqua Panna as they knew of our disdain for the French water – impressive). There are also chocolates hidden in ceramic bowls around the suite and bedroom…open everything!
The marble bathroom boasts a full-size bath and Japanese toilet, double vanities and Dyson hairdryers, plus individual, fully-stocked toiletry bags, business-class style. We loved this unique touch. The amenities boast Rosewood Bangkok's signature scent, a woody oriental so alluring we couldn't resist taking a candle home just so we can luxuriate in the seductive fragrance just a little longer. We should also note that housekeeping is oh-so on point – if they spot glasses in the room, a lens wipe will be placed by them and the day before checking out, a LAGS bag appears in the bathroom for your convenience – truly attention to detail.
Bathrobes and slippers are by Frette, an Italian house long revered for its luxury linens, and you'll even find two choices of robe – waffle and jersey. That's probably the biggest problem you'll encounter in your stay at the Rosewood – which robe to wear today?
Speaking of Frette, they didn't stop at robes – the 600 thread count sheets are, of course,  by the very same. If you're lucky, you might just check in to find the European pillowcases on the bed monogrammed with your initials, which, of course, you get to take home as a rather impressive souvenir. The beds are medium firmness with a super soft top, guaranteeing a quality night's sleep.
Feeling peckish during your stay? The Rosewood has plenty of top-notch dining experiences in-house, our favourite of which is their Chinese restaurant, Nan-Bei, which specialises in regional cuisine from the north and south of China. Their Beijing duck is already Bangkok famous, but we suggest you don't miss their potstickers and kung pao chicken – truly sensational. Their in-room dining is also recommended – we loved their green curry and tom kha gai, though their pad thai wasn't quite to our taste.
Partial to a good cocktail? Ascend to Lennon's, the Rosewood's musically-inspired cocktail bar at the top of the building. They've got thousands of vinyls and each creative cocktail has been inspired by a song or artist. Definitely worth a trip, even if you're not staying in-house.
Lakorn brasserie is where you'll enjoy your buffet breakfast and it also offers a superb afternoon tea (with Champagne pairing, if you so desire). Lakorn's pastry chef specialises in making low-or-no-sugar added desserts that are sweet as can be, the sweetness instead derived from natural fruit instead.
After all that food you're probably going to want to expend some energy – luckily for you, the Rosewood boasts an excellent fitness centre, equipped with everything from cardio to weights to yoga gear. Their pool is also a lovely spot to chill and decompress from the Bangkok madness that abounds outside the hotel doors.
If that all sounds too high energy, book a treatment at the Rosewood's fabulous spa – we absolutely loved our massage treatment. The dimly lit, serene atmosphere will have you de-stressed in no time. The spa rooms are extremely well equipped, with a shower, Dyson hairdryer, plenty of amenities and cosy robes.
The magic of the Rosewood experience doesn't stop once you leave the property gates – if you take the Rosewood car to and or from the airport, it is, of course, suitably equipped with Rosewood lip balm, hand cream, water, hot towels and sometimes, even a monogrammed napkin. By this point, you're probably forever spoilt for luxury hotel experiences henceforth.
Would we stay at the Rosewood Bangkok again? Silly question – of course we would, and we already have! It's absolutely in our top hotels in the world – a new level of luxury in Asia.
Have you stayed at a Rosewood before? We'd love to know your thoughts…
Facebook Comments