If you have been following us for a while, you may know we're not exactly the biggest fan of chain restaurants. One of the biggest issues with Dubai's food scene is that consumers (especially visitors) happily drop their dirhams at imported establishments with facsimile menus, cookie cutter concepts and absentee celebrity chef names hung above the door while homegrown establishments face a much tougher road to success. In Dubai, we like to take the best bits of anything we see in cities we look up to – we even have a copycat Big Ben (due to a government row, however, it ended up sans clock) – so name a famous eatery, we (probably) have it. Magnolia Bakery, Urth Cafe, Indochine, Nobu, Zuma, Buddha Bar, Roka….Dubai is like the Ariana Grande of cities – we see it, we like it, we want it, we got it.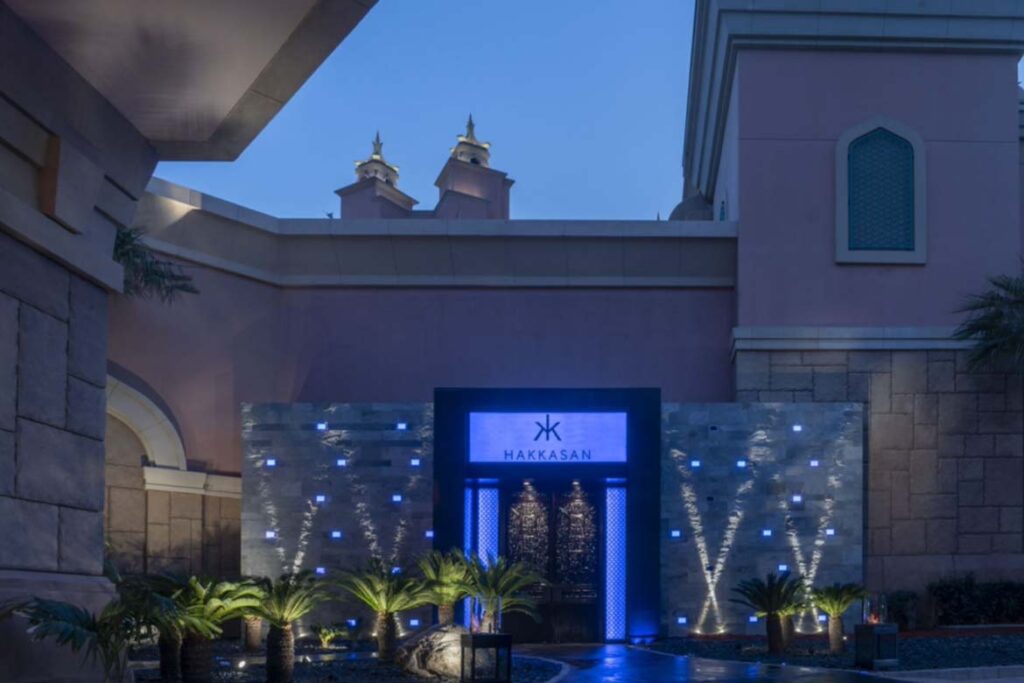 So as much as it pains us to say it…we love Hakkasan. (Admittedly we do like their Atlantis stablemate, Nobu, too.) Speaking of Atlantis, our love affair with Hakkasan really didn't begin until it took up residence in the iconic Dubai hotel. We weren't a fan when it was in Emirates Towers and we found their Abu Dhabi outpost to be quite forgettable. Here in Dubai we lack quality home grown Asian concepts, sadly – there's really only a few decent ones – so perhaps in this case, we feel a little less guilty about adopting the imports.
Hakkasan's moody decor is in stark contrast to the light and airy space at neighbouring Nobu; it's dark and sexy, more club-like than restaurant. It's a definite date night spot, the dim lighting guaranteed to make you and your paramour look as good as that filtered Tinder pic. It's a location that's on the smaller side at Atlantis (it took over the space of a former favourite of ours, Yuan) and we rather like that. Interiors? Tick. (We apologise for the lack of interior shots, but it really is that dark).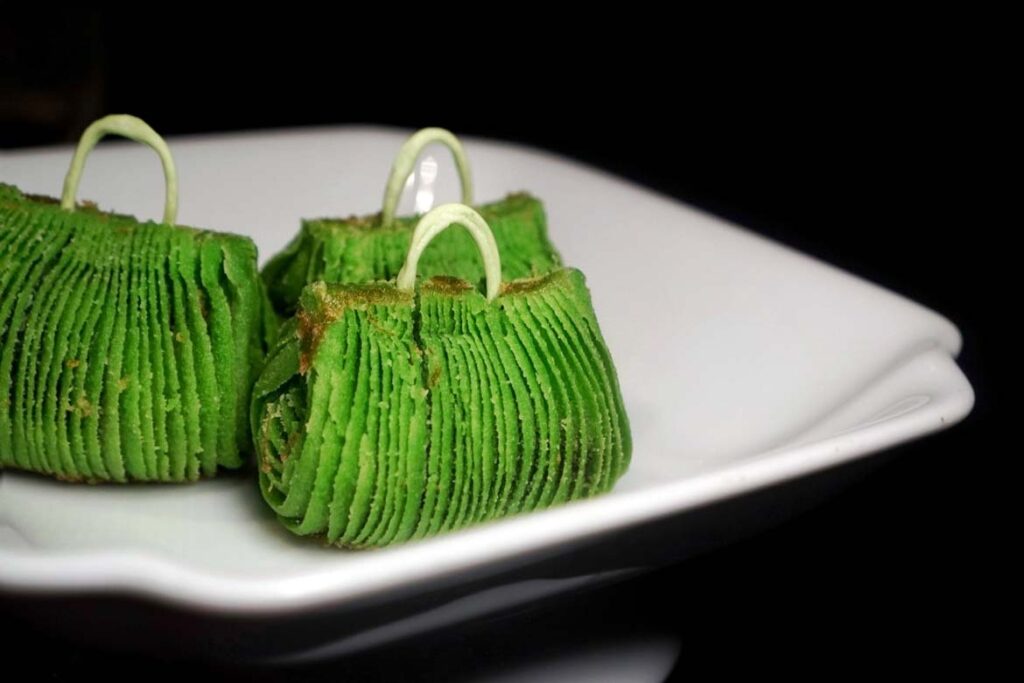 Ensure you arrive early so you can pull up a seat at the electric blue-illuminated bar (well, once restaurants are allowed to have bar seating once more, anyway) and take a trip through the truly excellent cocktail list. We would recommend you our favourites but honestly, this is a department where Hakkasan truly knocks it out of the park – you'll find some of the tastiest cocktails on offer in Dubai right here. Go thirsty.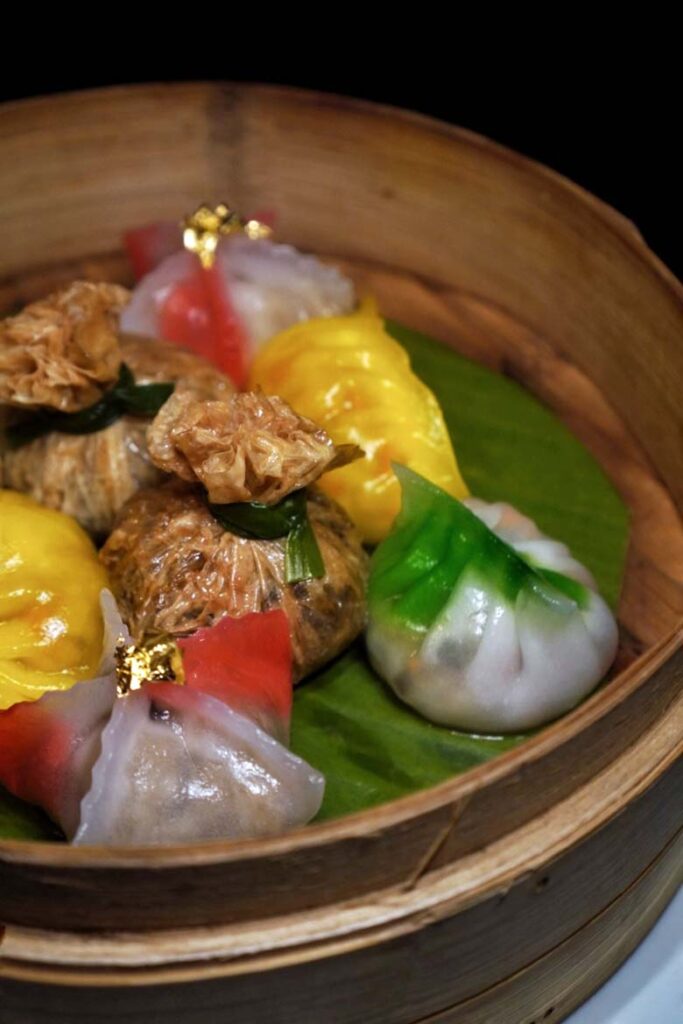 Once you've primed yourself with a cocktail or two, we recommend you take a dive into Hakkasan's decadent dim sum selection. The delicate, brightly coloured parcels are almost too pretty to eat – hello adorable carrots and tiny handbags. Given our seafood allergy (which Hakkasan commendably handles with ease) we like to start with their Vegetarian dim sum platter (morel crystal, lettuce oswan and seaweed, gong chai and lily bulb, soy crumble and beancurd, 100 dhs), Mooli puffs and the sweet, rich, crumble in your mouth Wagyu beef puffs (both 58 dhs) – all sensational.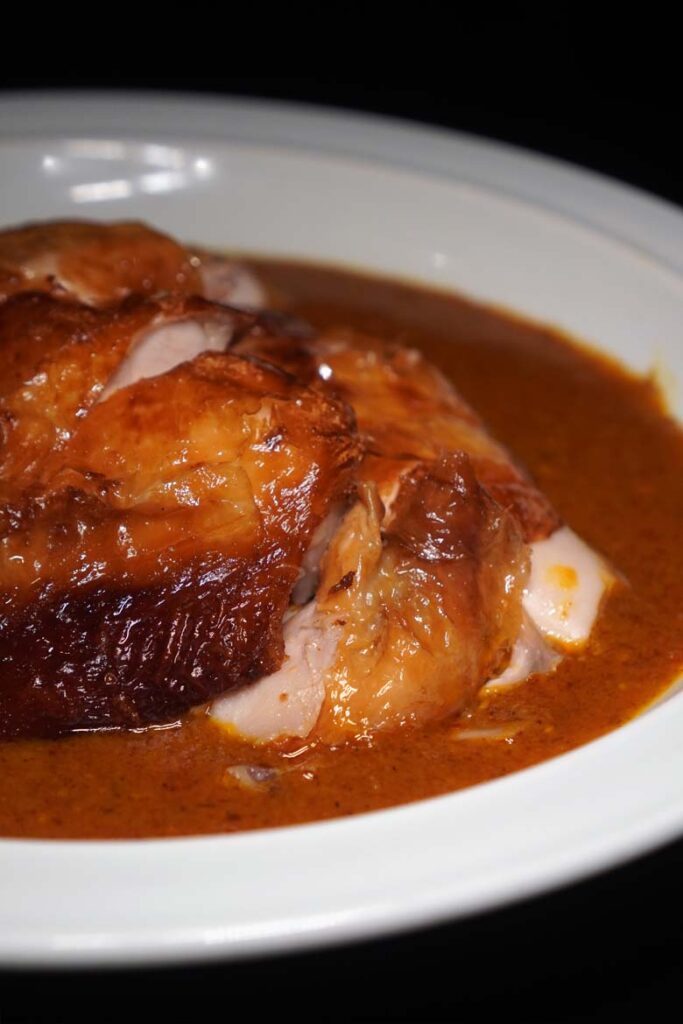 Our decidedly average visit to the Abu Dhabi outpost did yield one gem of a discovery, however – Hakkasan's unique take on chicken satay (115 dhs). No sticks in sight here, instead a large sliced portion of tender roast chicken is drowned in seriously indulgent peanut sauce. It reminds us of Tim Raue's interpretation of satay, and much like that memorable dish, we love it.
Hakkasan's Peking duck is, unsurprisingly, one of the very best in town. It's also one of the most expensive, with a half duck priced at 368 dhs. While the price may be eye watering, the dish itself is definitely mouthwatering. If you really feel like splashing out, a whole duck with caviar is a mere snip at 1388 dhs.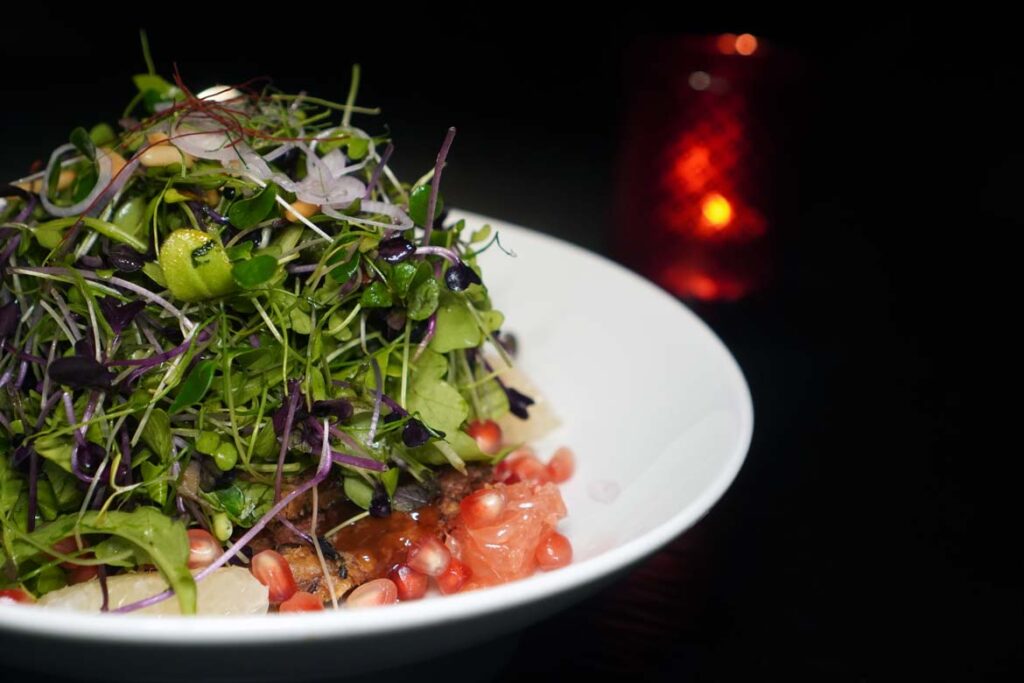 The Crispy duck salad with pomelo, pine nut and shallots (161 dhs) is wonderfully fresh, the citrus and herbs just the thing to cut through the menu of (mostly) rich Cantonese dishes. It hides much more duck that one would suspect at first look – and we can definitely understand why it's one of the restaurant's signature dishes.
Wagyu lovers certainly won't be disappointed by the uber tender and juicy Jasmine tea smoked Wagyu beef ribs (160 dhs) – but honestly, we don't think any dish at Hakkasan disappoints. Even the deserts are remarkably well executed, something that many Asian outfits fall short on.
Lastly, the service. It's a 10/10 from us – personable, attentive, knowledgable. Their wine recommendations are also always on point. We have noticed that this is a trend across the entire Atlantis property – we simply can't fault the service at any of their venues, even the pool bar. Top marks to Atlantis for evidently putting in place in-depth training and creating a happy working environment for the staff – it really shows.
Fact Magazine Dubai awarded Hakkasan Best Chinese 2020, and we have to agree. (In fact, we concur with Fact across the board when it comes to their picks, especially Restaurant of the Year, Tresind Studio, which you can read about here.) It's one of the handful of Dubai restaurants that we jump at the chance to return to – and we think you'll love it just as much as we do. When it comes to Cantonese cuisine in Dubai, Hakkasan is hard to beat.