We review Auckland's latest buzz-worthy Korean restaurant, Gochu at Commercial Bay.
Situated in a prime position in the One Queen St section of the uber-trendy Commercial Bay, Gochu possibly has the most hype around it of any of the currently opened eateries in the new central city development. We've been posting about our mixed experiences so far at Commercial Bay, and have been inundated with messages imploring us to try out the new Korean kid on the block. Why is the buzz around Gochu so huge? Well, when the head chef, Chef Jason Kim, is ex-Sidart, one of New Zealand's most lauded restaurants, it's understandable that expectations are high.
A significant amount of the internet chatter around Gochu centres around their fried chicken – 'Jason's Fried Chicken', to be precise. It's the dish we're here to try, given that it's officially Fried Chicken Day, and we're certainly impressed by the super crunchy, sticky sweet wings Gochu serves up. It was immediately clear that they belonged on our list of Auckland's Best Fried Chicken, but after diving deeper into the Gochu menu, it's evident they are no one-trick pony.
We didn't expect to see such depth in the menu, as initially, we weren't that enthused by it after perusing the dishes online. How wrong we were. There's plenty to be enthusiastic about, it turns out – the most surprising of which has to be the Soon Dae. That's Korean black pudding, and Gochu stuffs theirs with kumara noodles and rice, before wrapping it in nori and serving it adorned with perilla seed sauce, green chilli and mignonette. We'll be the first to admit that we usually shy away from anything blood-derived, but at the insistence of the kitchen, we gingerly gave it a go. We're very glad we did, as this dish is an absolute flavour bomb, intense and layered.
Gochu's lamb ribs (three for $22), served with ssam sauce, witloof kimchi (which is vegan, so even those with seafood allergies like us can thankfully indulge) and a rich mustard ketchup, converted even our tablemates who have an aversion to the meat and the cut. Absolutely some of the most delicately crispy lamb ribs we've tried – and we've tried a lot.
The Korean pork XO noodles we can only describe as a Korean take on spaghetti bolognese, and we're here for it. Another hit. (They're even better the next day, should you choose to take home leftovers, just FYI.)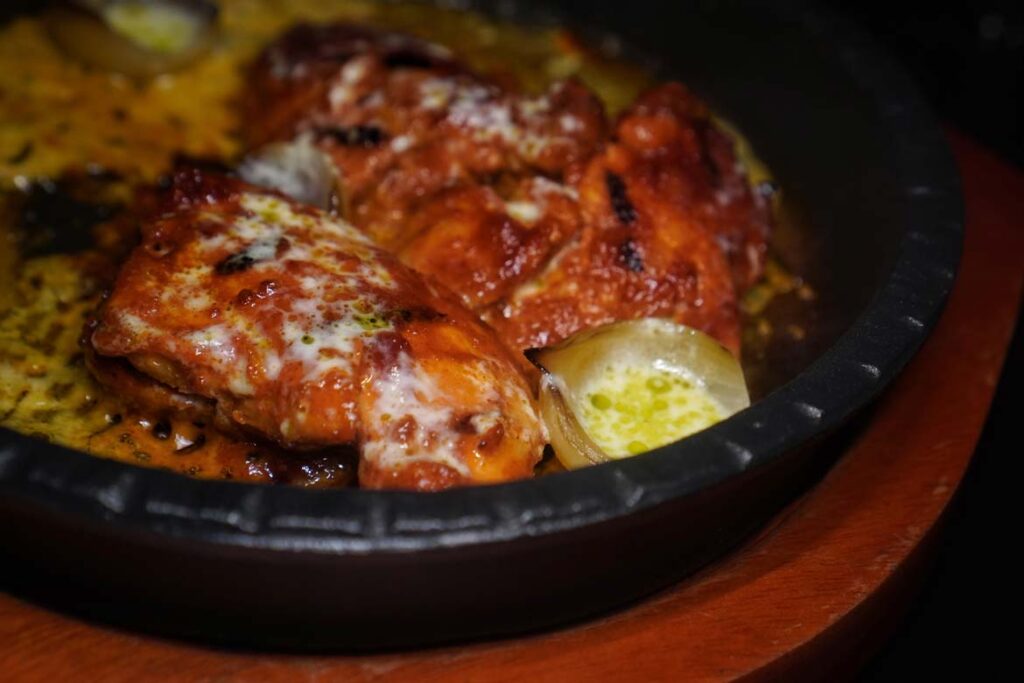 Whilst the fried chicken is definitely a winner, don't leave without trying the Charred chicken with gochujang ($30). Served with a comté sauce poured at the table that sizzles and bubbles in an immensely satisfying fashion, we think this dish is even better than the Insta-famous fried wings. It's got to be one of our favourite dishes around the globe, and breaking news: we have secured the recipe for you. So even if you're too far away to visit Gochu (or lockdown strikes again), you can now experience some of the Gochu magic in your own home.
Speaking of insta-famous, Gochu's secret menu item is surely about to become so. Their milk bun stuffed with spiced pork mince and kimchi comes served with a beurre blanc for ripping and dipping ($12), and it's a dish that has to go down as one of Auckland's best. Chef Jason explained that to keep the quality of the dish high, he can only make a limited number per service – so go early, and ensure you ask for one of these off-the-menu gems. One each, that is, as once you try it, you may not want to share.
Beverage wise, Gochu serves up a unique drinks list, with more natural wines on offer than most, if that's your thing. There are plenty of cocktail options too, though our citrussy number was perhaps a touch weak for our taste.
So does Gochu live up to the hype? Absolutely. Sublime food, warm service and food that will have you raving with every bite, Gochu is here to stay. Expect this one to rocket to the top of the best-of lists.