We review Commercial Bay's newly opened The Poni Room
Thanks to the new Commercial Bay development, Auckland now has rather a few NYC imports that have made their home in Aotearoa. The group that has brought New York's Liquorette, Saxon and Parole and Ghost Donkey to town is also the force behind Auckland's newest Pan-Asian dining establishment, The Poni Room. Being based in Dubai, we're no stranger to imported concepts – we have Zuma, Katsuya, Urth Caffe, Hummingbird Bakery, Drai's, Cipriani…well, we could go on (and on, and on). Outposts of foreign concepts like this are somewhat rare in New Zealand, however, where most establishments are kiwi born and raised. How will The Poni Room stack up against the swathe of excellent Pan-Asian restaurants in town? We've been very keen to find out…
Describing itself as "A rosé-centric Asian-inspired eat- and drink-ery with good times to be had", The Poni Room serves up dishes hailing from every corner of Asia – you'll find Thai, Chinese, Japanese, Malaysian and Vietnamese influences across the menu. Their claim of being 'rosé-centric' also rings true, with twelve well-curated rosé options available on the day we visited, surely far more than the norm. We were rather blown away by the selection on offer – our choice was the Elephant Hill Tempranillo Rosé as we hadn't previously tried it, but you'll also find Amisfield (a fave), Man o' War, Prophet's Rock and Fromm among the many great choices. From light to robust, there really is a Rosé for everyone's taste. Rosé is definitely an excellent choice given the light and fresh flavours on offer, but they don't stop there. You'll find stand out whites and reds from some of our favourite producers such as Rippon, Pyramid Valley, Harakeke and Karikari Estate, not often seen on the list at such an establishment (we recommend you try the Mon Petit Cheval Pinot Noir, $13 per glass – it's divine).
We wouldn't often start a review discussing the wine list, but The Poni Room's way of serving wines is so unique that we think it deserves talking about. Gone is the notion of simply ordering a glass or bottle and having it brought to your table – The Poni Room encourages you, as the diner, to interact with the wines yourself. The setup is unusual – we can only compare it to an airport lounge. Large ice buckets full of bottles are laid out on a bar for self-service, a concept that before visiting, had us scratching our head. You're encouraged to taste whatever you wish from the full complement of wines on offer by the glass, something that truly excites us as wine enthusiasts. We'll often ask for a taste if we're unsure of our choice on a menu, but not everyone is comfortable doing so – it's refreshing to see that The Poni Room encourages discovery.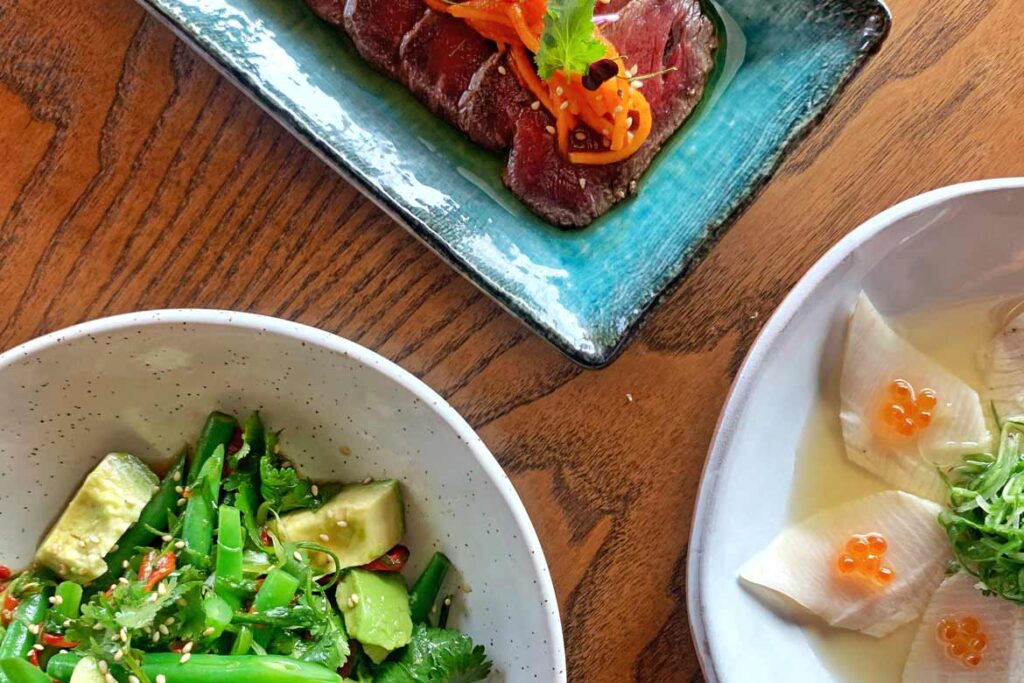 Reds and whites are individually priced, with Rosés divided into two buckets; one at $13 per glass and one at $15. Staff are happy to assist you on your wine journey, or else you're free to taste the offerings and then, interestingly, pour your own glass. We're quite sceptical as to whether people will actually pour to the designated logo on the glasses after consuming a number of vinos, but The Poni Room seems confident that their system works. Staff are obviously noting down what is consumed and where, but we can only imagine that this honesty bar-meets-big brother system must be a tad tricky to keep tabs on.
Wine isn't available just by the bottle or glass; you can also opt for Rosé on tap ($12 a glass) or fill a koi fish jug to take back to your table (700ml). Apparently the fish makes a satisfying 'glug' as it pours, which hey, it's cute, it's quirky. We didn't opt for the fish delivery method on this visit, opting to explore their wines by the glass. We certainly weren't disappointed; a concept that confused us at first ended up being really rather fun for our table of wine buffs. There are also craft beers available also as self-service on the same bar, and cocktails available too – thankfully, those aren't self service. The cocktail list doesn't really float our boat, however, and we'd recommend if you're craving cocktails, pop to stablemate Liquorette pre- or post-meal for the best range of spirit-based tipples.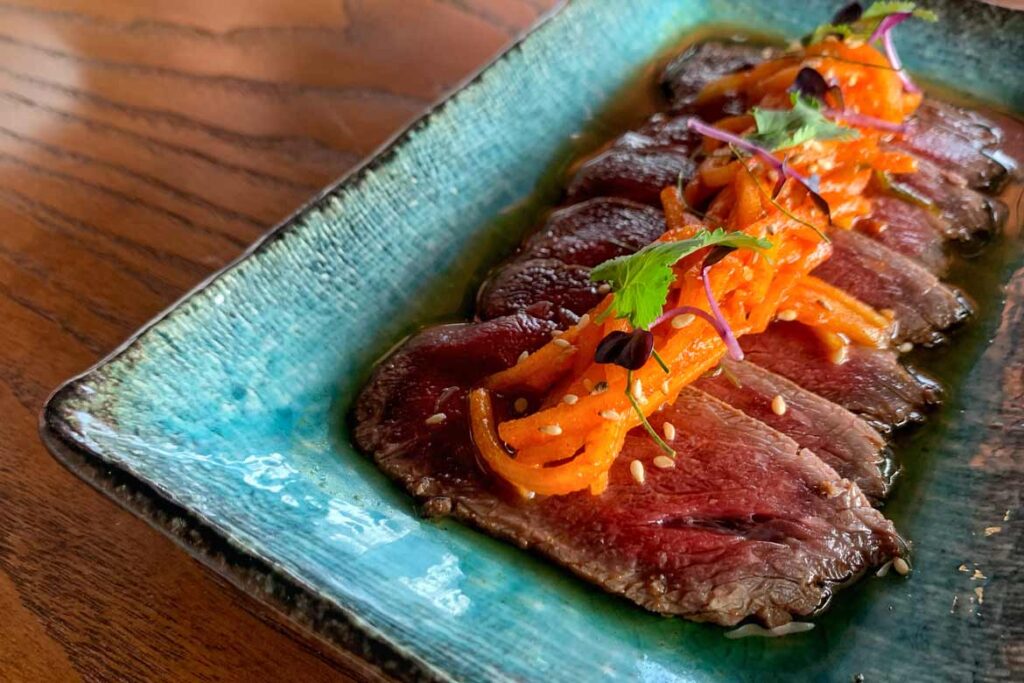 Being raw meat fans, we couldn't pass up trying the Wagyu tataki with pear, spring onion kimchi, ginger soy dressing ($22), which was tender and flavourful but perhaps not as complex or umami as many we have tried.
The Warm coconut chicken salad with snow peas and mint ($22) is fresh and light, yet creamy and satisfying, perfect for a lunch date. No complaints here. We also sampled the Avocado and seaweed salad with green beans, red peppers, sesame, soy-mirin dressing ($14) which was simple, clean and tasty – but strangely, the seaweed element was almost non-existent, leaving us a tad puzzled.
For us, the stand out dish of the meal was the Steamed duck buns ($18 for four). My tablemate described them as 'steamed bun sausage rolls' and, well, they definitely bear a resemblance to the kiwi classic with their shredded duck filling. The sweet and creamy caramel-like sauce is the winner here, making this the most creative take on a duck bao we've seen lately. We'd definitely reorder this one.
Of course, we can't resist trying their Pork and chives gyoza ($18 for six) and they're perfectly fine – but given the quality of dumplings available in this city, they wouldn't stand out as something we'd return for. We do adore the chili oil served alongside, however.
One of the most unique dishes on the menu would have to be the Daikon fries ($8). Served with 'Poni Room sauce', a delicious spicy aioli, these brick-like 'chips' are filled with minced daikon and we'd best describe them as an Asian take on polenta chips. We loved this dish, and we'd like to see more unique dishes on the menu to make The Poni Room stand out in this crowded market.
Fit-out wise, we're not as much a fan as we are of other aspects of this eatery. The windows are dressed with hundreds of cloths in varying shades of terracotta, the walls are terracotta, and well, there's just a lot of terracotta. It's everywhere. Combined with an abundance of wood, it feels a bit one-note. We'd have liked to have seen more atmosphere and drama in the restaurant design. It feels a bit casual for us, especially during the day with the abundance of light flooding in from the large, waterfront windows.
Would we return to The Poni Room? The food is overwhelmingly agreeable but not particularly innovative, and that makes for a tricky proposition in the Auckland Asian restaurant scene – there are simply so many outstanding options close by that The Poni Room may struggle to truly develop it's own identity when it comes to the food side of things. Given that the quality is there, making the menu more ambitious would go some way to battling the admittedly extremely strong complement of Asian eateries available in Auckland. Food aside, we think we'd return just to have a little play with the fabulous wine selection on offer. The Poni Room is ideal for groups; it has a menu that should have something for everyone and certainly won't draw complaints, a great beverage concept and a fun vibe that we think is probably more festive come evening. Serious foodies though may find themselves a little, well, bored.
We don't think it's a destination for food alone, but add in the wine element and as the website professes, there are definitely good times to be had.