Looking for a beachside staycation in Dubai? Le Royal Meridien's prime Marina location offers all the beach and pool options one could need…
The Hotel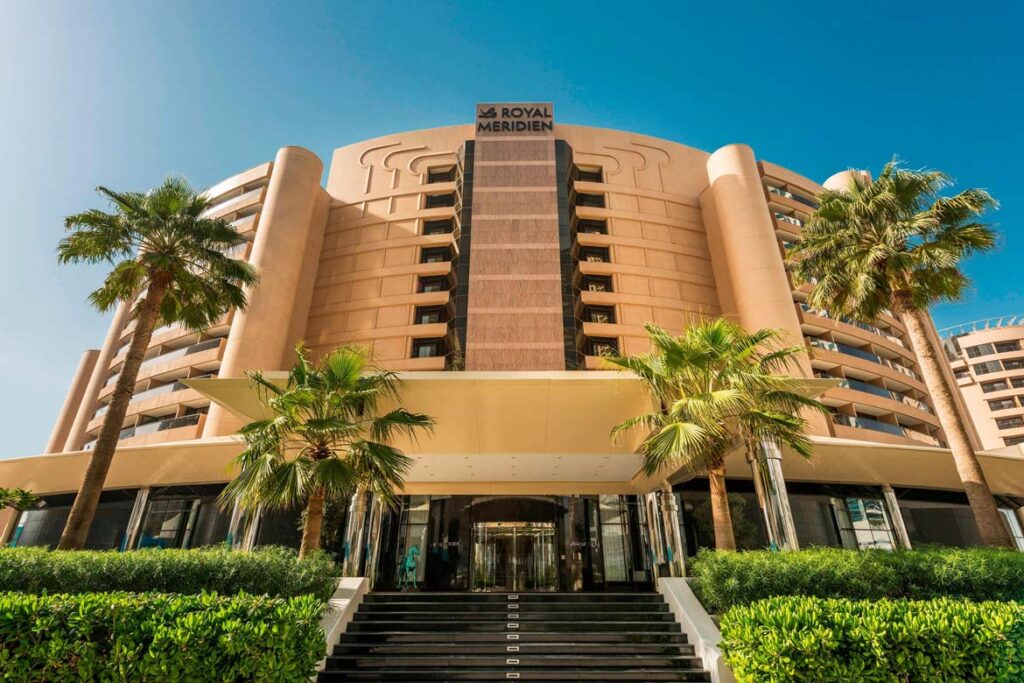 The iconic Marina property, built in 1994, has had a major facelift over the past years – we remember the restaurants and common areas being upgraded as early as 2016, but now all rooms and suites have had a makeover. The lobby is particularly light and airy, perfect for the hotel's beachside setting. Some parts of the hotel are yet to be renovated, such as the spa (we hear it's happening soon) but overall, we think the property looks great. It's hard not to feel like you're on holiday when checking in – and speaking of checking in, Le Royal Meridien does a fabulous job when it comes to hygiene around all customer interactions – masks, sanitiser and gloves are everywhere on the property, and we felt completely safe at all times. Surely this is the most clean hotels have ever been!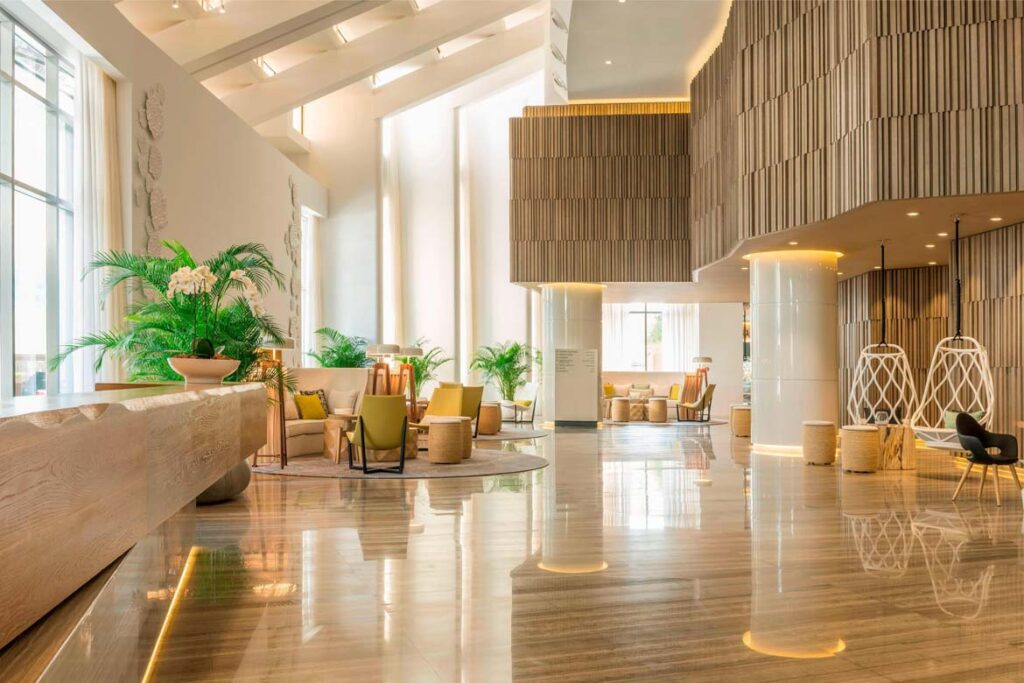 The Room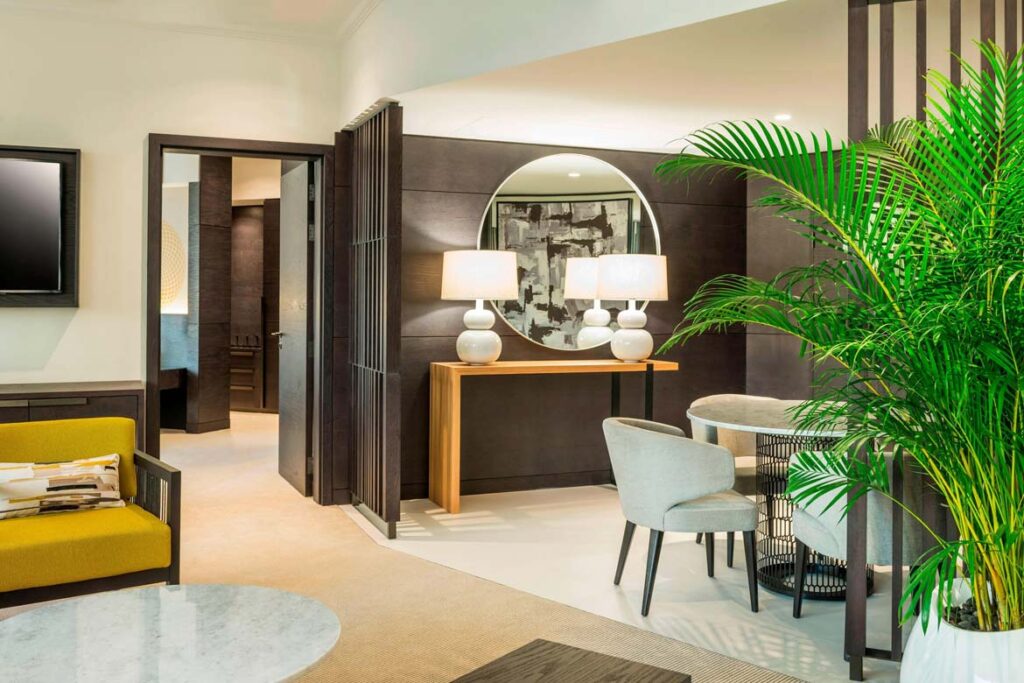 Our room: a Super Deluxe Suite. Pros? It's large and spacious with a separate lounge/dining area and has a balcony with an iconic sea-facing Dubai view. You'll enjoy gazing at everything from the Ain Dubai (the yet-to-open Dubai Eye) right around to the Palm Jumeirah – and you might even spot some camels on the beach come sunset. Cons? If we had our choice, we'd probably choose a Tower Suite as it provides easier access to the lounge and fitness facilities (both located at the Tower end of the property), but our end of the resort did make for easy access to the pools and restaurants.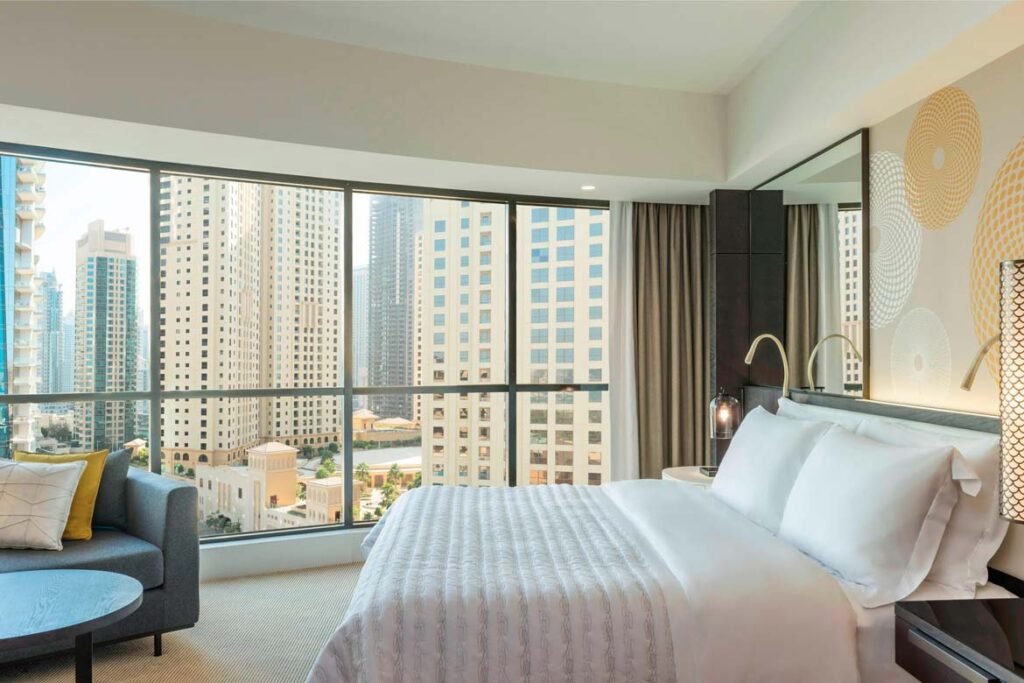 The bed is super comfy, with deliciously smooth sheets and plush pillows – there's no pillow menu, but high and low down/feather pillows are provided. Each side of the bed is equipped with two USBs and an international power socket – top marks here. (There are extra power points built into the desk, but as often is the case, they won't accommodate the shape of a MacBook charger.)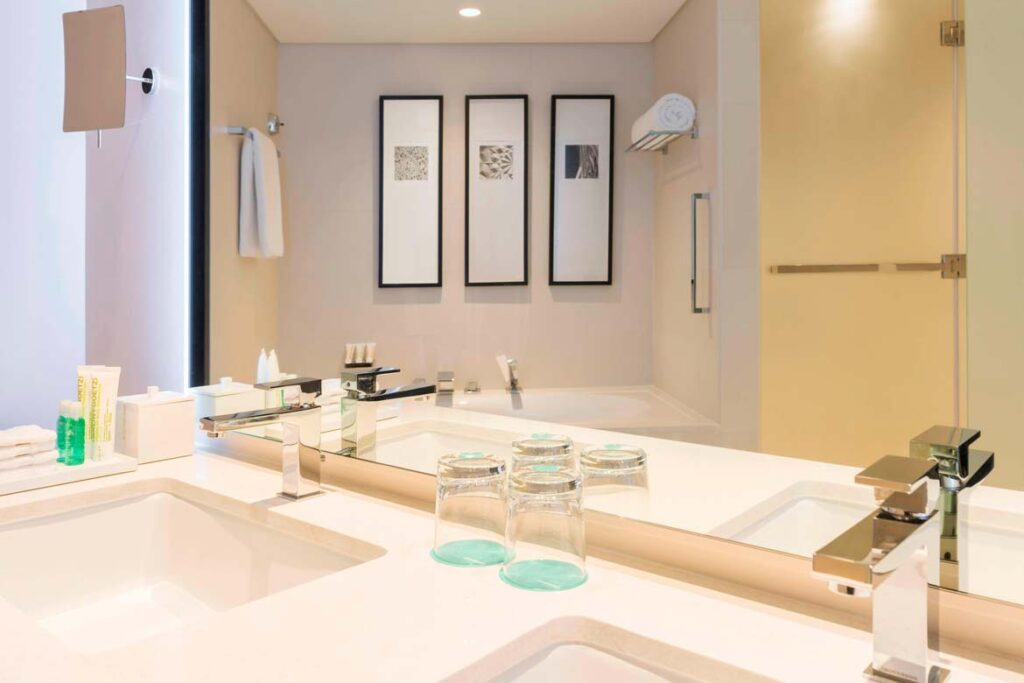 The bathroom has double vanities, seperate shower and toilet and Malin and Goetz toiletries (a brand that, we'll be honest, we've never truly understood). The towels and bathrobes (you'll need to call housekeeping as robes are only available on request) aren't quite of the standard of the linens adorning the bed, but they are adequate.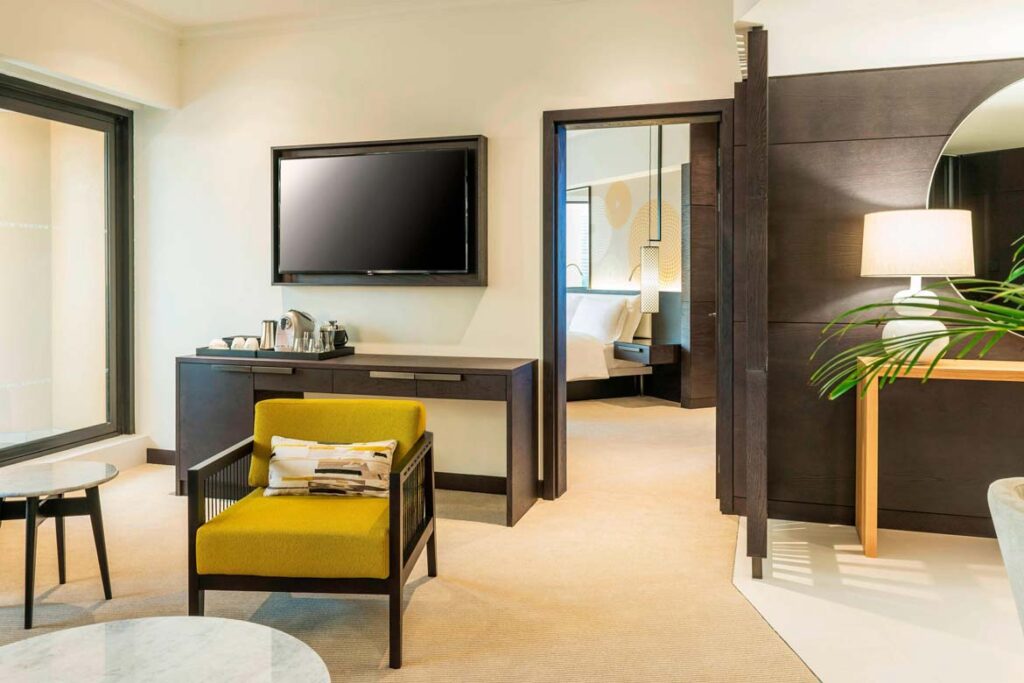 Of course there's a mini fridge (empty, yay!), a coffee maker, biscuits and plenty of bottled water. You'll find two TVs in the suite (one in the bedroom and one in the lounge room) and a dining table for four.
Obviously, there are things that they simply can't overcome which they've inherited from being situated in an older building – low ceilings, tinted brown windows and joinery – but they've done a pretty good job, all things considered. The rooms have a mid-century-modern vibe, decked out in black, brown and mustard. It does mean the suites feel a tad dark for the bright, seaside setting, but this is a resort where you're probably planning to spend a good chunk of your time poolside, so it's not a dealbreaker. That being said, you will probably find yourself spending a lot of time in the resort grounds due to this – our room felt more 'city' than 'beach'.
The Club Lounge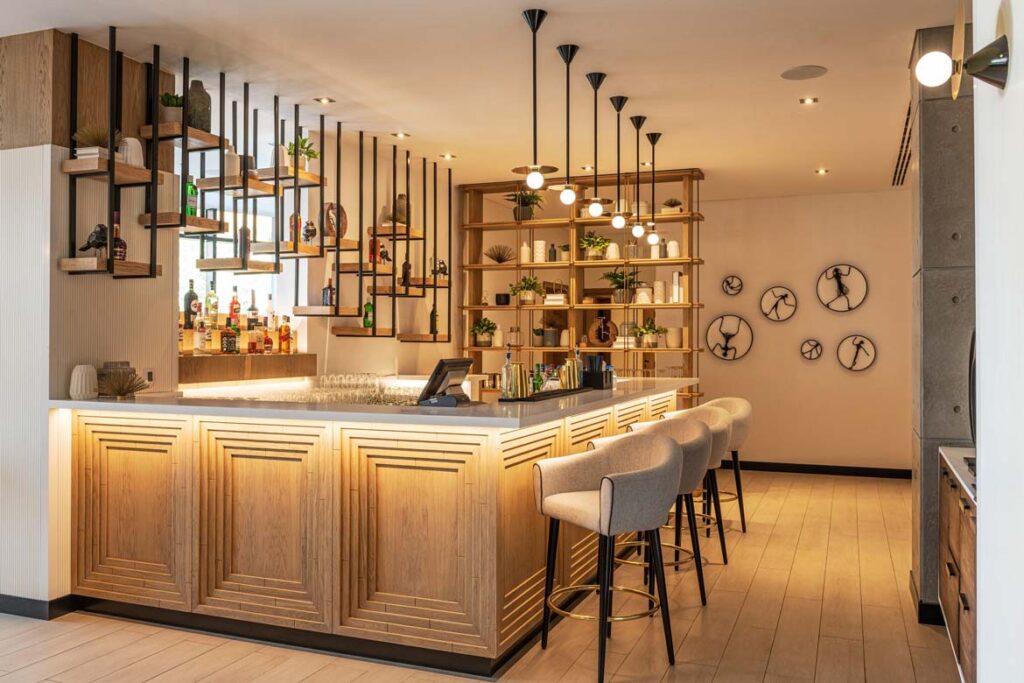 It's no secret we love a good club lounge – and Le Royal Meridien's is one of the property's best features. It's really rather large – you won't struggle to find a seat as there are a plethora of seating options indoors and outdoors, even with social distancing measures. Speaking of social distancing and COVID precautions, these were handled very well, as was the case with the hotel in general. Cutlery and napkins are delivered after you are seated, sauces are individually bottled and buffets are now glassed in and served on request.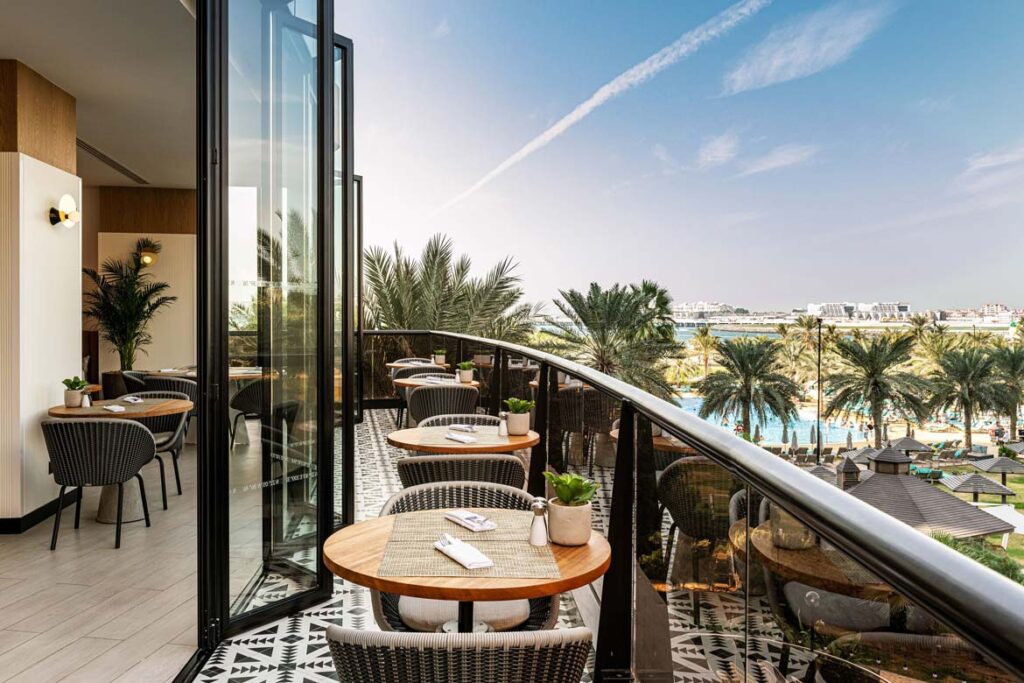 If you want to enjoy the balmy Dubai weather, opt for a seat outside – the service is wonderfully attentive and come evening, you'll be able to watch live sports on their (very) big screen positioned outside the downstairs bar, Shades. (The only caveat? If there are no punters at Shades, they won't turn the screen on – even if you ask very politely.)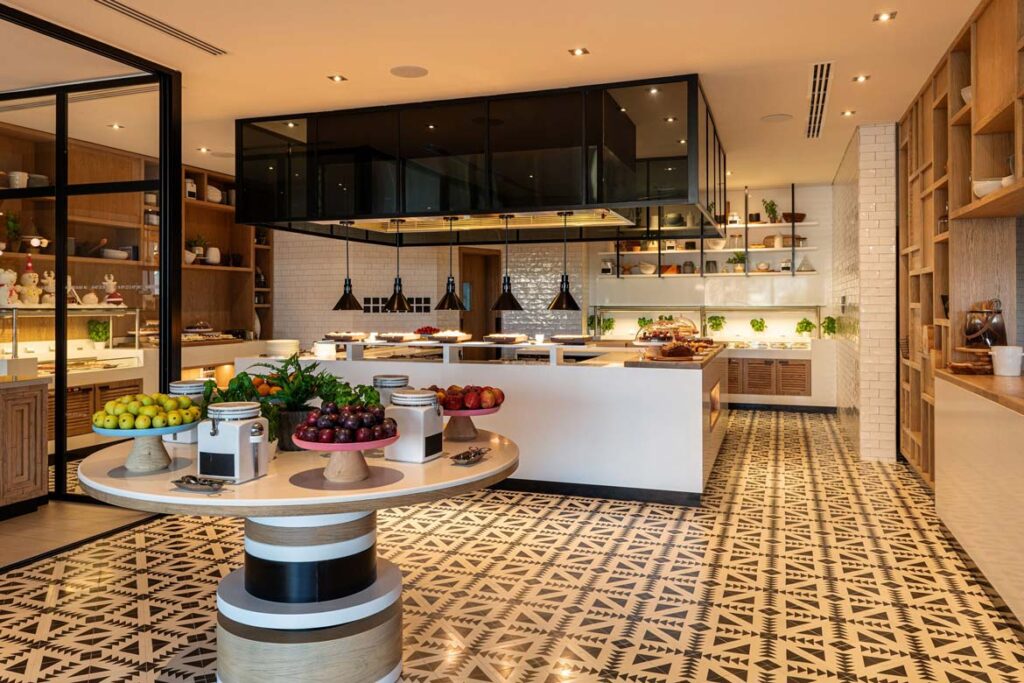 The lounge is fully refurbished in the modern, airy style of the hotel, and offers three main seatings – breakfast (7-11am), afternoon tea (3:30-5pm) and our favourite, cocktail hour (6-8pm). Afternoon tea offers a generous array of very pretty pastries plus some sandwich and salad options, while cocktail hour serves up more savoury fare (think karaage chicken, sigara boreki and deep-fried shrimp). The latter of course includes free-flow drinks, from wine to beer to spirits and selected cocktails. Always a great value-add when it comes to a UAE hotel stay as we know how quickly drinks can add to the bill at Dubai prices.
The Resort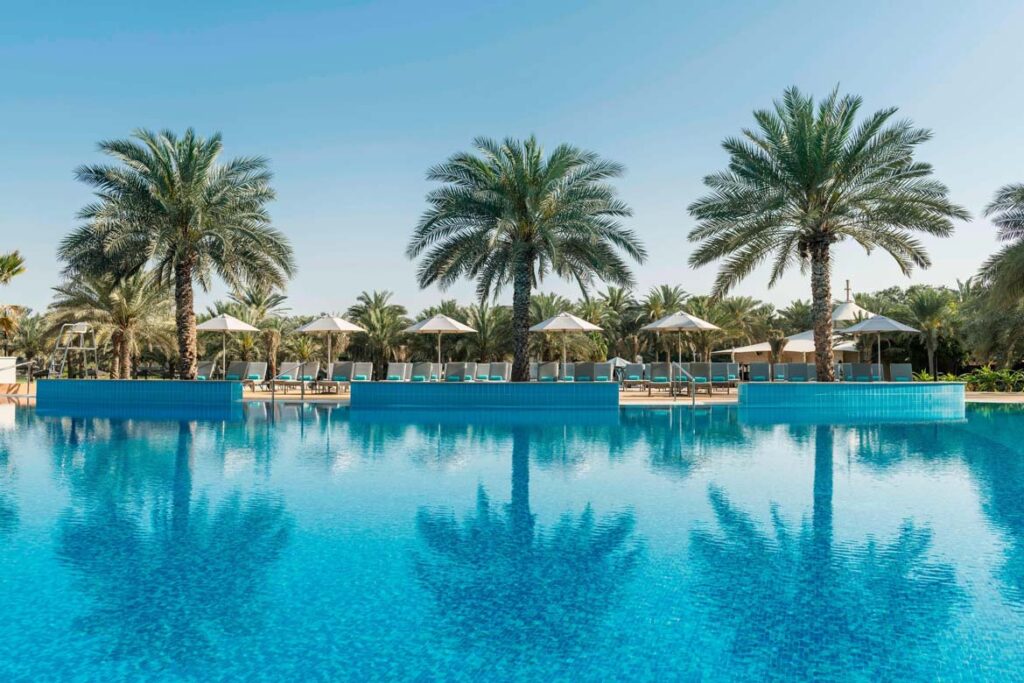 If you're a pool person, Le Royal Meridien has got you covered. There are three pools, the largest (and first you'll come across when exiting the hotel building) is home to the main pool bar. It's open until 8pm – something we think is pretty cool, given that so many pools and pool bars close as sunset – but the service is, sadly, very lacking. There was no service at your lounger – no water or menus offered, and we struggled to order a drink at the pool bar. The service at the hotel and dining areas had been truly excellent apart from this, so it was a bit disappointing to see the contrast here.
Some of the drinks we eventually managed to order at the pool bar were great (e.g. their mango martini) and some so bad we had to send them back (avoid their pineapple daiquiri) – so a bit of a mixed bag overall. The pool bar is very social and we met some great people – new residents to Dubai and tourists alike – but all professed their unhappiness with the service at the pool bar. Nevertheless, it's still a fabulous spot to while away the day while imbibing, socialising and getting a tan.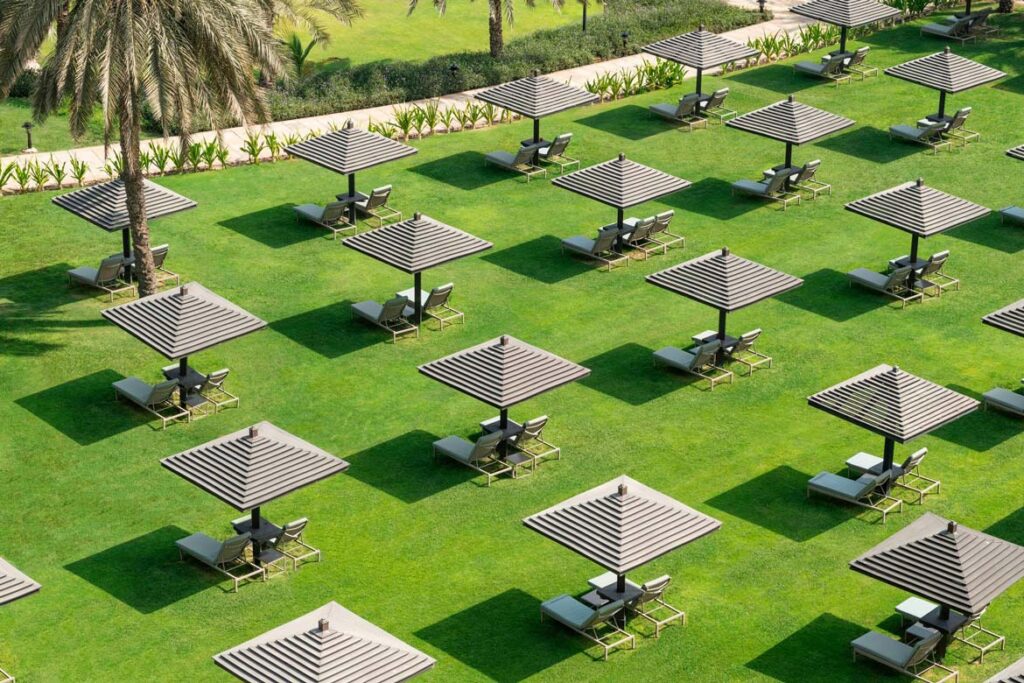 The second-largest pool, heading towards the beach, had a bar that seemed a lot less populated (and also had shade, of which the former has zero) so we'd say that's the spot to head to.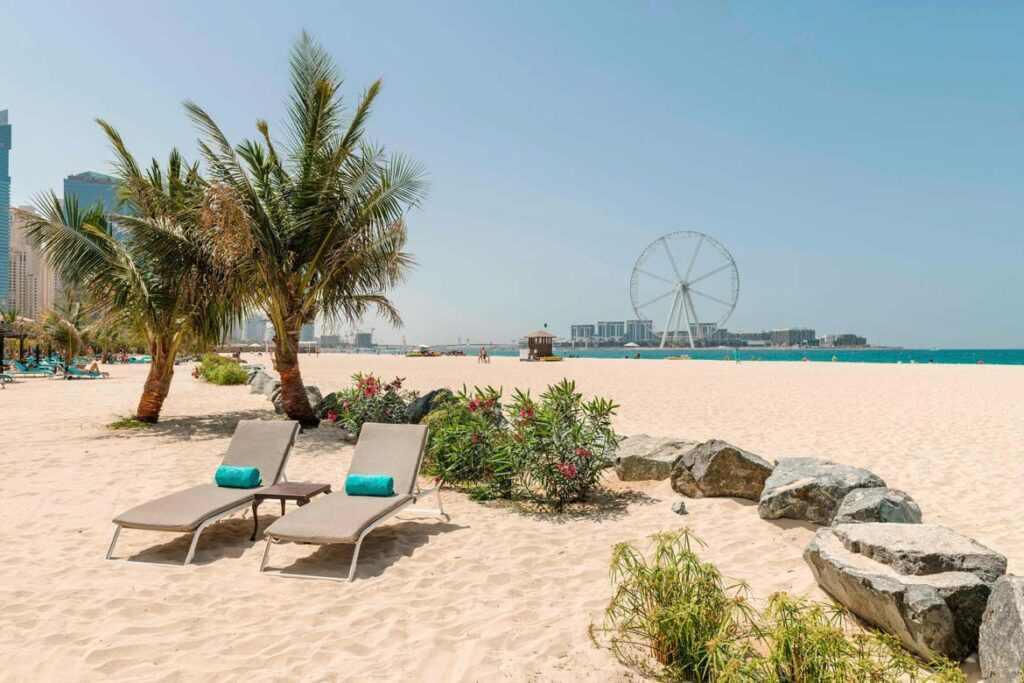 The beachfront afforded by the hotel is sizeable, with plenty of space and enough loungers to handle hundreds of guests. It was a touch too hot to enjoy the beach on our visit, but when the mercury does drop, there's also a large playground for the younger guests along with a soccer pitch, foosball tables and a mini-golf course (now that's a feature we think every resort should have, like Ritz Carlton Koh Samui).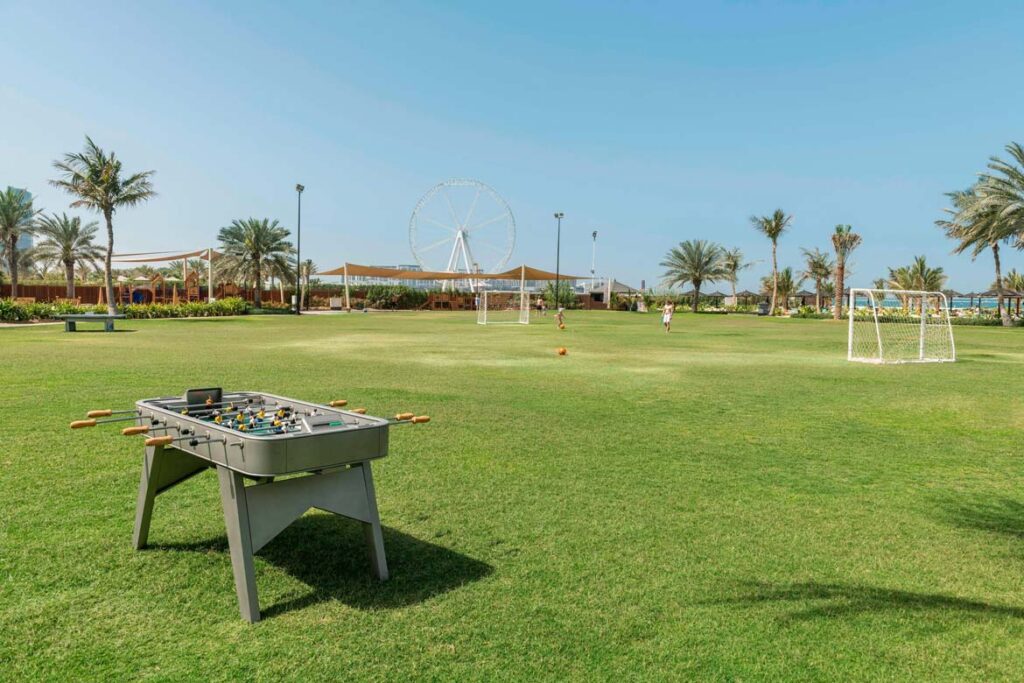 Children of all ages will be well entertained not just outdoors – the Le Royal Meridien also has a rather impressive kids club and teens club – but as we don't have children, we can't comment as to whether these are open at the moment due to COVID precautions.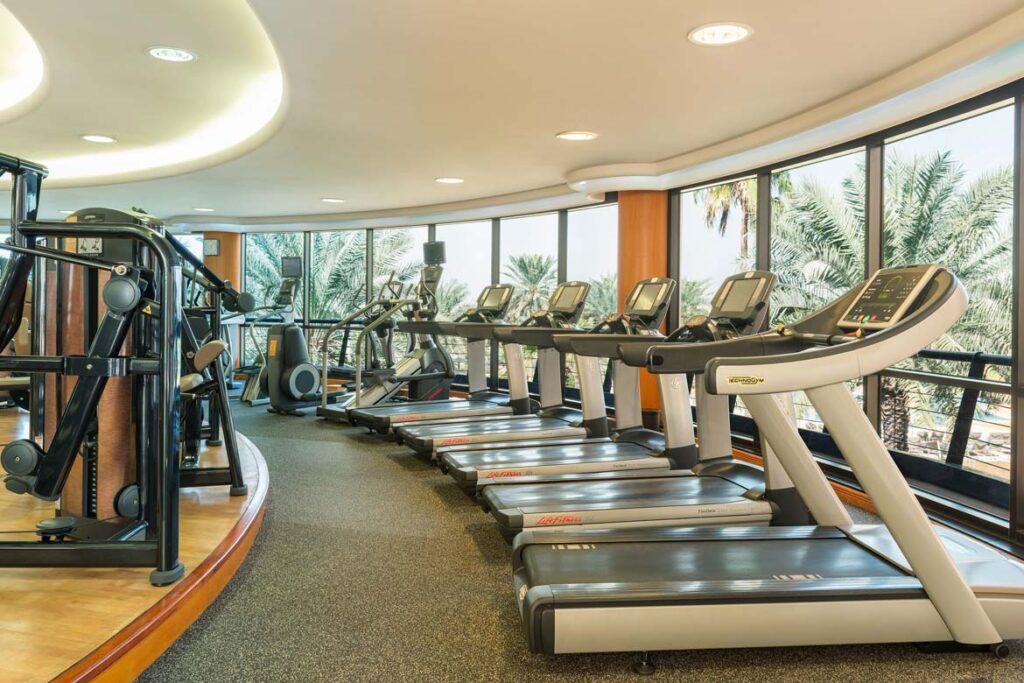 We really enjoyed the large and well-equipped gym, even if we may have preferred to be in the lounge visible across the way sipping on aperitifs – it meant there was no disruption to our usual workouts and definitely helped to burn off some of those extra breakfast calories!
The Cuisine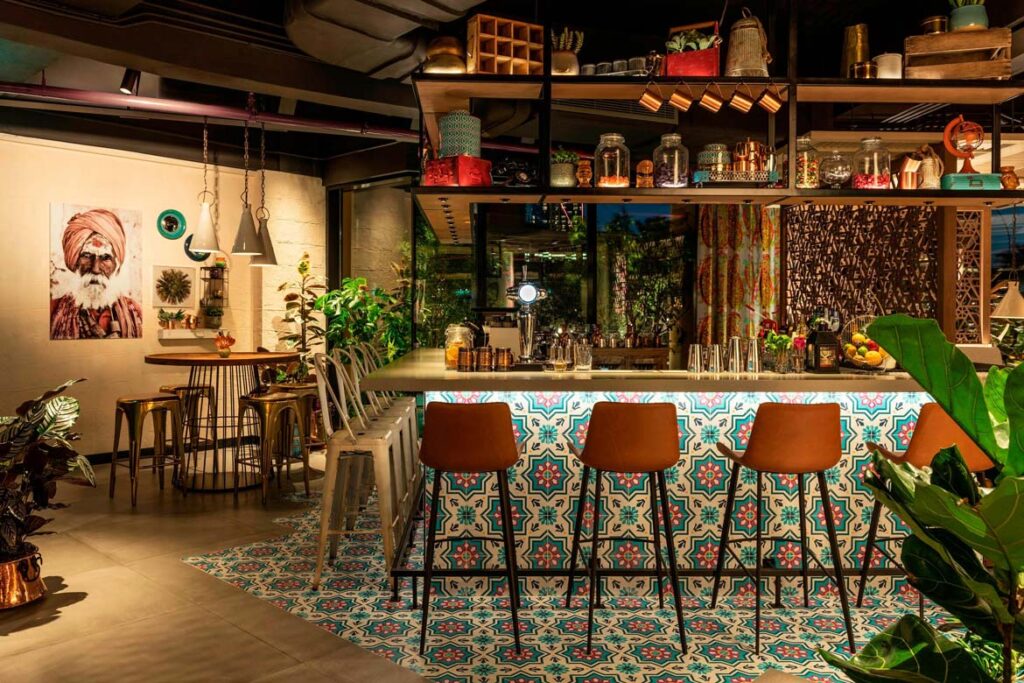 The hotel currently has five dining options – the buffet-style Brasserie 2.0, Indya by Vineet (Indian), Maya (Mexican), La Strega (Italian), Geales (seafood) and Rhodes 2.0 (British). Most guests take up Le Royal Meridien's half-board option, which is great value – but the menus are quite restrictive and understandably, lean towards the dishes which offer the lowest cost to the hotel. Most guests and families will find these menus completely adequate as they're definitely 'fussy eater friendly' that kids and grandparents alike will tolerate (and there are five restaurants to rotate through), but for serious foodies, soup, chicken breast and ice cream likely won't cut the mustard. 'Tis budget-friendly, though – something which is a definite plus in the UAE, hence our love for all-inclusive options.
We opted for a la carte dinners at Maya and Indya and were impressed by the quality offered at both – definitely a step up from the lounge food, which was equivalent to airport lounge offerings, but definitely not bad. The margaritas and cocktails are particularly good at Maya – don't miss them!
As a suite guest, you have three options when it comes to breakfast – buffet-style at Brasserie 2.0, dining in the club lounge, or if you're on the half-board plan, you can also opt to have breakfast served in-room (up to a value of 100dhs per person). We opted for Brasserie 2.0 for our first morning and while it has all the basics, admittedly we were pretty underwhelmed (save for the croissants – they were fabulous). We suspect the breakfast offering has been significantly reduced due to lower occupancy during this time, with no Asian options (something we really loved at Waldorf Astoria Palm Jumeirah) and very limited Arabic/Indian options – no pork either, just beef bacon all the way. There weren't any signature touches as we would expect from such a large hotel, though the extremely attentive service at breakfast really was a standout.
We found the 100dhs credit per person for in-room breakfast went far enough for us to equal what we had at the buffet, so for the added comfort, we think that's the superior option. For reference, we managed to order one full American breakfast (continental plus eggs and sides) plus pancakes and porridge, coming exactly to 200dhs.
You can read our review of Maya here and our review of Indya here.
Overview
Overall, we think Le Royal Meridien has done a great job giving a new lease of life to this long-standing property. Yes, the rooms may feel a bit dark and the pool areas a bit dated, but the property really does have a great vibe to it. The location is one of Dubai's best, occupying a prime strip of Dubai Marina beachfront that affords the resort some spectacular panoramic views, whether out to the sea, or looking back towards the Marina skyline from the beach. Gazing out from our balcony enjoying our morning coffee, we truly felt the wonder that we can only imagine tourists feel when experiencing this stunning city. It really felt like an escape with a true resort vibe – and we're definitely glad we made the trip. It's a perspective not many Dubai residents would see often and for that, we think Le Royal Meridien really is a great staycation choice.