We dive into Rixos Premium Saadiyat Abu Dhabi's unique all-inclusive hotel package…
In our books, a staycation or vacation should first and foremost, be relaxing. Visitors new to the region are often gobsmacked at the sky-high prices, and with good reason. Even if you're a seasoned UAE resident, food and beverage prices at the regions luxury hotels can still be rather stress-inducing.
This is where Rixos Premium Saadiyat Island shines; its indulgent all-inclusive offering takes any guilt out of the decision of whether to or not to order another piña colada.
The Rixos Premium sits on a long stretch of coastline of Abu Dhabi's Saadiyat Island, renown for its pristine white sand beaches and turquoise waters (oh, and for being home of The Louvre). The expansive beach boasts sunset views and offers plenty of room for social distancing, volleyball games and energetic kids.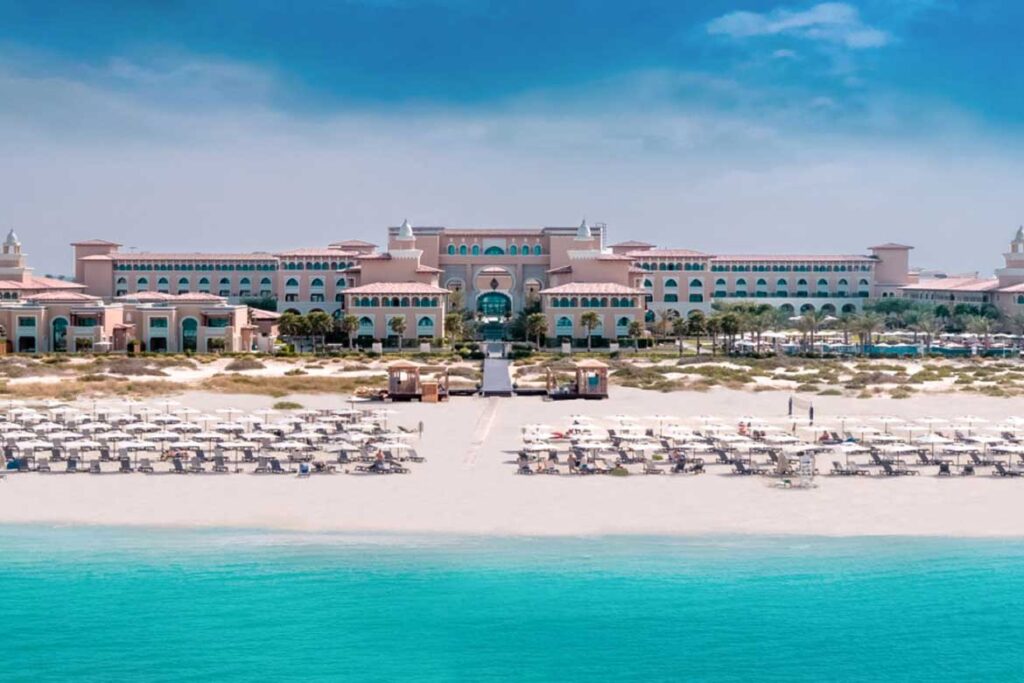 We're more of a pool person, so luckily our One Bedroom Family Suite with Private Pool afforded the choice of not just the expansive resort pool, but our very own. You can probably guess which we spent more time in, even though it meant we had to pop out to pick up a cocktail instead of having it delivered at the pool bar. First world problems, right?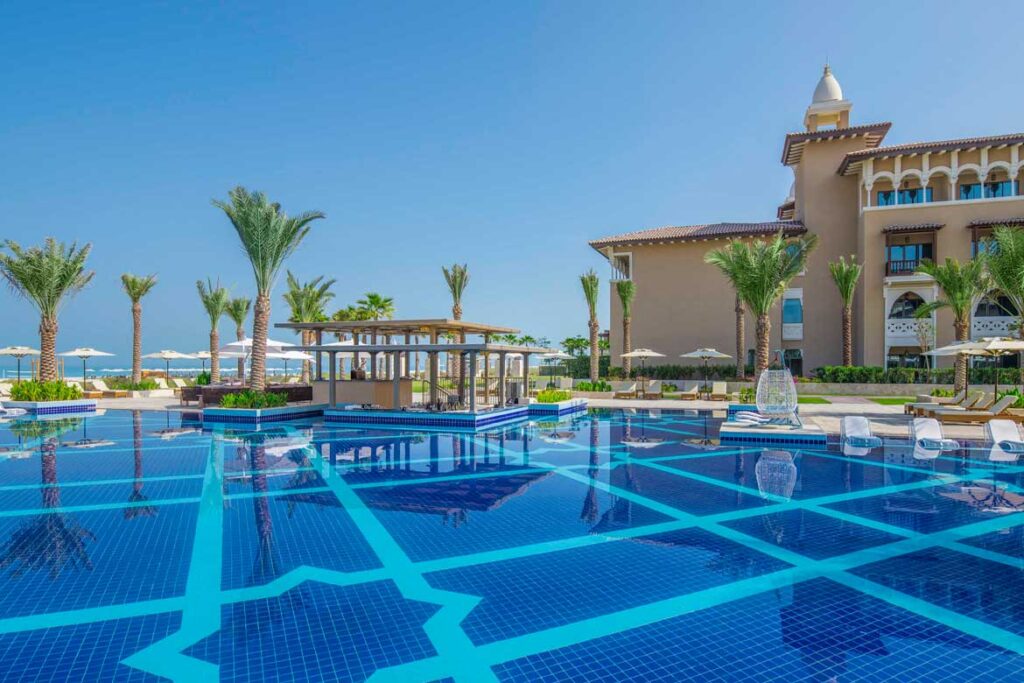 The oceanfront resort pool was pretty well patronised on our visit, but there's certainly plenty of room for everyone. There's also plenty of ways to keep cool in and out of the water – you'll find a Baskin Robbins ice cream cart poolside and rollerblading waiters to bring you a cold beverage, all included, of course. (We can't get our head around how that's not a safety risk on wet tiles, but we suppose we will just have to suspend our concern…)
The selection of beverages available at the pool (and throughout the resort) is truly awesome, and the quality of the cocktails is great too, something we were not expecting. It is rather incredible that all this is included in your room rate, but just note that one of the few things that isn't, is poolside food. For your all-inclusive lunch, you'll need to head to the nearby beachfront restaurant, People's.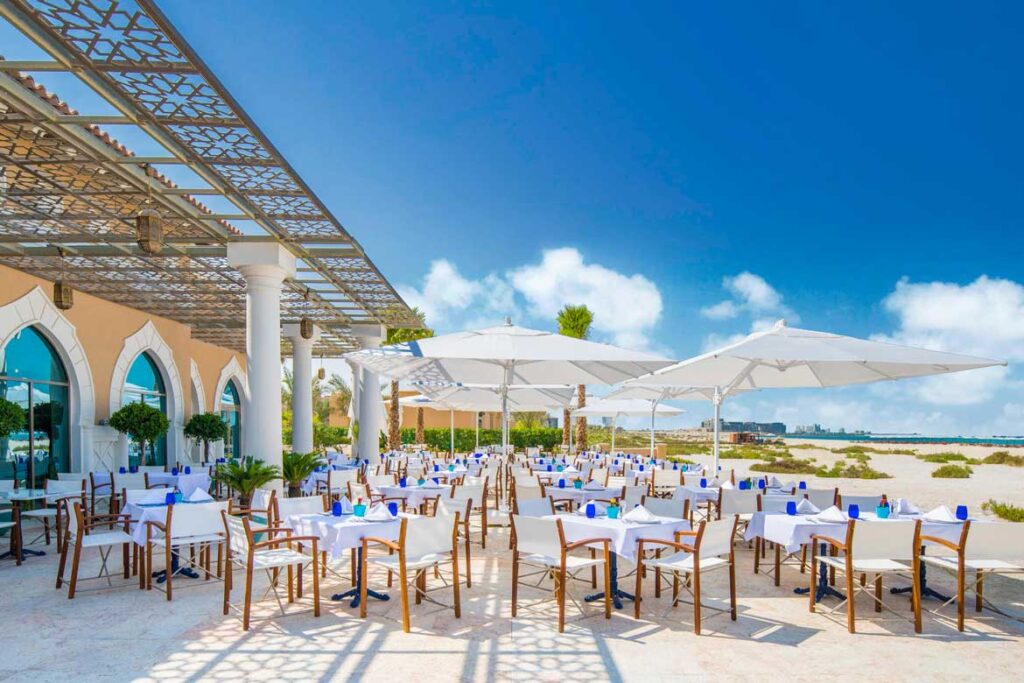 People's features plenty of family-friendly food such as burgers and spaghetti (and great views), but we did notice that the quality was a step down from the two dinner restaurants that come with a surcharge, Aja (100dhs pp) and L'Olivio (50dhs pp). We were blown away at the level of cuisine offered at these venues and we absolutely recommend you top up your package and opt for these restaurants instead of the already included options.
We didn't have a bad dish at either of the premium venues, some being amongst the most delicious we've been served in the UAE. From beef tataki to duck confit, tartare to burrata and insanely good pizza, the cuisine at these restaurants is an absolute highlight of the Rixos Premium Saadiyat experience. We feel like we're repeating ourselves here, but again, that's something we certainly didn't expect at an all-inclusive resort.
There are many choices when it comes to selecting your accommodation type at Rixos Premium Saadiyat Island, from standard to pool access to villa, but naturally, we had to go for the private pool option.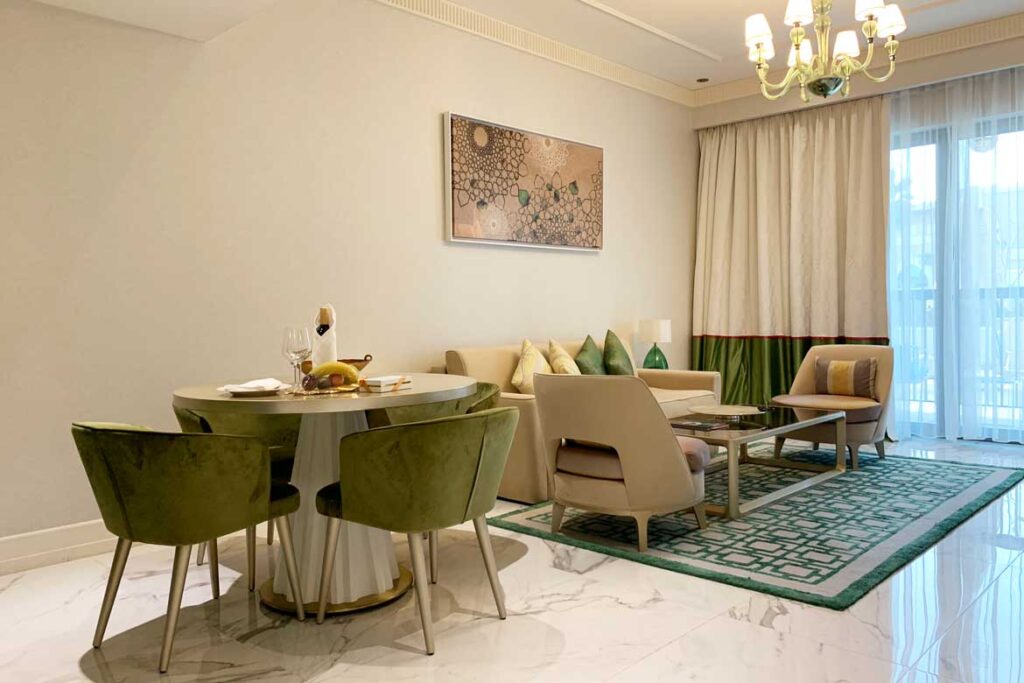 The suite is modern, bright and vibrant with its gold and emerald colour scheme. The lounge room boasts a sofa bed, large flat-screen TV, dining table for four and there's a full bathroom attached, complete with shower.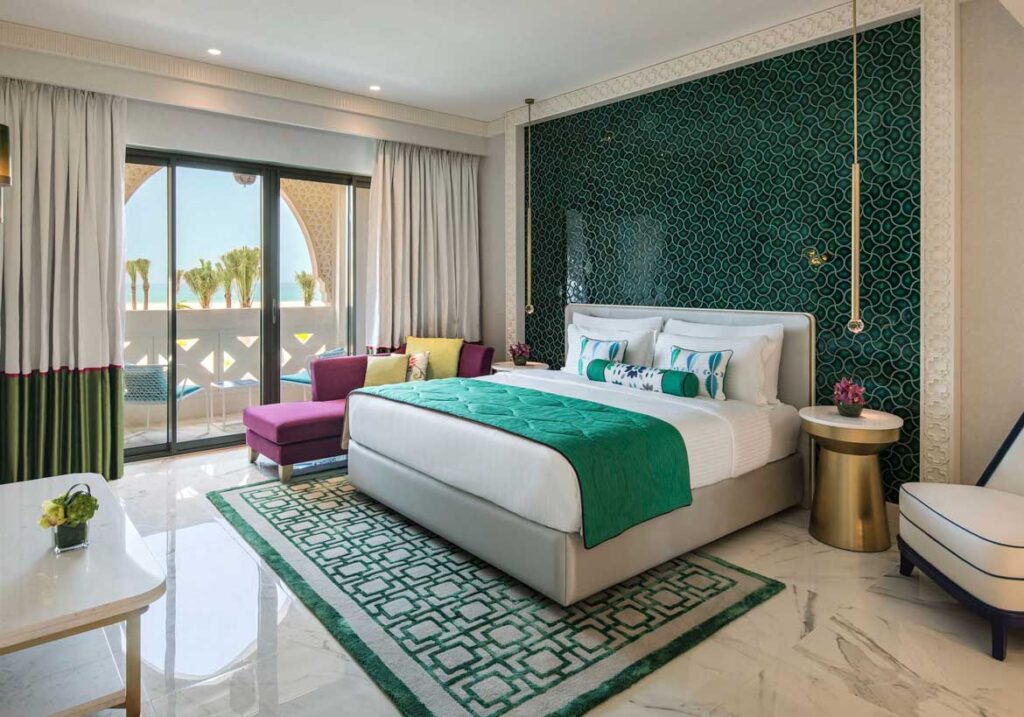 The bedroom is equipped with a super comfy bed, another TV, Nespresso machine and a minibar that is replenished daily, containing crisps, chocolate, soft beverages and beer. These are all included in your all-inclusive package too – we're loving the way things are done at Rixos.
The bathroom opens to the bedroom on two sides should you wish, or these can be kept closed for more privacy. Toiletries were plentifully stocked but not a particularly interesting brand, and there's a full-size bath too.
The in-room pool is, of course, a fabulous feature to have in a hot climate such as the UAE, but just bear in mind that it may not be as private as it sounds. It was also a bit of a strange design when it comes to useability, with not enough shallow areas and accessibility often hindered by plant beds. Safety-wise, there are child-proof gates on both access points to the outdoor area which is great to see, but one wasn't functioning properly on our visit which does pose a risk – it might pay to double-check these when you check-in if you are travelling with children.
The landscaping in our suite was quite sparse and had not matured yet so there wasn't a lot of protection from passers-by, and the privacy screen separating the neighbouring suite isn't solid. Thankfully, we were situated on a quieter corner of the resort and next-door was not occupied, but the staffed fitness station was just outside our room – and a lifeguard even appeared through our hedge unannounced to 'check on safety'. Gave us quite the fright and frankly, we didn't think it was really appropriate when one could see right into our outdoor area from the public paths already.
The outdoor/pool area is usually our favourite part of a luxury suite, but it's probably the one area where Rixos falls down – the private pools really aren't up to international levels. So if a pool only you can access isn't essential, perhaps choose a pool-access room opening on to the resorts sprawling waterways.
We'd like to see a bit more care when it comes to housekeeping and maintenance of the outdoor area, which to be honest, wasn't in great shape considering how new the hotel is. The loungers were showing rather a lot of mould/stains, the glass tabletop was missing and some litter around the plant beds and even a toy left in the pool by the previous guest. We tried three times to request decaf Nespresso pods to the room before the seemingly clueless staff admitted that had no idea what decaf was. We would expect a little better from a five-star establishment.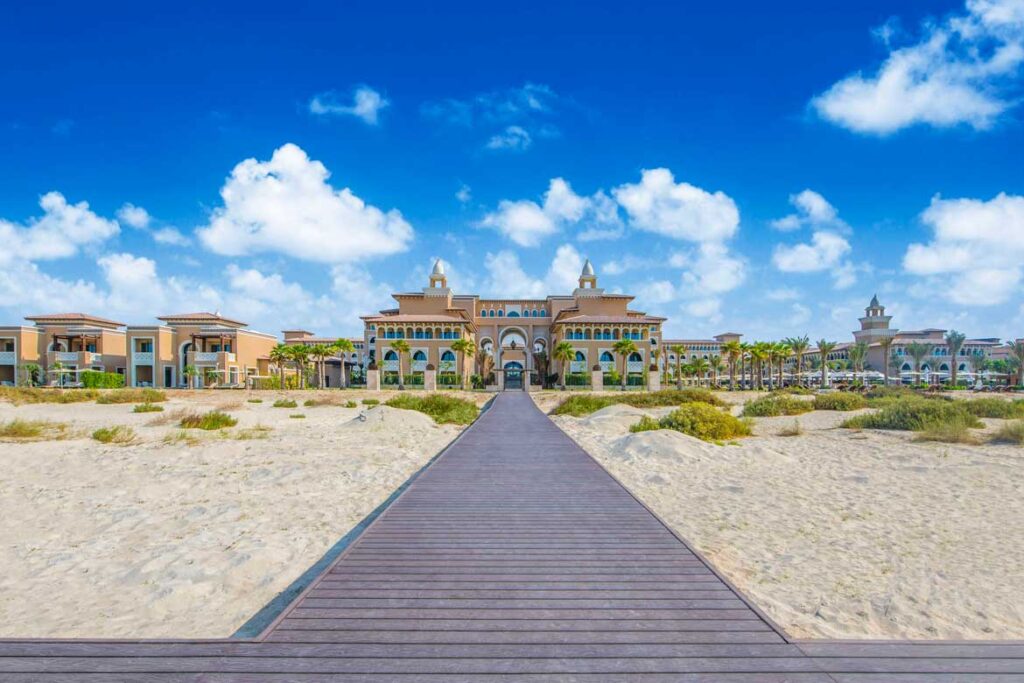 So does all-inclusive add up? Let's look at a basic room for the easiest comparison. From our research, an entry-level room mid-week for two guests starts at around 1000dhs a night during the hotter months. Let's add in 300dhs in surcharges for the premium restaurants and you're looking at 2300dhs for two people for two nights. With an average dinner for two with a bottle of wine running at around 1000dhs in the UAE, it's quick to see how this proposition adds up. A drink and lunch will average 260dhs for two, with pool-side and after dinner drinks usually ranging 50-100dhs. Obviously, higher categories of room are going to increase the investment, but it's worth noting that the entry-level rooms also are all-inclusive for one child, with the larger rooms covering two children. Whichever way you look at it, this is the way to go if you're looking for value for money without sacrificing quality.
Would we return to Rixos Premium Saadiyat? Absolutely, private pool rooms are fairly rare in the UAE as are all-inclusive options, and these, paired with the incredible food, make this an experience worth repeating.