If picturesque snowcapped mountains, sweeping views, and exquisite, locally-sourced fine dining is your cup of tea, South Tyrol might just be the ideal destination for your next fine dining escapade.
Given its location in northern Italy, not far from the Austrian border, South Tyrol boasts strong German and Austrian influences, from food to architecture to language. It's the home of the imposing Dolomites mountain range, atop a peak of which one of our must-do South Tyrol dining experiences is located.
Much like one might visit Cartmel in England's Lake District to feast on the epicurean creations of Simon Rogan and co., our visit to Brunico was primarily for the purpose of exploring the cuisine of Chef Norbert Niederkofler. He's a culinary king around these parts, having returned to the region he was born and raised in after spending years abroad honing his craft. Niederkofler is the powerhouse behind two of South Tyrol's fine dining institutions – the three-starred St. Hubertus at Rosa Alpina, and AlpINN, perched spectacularly atop Kronplatz mountain in the Dolomites. South Tyrol, in fact, has 23 Michelin stars in total, making it the province with the highest density of stars in Italy. Impressive.
Of course, stars and skiing are not all that South Tyrol has to offer – there's a plethora of great wines and local artisan produce to indulge in. While we sadly didn't get to visit the region's vineyards on this trip, we definitely enjoyed the wines on offer (and the cheese, of course). Vernatsch, Lagrein and Gewurtztraminer are the three native grape varieties of South Tyrol, but red lovers never fear – there's plenty of superb Pinot Noir to taste too. We'll definitely be heading back to explore the vineyards further.
The region operates rather seasonally – fully operational during the summer and winter seasons, but be sure to check for closures across shoulder periods when many hotels and restaurants go on hiatus. Most tourism is based around the area's renown ski slopes, spread across the 350 peaks in the area, and it's at the summit of one of these peaks that you'll find the breathtaking AlpINN restaurant, one of our key destinations in South Tyrol.
Completed in December 2018, AlpINN is, much like Oslo's UNDER, a setting that is almost unfathomably bursting with natural beauty. In contrast to UNDER, however, it's the spectacular altitude of over 2275m above sea level that gives AlpINN its unique perspective. The restaurant's modern, glass-encased dining room protrudes contrastingly from the mountainside, boasting near 270-degree views of the surrounding peaks and valley below. It's the only place we know of in the world where you can hit the slopes and enjoy a degustation all in one day. Adjacent to the restaurant also sits the LUMEN Museum of mountain photography, so if this piques your interest be sure to allocate extra time to visit.
AlpINN usually only opens for service during the day, as it's reliant on the gondola to the ski field as a means of transport to and from the restaurant. The views on a clear day are absolutely breathtaking – we truly can't emphasise this enough – and lucky for you, the region is bathed in sunshine a whopping 300 days of the year. You'd almost forgive them if the food was terrible, given the million-dollar view, but thankfully, it's most certainly not.
We were lucky enough to visit AlpINN as the day slid into sunset due to the evening four hands dinner with Niederkofler and visiting superstar chef Albert Adria of Barcelona's Enigma (and World's 50 Best listed Tickets, Bodega 1900, Hoja Santa, Pakta….you get the idea, he's kind of a big deal). The views from AlpINN are hard to beat, but Niederkofler's signature dishes from St. Hubertus and Adria's Enigma-inspired courses did a superb job of meeting the lofty challenge.
Paired with excellently curated wines from local Tyrolean producers, this was a meal worthy of the journey (even for one who's had slightly scary experiences on gondolas, such as myself, but that's another story…). Terlan's Vorberg Pinot Bianco Reserva, bursting with creamy mango and tropical notes, had us asking for seconds and Girlan's Trattmann Pinot Noir Reserva 2016 showcased a rich softness unexpected for its young age.
For us, the standout dishes from the meal were two St. Hubertus dishes – Beetroot gnocchi, each bite literally bursting with flavour (and cheese), and Pine / marshmallow, the latter being seared at the table by a hot rock – the most satisfying pre-dessert we've experienced in recent memory. The table's seafood eaters also swooned over the White fish tartare, available on St. Hubertus' signature menu.
Adria and Enigma Head Chef, Oliver Peña, served up a selection of Enigma dishes including Air blinis with Iberian fat cream and caviar, Pâté en croûte with air croissant, Lettuce soup and the umami-rich yet light, Soy, soy soy. Sadly no iconic Crystal bread, but we guess we'll just have to head to Barcelona and taste Enigma's 41 course menu if we want an encore of one of the world's most photogenic pastry creations!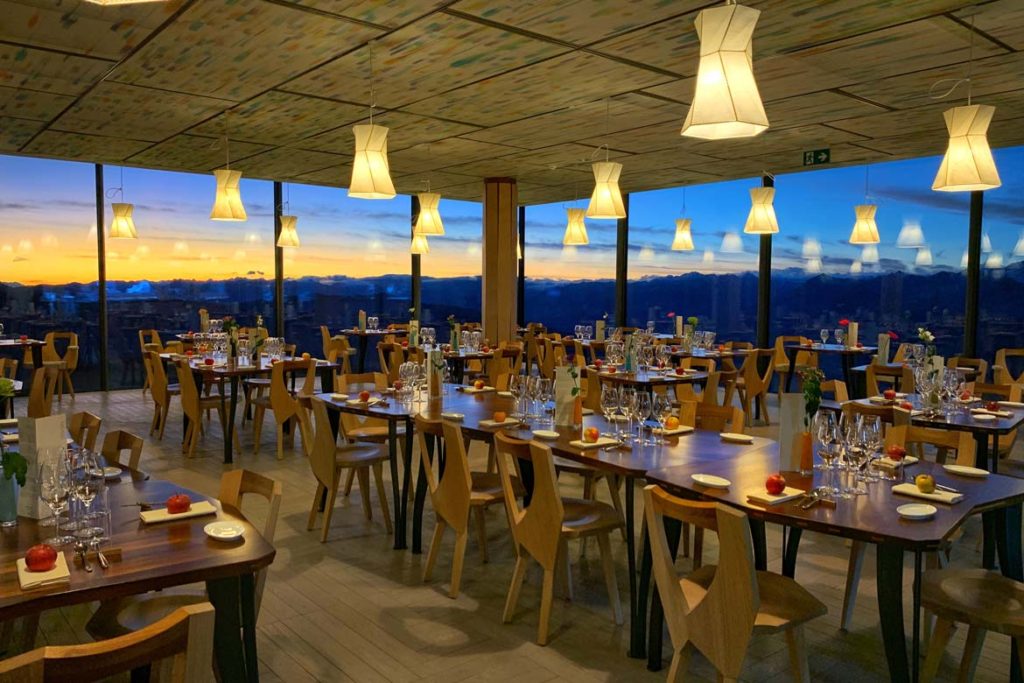 AlpINN, with its spectacular views, is clearly your must-visit lunch spot, but for dinner, don't miss visiting Niederkofler's primary restaurant, the three-starred St. Hubertus. It's where you'll be able to sample Niederkofler's most adventurous and refined dishes, including those mentioned above, with polished three-star service to match.
Located in the fabulous Rosa Alpina (a great choice for luxury accommodation in the area), this restaurant is built around Chef Norbert's philosophy of 'Cook the Mountain'. In his words, 'Each plate is created following the principle that the palate has to perceive something greasy, something crunchy and something fresh'. Only local ingredients are used in this menu, ensuring that you experience a menu completely unique to South Tyrol.
The delicate Mountain herb salad (which uses no olive oil, as it's not native to the area) blew us away with its surprising sweetness and complexity – this is no ordinary salad, but a true taste of the fresh and herbaceous bounty of the mountain region. We also taste broth crafted from a wide array of local mushrooms, the mushrooms used in place of any other traditional seasoning to great effect – they even have a funhgi that mimics fennel.
Niederkofler's Sweetbread, bitter herbs and pine orzotto, a signature St. Hubertus dish, does a fantastic job of encapsulating the produce and clean, yet earthy flavours of South Tyrol. We loved the simplicity of 'Vegetables from our garden', a dish that changes daily due to what's ready to harvest. Luckily for us, leeks are our vegetable of the day, cooked over the fire inside a bread crust vessel with seasonal herbs until tender and juicy. A bowl of brightly coloured cherry tomatoes is another highlight of the night, their sweetness countered expertly with local white currants.
Personally, we love the large and varied amount of vegetables on the menu, but you'll still find plenty of protein on offer – our tasting menu included suckling pig's head, mallard and veal tongue, and for seafood lovers, local eel and trout (don't expect to see imported saltwater seafood here).
We also loved the wine pairing, guided by expert sommedlier Lukas, featuring superb Riesling, Barbaresco (the Roagna was stunning!) and a few natural wines, if that's you're thing…
Chef Niederkofler is presenting the flora and fauna of South Tyrol in an elegant and refined, yet relaxed fashion – and we highly recommend it. Paired with the breathtaking scenery on offer, this is a trip that we think you'll long remember.
Three-Michelin-starred St. Hubertus offers their 'Cook the Mountain' menu for 280 Euros (310 with cheese) and you can add the wine pairing (8 glasses) for 180 Euros*. Visit the St. Hubertus website for more information.
AlpINN offers an a la carte menu and seven course 'Blind Menu' priced at 75 Euros*. Visit the AlpINN website for more information.
*All prices accurate at time of publication, October 2019.