Looking for the best nonstick skillet on the market? Wondering if Swiss Diamond cookware is any good? We've got the tried and tested verdict for you…
Since installing our new Miele induction hob, we've been on a quest to find the best cookware on the market – and specifically, the best nonstick cookware. (If you haven't read our review of WMF's Fusiontec saucepans, you can check that out here.) We loved WMF's nonstick properties, but the Swiss Diamond's slick surface is really on a whole other level. We often expect that these types of ranges don't live up to the hype, but that's definitely not the case here.
We've put the Swiss Diamond XD range through its paces – let's sum up the features it has to offer:
The ULTIMATE in nonstick cooking. Does it get more nonstick than the Swiss Diamond XD range? Honestly, we truly don't see how that could be possible. We were blown away by just how much this range delivers on its nonstick promises – we found fried eggs cooked with no butter or oil lift up with ease, pancakes flip effortlessly. This is a kitchen game-changer. (It even has 20% more diamonds than the standard Swiss Diamond range – and come on, who doesn't love more diamonds?)
Healthier cooking. Swiss Diamond XD's revolutionary diamond-reinforced coating is completely safe, PFOA-free (more on that later) and enables you to cook with little to no oil, meaning lower-calorie dishes. We regularly cook using the Swiss Diamond range sans-oil with great results – we only add oil now for flavour!
Energy saving. The extra-thick, cast aluminium body is oven safe up to 260 degrees Celsius (that's 500 degrees Fahrenheit) and provides super-efficient heating, eliminating hotspots. This means you'll get an even cook with less energy consumption – you shouldn't need to use more than a low-medium heat for optimum cooking results.
Built to last. There's no question that the Swiss Diamond XD range will be with you for the long haul – their extra tough, diamond-reinforced coating has been subjected to 12,000 continuous strokes of coarse sandpaper during rigorous lab testing – and it still beat the competition. The ridiculously solid, rivet-free pan construction will last the test of time – no matter how often you use it (and you'll use it a lot, trust us)!
Easy clean. Ideal for busy kitchens (and even busier chefs), the Swiss Diamond XD range is the easiest cookware to clean that we've come across. Hands down. We often remark when we put the pans in the dishwasher that there's nothing to clean anyway – due to the nonstick coating, you simply don't get the sticky, burnt on build-up that you get with regular cookware. This seems to be a sentiment shared by others too – one reviewer writes, "you almost don't even need to wash it….there is no residue left in them!". Swiss Diamond does say that hand wash is recommended, but these pans are dishwasher safe – personally, we throw them in the dishwasher with no issues. We love that we can spend less time cleaning, and more time cooking.
Kitchen compatible. Whether you use gas or induction, Swiss Diamond's XD range will perform at its best with ease. And what's more, you won't find any 'buzz' here. Many manufacturers make their cookware 'induction compatible', by using an embedded magnetic core that can loosen with time due to repeated heating and cooling, causing that annoying 'buzzing' sound as the now-separated metals vibrate against each other when heated. Swiss Diamond uses a magnetic steel layer on the entire base of the cookware which is inseparable from the cookware body – meaning no separation, and a guarantee that it will never "buzz."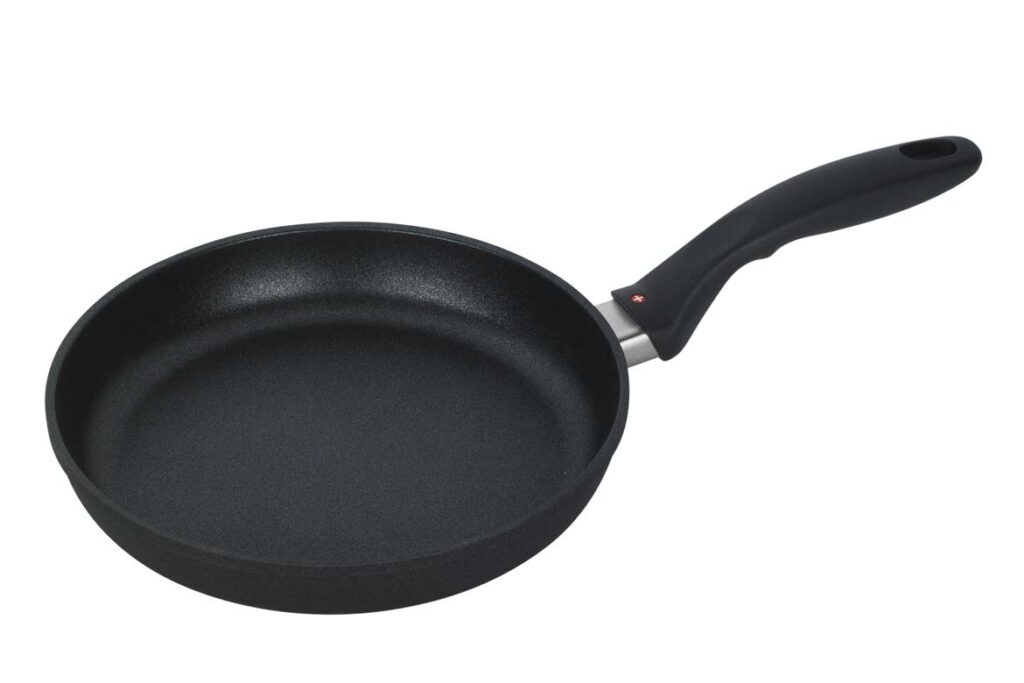 Now for the elephant in the room….Let's talk Teflon. Is Swiss Diamond XD Teflon? Well, on a technicality, no, but technically…yes, kind of. Swiss Diamond uses a proprietary, Swiss-made PTFE coating – so it is made from the same compound as Teflon, but isn't Teflon per se – that's trademarked.
Is Teflon safe? When you're shopping for non-stick, the health concerns around Teflon inevitably come up. Invented in the 1930s, Teflon is the DuPont-trademarked brand name for a plastic product called polytetrafluoroethylene (PTFE). Many of the concerns around Teflon's safety revolve around PFOA (Perfluorooctanoic Acid), a chemical that until recently, was used in the process of making PTFE. Considered a pollutant and a toxic substance, PFOA has been eliminated from most non-stick preparations, including Swiss Diamond XD.
Teflon itself is an inert substance that if consumed, passes through your system – being non-reactive, it's even used in joint replacements! Definitely a vote of confidence there. The other concern about PTFE coated surfaces concerns gases that can be released when the coating is heated to over 260 degrees celsius – so, put simply, don't use your nonstick cookware in oven applications above this temperature to avoid any risks in this department.
If a cooking item is nonstick, it will use PTFE as it's coating agent unless it's clearly labelled as ceramic – a material which comes with its own drawbacks, namely in the form of much-reduced durability (many reports state that non-stick properties of ceramic coating may last as little as a year).
In conclusion, PTFE coatings are totally safe to use in your kitchen (just don't heat the pan to crazy high temperatures!). There's no need to be worried about the health effects – just enjoy that superior performance that modern forms of the technology can provide.
Do we think Swiss Diamond is best nonstick skillet on the market? It's a resounding YES. Try as we might, we just can't get anything to stick to this seemingly miraculous surface. This is technology that really will change the way you cook (and the way you clean). Add to this incredibly solid construction and ergonomic handles that stay cool on the stovetop and you've got a kitchen essential. The Swiss Diamond XD range is built to last – and certainly a fantastic investment given how reasonably priced it is. Don't hesistate to welcome the Swiss Diamond XD range of cookware into your kitchen.