If you're looking for a luxury Thailand getaway but your aesthetic is more Ibiza chic than traditional Thai teak, Phuket's Kata Rocks is the perfect choice. In a market filled with a plethora of villa options, Kata Rocks' modern aesthetic has captured the attention of celebrities and the superyacht crowd alike for good reason.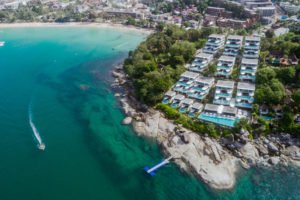 Kata Rocks offers 1-3 bedroom pool villas set cascading down an oceanfront cliff side, affording panoramic views for all. Connected by steep and winding buggy tracks, you'd be forgiven for thinking you're taking part in the Monaco GP of golf carts when you're being whisked to your impressive lodgings. We checked into one of Kata Rocks' One Bedroom Sky Pool Villas, set on the coast of Kata Beach overlooking the Andaman Sea and nearby Koh Pu island. Each villa comes with its own personal 'Rockstar' concierge, on hand to take care of the usual butler services – unpacking, scheduling, etc.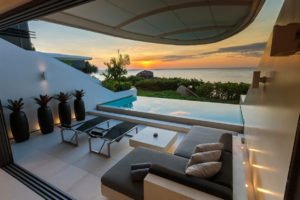 Each One Bedroom Sky Pool Villa features a spacious lounge room with separate guest toilet and fully equipped kitchen with wine cabinet (should you be able to drag yourself away from their excellent in-house restaurant, that is) opening on to a private outdoor patio with loungers, lounges and a seven metre infinity pool. It's a fully automated villa – lighting, temperature, music, television, blinds and service requests can be controlled via the in-room iPad, and the bedroom features a second 40″ TV, set in to the ceiling and angled for perfect lie-flat viewing from the super comfy bed. The view from the upstairs loft bedroom is probably much more attractive than anything you'd be able to find on the TV, however – you'll even see the odd parasailing flight whiz past your window from nearby Kata Beach.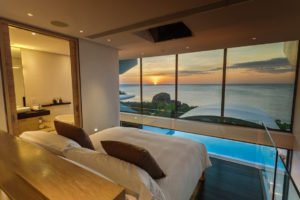 A spacious bathroom complete with full size bath (and a third in-built LCD) opens out to the same dramatic views, but the body of water you're going to want to be spending your time in is your gorgeous private pool. If you can bear leaving the comfort of your personal oasis, check out Kata Rocks' spacious resort pool adjoining the restaurant – it's the perfect spot to watch the sun go down over a cocktail or two. Don't miss trying the gin and tonics made with their bespoke Kata Rocks gin (be warned, however, that you probably won't be able to resist taking a bottle home with you).
Wine lovers will love Kata Rocks' wine and cheese pairing classes available to be booked in their cellar – you won't just learn which cheese to pair with which wine, but which aren't as good of a match and why. Even if you know a thing or two about marrying your wine and cheese, this is still a superb way to relax before dinner in paradise.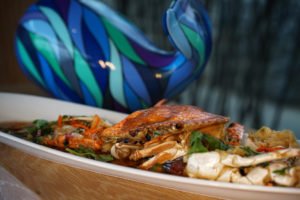 Whether you're a fan of traditional Thai cuisine or fine European dining, Kata Rocks' restaurant will have you well looked after. From gorgeous Khor moo yang to fragrant curries, the food is not to be missed. If you're wanting something a little more casual to nibble on poolside, try their award winning Ohla burger (seriously, it took out the award for Best Burger in Phuket). A patty made from Australian Wagyu M5 beef and pork belly topped with Ibérico ham and Brie cheese? Super delicious (and as decadent as it sounds)! For those wanting something even more romantic and a little more secluded, Kata Rocks can set up a bespoke private dinner in a secluded waterfront location for you that's sure to be memorable to say the least.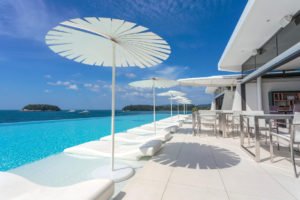 The Sky Pool Villas are best suited to couples (there's a rail-free staircase that I highly doubt any child has the dexterity to navigate in one piece) but never fear, families and larger groups have plenty of options in the form of Kata Rock's two and three bedroom villas. Offering spacious living areas, these are perfect for a family getaway or a holiday with friends. You can even get Kata Rocks' amazing chefs to create a private dinner in room for you if you just can't bear to leave (and we certainly wouldn't blame you).
Kata Rocks is all about it's high end, minimalist aesthetic punctuated by pops of modern art. One look at the pictures should indicate whether this is your vibe – it's definitely something unique in the Phuket scene. We loved the villa, the service, the food and of course the drinks – and we're sure you'll love it just as much.
The Verdict
Style: Modern minimalist Ibiza chic
Would I return? It's a no brainer.
Suitable for: Couples will love the Sky Pool Villas, while families and groups are better suited to the larger two and three bedroom options.
Room Type Reviewed: One Bedroom Sky Pool Villa
Room Size: 175sqm, One King Bed
Room Amenities: Private pool, outdoor lounges, sun loungers, west facing, full size stand alone bath with TV, large 55″ TV in lounge, angled ceiling mounted 40″ TV above bed, WIFI, full iPad controlled room automation, full kitchen facilities including oven, hob, extractor, fridge / freezer, dishwasher and washing machine, electronic blinds, Nespresso machine, Verasu wine cabinet, robes, guest toilet, slippers, bottled water, air conditioning, fridge, safe.
Hotel Amenities: Personal 'Rockstar', airport pick up and check in service, seaplane waiting lounge, garment pressing (two items pressed per day per person).
On request services: Watersports
Hotel Facilities: Spa, infinity pool, fitness centre, kids club, wine cellar, restaurant
Price Guide: from around 26,000 THB per night