Our travels to Thailand have left us with a serious craving for authentic green curry. Luckily, New Zealand's master of Thai cuisine, Chef Che Barrington, has kindly lent us his powerhouse recipe for this iconic Thai spice paste. Making spice paste from scratch isn't for the faint hearted, but it's definitely something we recommend trying at least once if you really want to understand the flavours and ingredients that form the basis of Thai cuisine's complex curries. You can find the ingredients you need for this recipe at our fave, Kibsons. Their produce is super fresh, has a ton of organic options, is fabulous value and they'll even deliver to your doorstep…click here to find out more.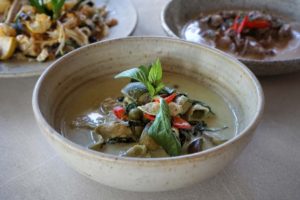 Shot on location at Phuket's incredible Trisara resort…click here to read our review of Trisara!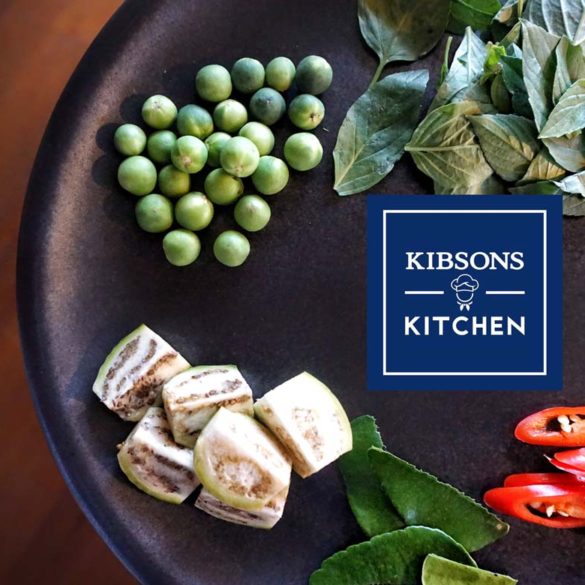 Ingredients
SPICE MIX
3 tbsp coriander seeds
2 tbsp cumin
1 tsp mace (or nutmeg if you can't get mace)
2 tsp white peppercorns
1 tbsp salt
WET PASTE MIX
12 coriander roots
1 tsp salt
4 lemongrass stalks
4 tbsp wild ginger
2 thumbs galangal
3 shallots
10 cloves garlic
1 thumb turmeric
Zest of 1 Kaffir lime
Now for the chillies. This part is where your tastebuds come in (and your tolerance for all things spicy). We used 10 bird's eye chillies (2 with seeds, 8 deseeded) for a mild paste. Leave more chilis with their seeds for a spicier paste.
Instructions
Toast each of the spices individually in a dry pan, leave to cool then grind to a powder.
Tips from Che: Make sure you thinly slice everything or else you'll have fibres all though your curry paste. Slice the galangal in half lengthwise, slice each half into thirds (also lengthwise), then slice these batons as thin as you can crosswise. Remove a few of the outer layers of the lemongrass so it's not so woody, then slice the core as thinly as you can crosswise. Everything else - the coriander roots, chillies, shallots, turmeric and garlic, cut thinly crosswise.
Pound the paste ingredients one by one in a pestle and mortar, making sure each is well incorporated before adding the next.
Add spice powder to the wet paste and combine well.
Now that the hard bit is out of the way, let's get on to making the curry! Click here for our Thai Green Chicken Curry recipe.
About the Chef:
Chef Che Barrington is the Executive Chef behind Auckland's powerhouse Asian restaurants Woodpecker Hill, The Blue Breeze Inn, Chop Chop and the newly opened Go Go Daddy. You won't want to miss his modern take on ancient Asian flavours if you're in the City of Sails. Just remember to book, unless you're heading to Chop Chop that only takes walk-ins. These restaurants are insanely popular - you don't want to chance missing out on a table!