Pan Asian Steakhouse. Not three words you'd usually see together, but unusually, what the new Matagi Dubai describes itself as. We love Pan Asian and we love a good Steakhouse….but will the two work together? We headed to the new Kempinski Emerald Palace on Dubai's Palm Jumeirah to find out.
The first thing you notice when you enter the Kempinski Emerald Palace? The decor. Look, Dubai loves a bit (a lot) of 24-carat (or perhaps more Dragonmart gilt) overindulgence, but this foyer looks like a Russian palace threw up on it, and not in a good way. (That being said, is throwing up on anything ever a good thing?) We're almost speechless as to the ridiculousness of the hotel decor. That's a first for us – which says a lot, given some of the questionable decor we see in Dubai. We escape the eyeball assault and head into Matagi, not far from the main entrance of the hotel. The eclectic Asian-meets-Latin decor is a HUGE step up on what we've just witnessed, but for us feels a little five-years-ago when it comes to restaurant design. It's ok, but if we're honest, we're not really loving it.
Thankfully, things start to improve rapidly once we have the menu in our hungry hands (and due to the wonderfully personable service from Theodora). The menu looks mouth-wateringly fabulous. Right up our alley. And we're not just referring to the food menu – the cocktail menu is equally enticing, a rarity in this town. Hopes are soaring ridiculously high at this point, perhaps foolishly given our experience of the Dubai food scene, but only time will tell. We decide to get a cocktail on the way while we excitedly pore over the menu, and we couldn't resist the 'Way of Shinobi' (75dhs) – Bacardi Blanco, lemon juice, mango puree and coriander. Just what we love in a cocktail, and it certainly doesn't disappoint. Delicious.
Despite wanting to devour the whole menu, we decide on the following hot starters:
Gochujang fried chicken (87dhs)
Char siu lamb ribs (85dhs)
and on the cold side of things:
Smoked brisket wasabi cream salad (69dhs)
Wagyu beef and truffle tataki (88dhs)
Spicy king crab maki (65dhs)
Our cold starters arrive first, and both my dining partner (the fab PassMeTheDimSum) and I swoon over the truffle infused dressing on the tataki. The Wagyu is wrapped around thin sticks of crunchy snow pea which makes for a nice change on the usual, our only gripe being that five pieces are hard to split between two.
The brisket, with its super fresh, mint-laced wasabi cream salad, has us both raving. A good value dish (by Dubai standards) that really delivers. I'm told the crab maki is fab too (with none of that fake crab stuff going on).
Our choice for cocktail number two is the wonderful-sounding 'Yamato no Kusuri' (75dhs), comprised of vodka, 'tropical fruit base' – doesn't sound glamorous, but it tasted good – coconut and again, lemon juice. The glass is dusted in desiccated coconut and I can't decide whether I think it's pretty or just potentially pretty messy, but either way, the contents are luscious.
On to the hot selection, and Matagi knocks it out of the park with their Gochujang fried chicken. I'm a sucker for fried chicken, and this is serving me up Korean flavour-meets-karaage goodness. The sweet pickled cucumber and onions tossed throughout really work for me and with an extra side of mayo, this is heaven (fried chicken without mayo is just sacrilege). I've got a thing for lamb ribs, and while I wouldn't really call Matagi's take char siu, they are delish, albeit a touch too salty.
The wine list isn't fully ready when we dine, somewhat surprising given the restaurant has been open a month, but one must remember that premises on the Palm have to purchase their alcohol through a third party due to the island's regulations…causing price increases and delays. Le sigh. Thankfully, there's a by-the-glass selection available and whilst there is no Chardonnay currently on offer, the Flying Solo Grenache Blanc Viognier from Domaine Gayda, a vineyard we had the pleasure of visiting during our last visit to Languedoc Roussillon, is a good accompaniment for the spicy Asian flavours on our plate. Happy (enough) days.
Despite being rather full by this point, after a decent requested digestion break (like A to Za'atar noted, the pacing is a touch quick for us, and go read Out and About UAE's account too) we push on to mains (the 'Steakhouse' side of things), solely for the sake of research, of course – don't think us food critics don't take one for the team now and again.
We ordered the:
Braised Black Onyx Short Ribs (240dhs)
Sweet potato mash (40dhs)
Warm broccolini (65dhs)
We consult with the lovely Theodora as to whether we should choose the rib eye (the king of steaks, c'mon) and the short rib, worried that the short rib might be too close in texture to the brisket we loved earlier in the evening. We're advised to go with the short rib as it's a fave amongst diners, but if we're honest, it was indeed a little too similar the brisket for us. The meat and it's accompanying slaw are tasty, but it's topped with kale crisps that have been fried in grapeseed oil, resulting in nasty cardboard-and-gasoline type flavours. Remove these and the dish would be improved instantly.
Being that the mains are served Steakhouse-style, there are some enticing sounding sides on offer. We elect to try the gochujang broccolini, which isn't anything special and comes in at a very overpriced 65dhs. For a side dish, this is crazy. You'd be better off spending 69dhs on the aforementioned brisket and wasabi salad. (Also, we regularly purchase this amount of broccolini for 4dhs from Kibsons, so I'm sorry but you gotta be kidding, honey.) The sweet potato mash is made with coconut milk (and also cinnamon, though it wasn't overly pronounced as a flavour) and studded with potato crisps and crispy chicken skin. It doesn't get the balance quite right and while we love the creative addition of chicken skin, this one isn't quite there for us.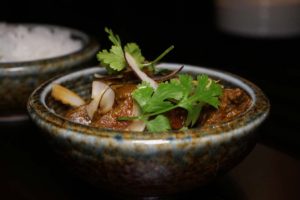 Upon discussing our love for Rendang with the staff, we are emplored to try Matagi's version (which isn't yet on the menu so unfortunately, we can't give you more details on price). The meat is gorgeous (and definitely tastes premium), cooked to a perfect medium-rare and wonderfully tender. The curry, however, leans heavily on the cardamom and for us just doesn't taste like rendang…with some tweaks to the spice paste, though, this will be a winner, we're sure.
It's difficult for dessert to tempt us. We're usually pretty darn full at this point, and we'll be honest, we don't have a sweet tooth. Despite only having a tiny three options on the dessert menu, we were so intrigued by the choices that we just had to try these:
Mikan cheesecake (59dhs)
Coconut ginger mousse (50dhs)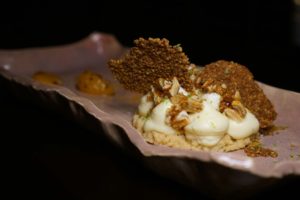 Let's start by saying that we think Matagi's starters are well priced (again, for Dubai). Some of the sides (hello, broccolini) and the mains are overpriced and sadly the desserts fall into this category too – the 50-60dhs territory for desserts is on the steep side. Thankfully, though, these desserts deliver. It's hard to make an Asian dessert truly please expat palates, and these two definitely do. The Mikan cheesecake is the fave – think peanut x mandarin. Sounds weird, but it totally worked. We love seeing a new flavour combination kill it. The mousse, which was really a fluffy coconut foam, worked well with the beet konatsu coconut sorbet (don't worry, we don't know what konatsu is either) and the apple and ginger notes. Yum.
We loved seeing that they have a dessert cocktail selection, which is a trend we've been predicting for the last six months. Out of the three offered, we went for the Sun Tzu Lectures (78dhs) which adds spiced rum into the Espresso martini mix. Was it revolutionary? Not particularly, but enjoyable nonetheless.
Overall, we adored the smaller plates at Matagi. They had us shaking our head at how good they were, especially when compared to what's on offer currently in the genre in Dubai. Eat your fill of these, skip to dessert, indulge in the cocktail list and you'll have a very enjoyable evening. It's even worth surviving the taxi to the palm and the Kempinski's gaudy interiors for.
Facebook Comments