Auckland's Dominion Rd has long been known as a hotspot for exceptional traditional Asian cuisine at affordable prices. Spicy House, Xi'an Noodle Bar, Barilla Dumpling…we could go on. There's a new challenger on the block, however, and you'll find it right across the street from the last in that list.
We wouldn't have had the good fortune of visiting Huai Yang had Mt Albert's Chinoiserie not been so heavily patronised; Auckland's diners are certainly out in force post the COVID-19 lockdown and there was not a table to be had. After some manic searching on Zomato for nearby eateries, a few wrong turns and some heated in-car conversation, a decision was finally made to try Huai Yang. Rather unexpectedly, we were instantly impressed upon entering – Huai Yang's modern fit-out would not be out of place in any of Auckland's (admittedly more chic) dining districts, something that's certainly not typical of Dominion Rd's cheap and cheerful vibe. Expectations are usually fairly low when it comes to restaurants in the area, most boasting a diner/takeout vibe with the bare minimum spent on aesthetics. Clearly, this is a restaurant that has set its sights on competing with the city's best eateries.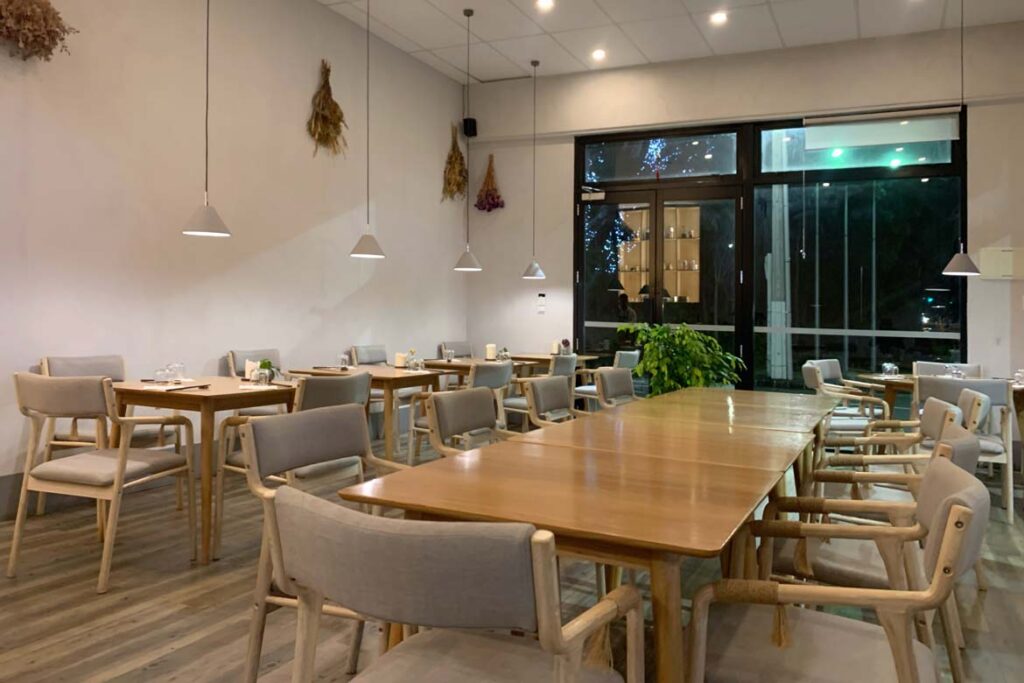 A table of ten young diners in the centre of the restaurant was the first indicator that perhaps word is already out about Huai Yang (it's been open since October but due to COVID-19, take a good few months off that), and our confidence was further boosted by the well, rather decent hard covered, embossed menus – no menu board or tatty laminated menu cards in sight. Unlike some Dominion Rd establishments we'd earlier crossed off our list, Huai Yang is licensed – at this stage, that stretches to beer only, but we were told wine will be added in a month or so (likely July 2020). Thankfully, the beer list includes craft options such as Garage Project's Hapi Daze, which we opted for, (again) surprisingly served in ceramic mugs. Cute, if not a bit left field.
The menu isn't huge, a good portion of it being soup based – a category we instantly eliminated due to wanting to share dishes amongst the table. We opted for some starters to commence, all arriving very promptly, as did the rest of our order – all of which was on the table in less than 10 minutes. Great if you want speedy service, but perhaps something to note if you're looking for a more leisurely meal (order in batches, if so).
The Tang Cu Xiao Pai (deep-fried pork spare rib in sweet and sour sauce, $10) were cold rather than hot, and even though they were served in the traditional way as small sections of bone-in rib which we usually find difficult to eat, pretty good. The real hero of the starter section is the Ban Hai Dai Si ($8), however, a cold seaweed salad with enough raw garlic in it that you'll be scaring off vampires for days to come. Don't fret about the garlic breath, however, it's worth it (and surely, a good immune boost in these times, right?).
The cover of the menu reads, 'A noodle less ordinary', and our Zha Jiang Ban Mian (noodles with pork, capsicum, mushroom, bean, celery and onion $15) was certainly anything but. The Huai Yang Xiao Chao (Stir-fry seasonal vegetable, shredded pork, garlic bolt and capsicum $16) was another huge hit with the table.
We were warned that the La Zi Ji (spicy popcorn chicken, deep-fried chicken, rice cake, Sichuan peppercorn, dried chilli and spring onion $22) would be pretty spicy…but being used to Din Tai Fung giving a spice warning to the not-so-Asian customers (us) about the mildest of dishes, we foolishly tossed aside these cautionary words, assuming (wrongly) that our decently seasoned palates would be able to handle what was to come. Boy, were we mistaken. It's not Shanghai Szechuan hotpot mind-numbingly spicy, but we definitely needed to order another Hapi Daze and seaweed salad pronto to cool the ever building furnace in our throats. This dish is hot. If the dried chilis don't get you, the Szechuan peppercorns surely will. The texturally wonderful squishy-yet-crispy rice cakes went some way to dampening the fire, but it would have taken a bowl full to truly put out the inferno of heat brought by this fiery dish. This is only for true chilli masters.
The verdict from the table? An emphatic thumbs up all around, each of us feeling happily sated and basking in a post-chilli-overdose glow. Huai Yang was absolutely worth the stress of our last-minute restaurant finding adventure. Do I wish the menu was more extensive? Perhaps. Am I looking forward to wine being on the menu? Definitely. Would we return? Absolutely.
What's your favourite Dominion Rd eatery?
Facebook Comments