We're celebrating the iconic Waldorf Astoria opening a second luxury property in Dubai by sharing with you one of their signature recipes from their restaurant, Bull & Bear. It's a modern take on the classic Waldorf salad (no guesses as to where that was invented) with the added creaminess of celeriac remoulade – and it's delicious! It's easy to make and features superfood ingredients like kale and walnuts…what's not to like? If you'd like to find out more about the new Waldorf Astoria DIFC and why you should stay at this gorgeous property, click here to read our full review.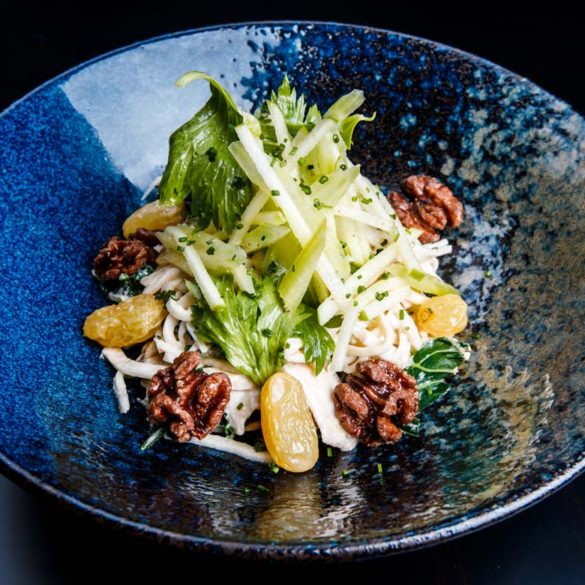 Ingredients
Celeriac remoulade:
80g Celeriac Jullienne
20g Mayonnaise
5g Crème Fraiche
3ml Cider Vinegar
3g Dijon Mustard
Chicken:
80g Chicken Breast (adjust for bigger appetites)
5ml Olive Oil
Salt & Pepper to taste
Walnut Dressing:
50g Soaked Walnuts
10ml Cider Vinegar
15ml Olive Oil
3g Salt
Garnish:
1 Green Apple
1 Celery
15g Kale
20g Caramelised Walnuts
20g Jumbo raisins
5g Finely Chopped Chives
Instructions
Celeriac Remoulade:
Mix all ingredients together and set aside.
Walnut Dressing:
Place the soaked walnut in a blender then add the vinegar and olive oil slowly.
Adjust the blender speed one at a time and season to taste.
Chicken:
Season the chicken breast in a bowl with salt and pepper and then add olive oil.
Poach the chicken breast in a very gentle simmering vegetable stock for 25 minutes.
Remove the chicken, cool it down and cut into small pieces.
Garnish:
Cut the green apple in 2 ways – julienne and sliced. Place in lemon water to preserve the color.
Separate the celery leaves and its stalk. Keep the leaves and cut the stalk in diagonal pieces.
Soak the jumbo raisins in warm water for approximately 30 minutes.
Remove the leaves from the stalks of the kale. Blanch in boiling salted water. Cool down in an ice bath after blanching. Drain the water and set aside.
Assembly:
Mix celeriac remoulade with cooked chicken and blanched kale. Place the mixture on the plate.
Dress the sliced apple, celery and celery leaves with walnut dressing and place on top of the remoulade mix.
Garnish the salad with caramelized walnut, jumbo raisins and chopped chives.