As I sit feasting on frika, sauerkraut and sausage at Hiša Polonka in the quiet Slovenian town of Kobarid, the rest of the world feels a million miles away. I'm reminded soon enough, however, that despite its quaint setting, inhabitants of this town are having a huge impact on the world of gastronomy. An American accent chimes into our conversation, enthusiastically informing my dining companion how excited he is to be joining her for dinner that evening. My dining companion is none other than Ana Roš, champion of local Slovenian cuisine and this year's recipient of The World's 50 Best Restaurants' Best Female Chef award.
This award, paired with Ana's star turn on acclaimed Netflix series Chef's Table, has catapulted the humble, self-taught chef into the international spotlight as both a spokesperson for her regional cuisine and role model for female chefs everywhere. Ana's breed of passionate, honest cooking has found her in high demand. Journalists are blowing up Ana's phone with interview requests, international appearances have her racking up the frequent flier miles, and swathes of hardcore foodies are now making the pilgrimage to Kobarid, keeping the restaurant and it's self contained lodgings booked up months in advance. Ana Roš has officially reached rockstar chef status.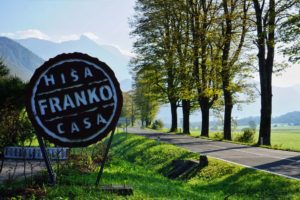 Somehow, in amongst all this madness, Ana and her sommelier husband, Valter Kramer, found the time to take us on a journey into the world of Hiša Franko, Kobarid and Slovenia. Born and bred in Kobarid, Ana and Valter live and breathe the terroir that surrounds Hiša Franko, a large manor set in the Soča Valley framed by picturesque mountains and rivers. With nature this beautiful nd food traditions that stretch back over 1000 years, it's easy to see why it inspires them so.
Ana, despite being a champion skier and set to forge a career as a diplomat in her younger years, found herself instead drawn to the traditional Slovenian kitchen of the Kramar family restaurant, learning the restaurant business from the ground up. Although Hiša Franko may now serve quite different cuisine to its origins, she's not one to abandon the heritage of the establishment. The Kramar family cuisine that had lines stretching out in front of the property for their famous roast beef still lives on in Ana & Valter's casual eatery, Hiša Polonka, in the heart of Kobarid. It's a must visit for those making the trip, as much for the hearty cuisine as for the superb range of FEO boutique craft beers offered on tap that are, impressively, made by the ever knowledgable Valter and his equally passionate beer business partners.
Our menu for our visit to Hiša Franko…
Crispy barley and turnip cracker, local cheese lollipop
Wild duck, apricots, greens and parsnips, white chocolate
Plum, spices, sage
Tomato salad
7 varieties of mushrooms, melding egg yolk, yarrow
Sheep cottage cheese ravioli, bone marrow, lovage, prosciutto broth and hazelnuts
Umami beef tongue
Cauliflower pasta, goat kid head
Roe buck, local apples cooked in hay, elderberries
Tripe, fermented cheese, wild duck jus
Mountain rabbit 2.0 on vacation in Mexico
White peach, garden rose, watermelon
Walnut meringue, 21 day kefir, pear in chamomile, forest honey and pollen ice cream
Young carrot, raw almonds, oat granola
The local and foraged produce is the magic ingredient at Hiša Franko upon which Ana builds her menu. The local cheese we saw made in the traditional way atop a mountainside nearby and aged in Hiša Franko's wine cellar welcomes us as the first bite, in grilled lollipop form.
My salad of Wild duck, apricots, greens and parsnips, white chocolate has proceedings off to a great start, the melange of delicate ingredients even featuring the rather otherworldly ice mushroom we had encountered earlier that day in the forest.
Mushrooms again featured in 7 varieties of mushrooms, melding egg yolk, yarrow – a delicious umami bomb that made the most of the bounty of foraged fungi available in the Kobarid forests. Sheep cottage cheese ravioli, bone marrow, lovage, prosciutto broth and hazelnuts thankfully was not sheep-ish in the slightest but a wonderful combination of earthy flavors and textures.
Admittedly I'm never, ever going to be a tripe fan so Tripe, fermented cheese, wild duck jus was a bridge just a little too far for me, but the following Mountain rabbit 2.0 on vacation in Mexico inspired by Ana's recent trip to the region stunned as the dish of the night.
The Walnut meringue and Young carrot desserts were rather unusual, the combinations not really working for me – but being more of a savory gal (and pretty full by this stage of the meal) this wasn't much of a drama.
Being a tad Rebula-ed out (Rebula is a grape variety indigenous to Slovenia's wine regions and tends to lean towards the sour side of things – 'natural' and orange wine fans, you'll love it), sommelier Alen selected a Reya Chardonnay for myself, and I also enjoyed the selection of Slovenian reds he chose as we progressed through the meal.
Hospitality abounds at Hiša Franko, the atmosphere as warm as the ferocious furnace keeping the chilly outdoor temperatures at bay. You'll feel welcomed by all members of the Hiša Franko family, from Ana, Walter and Alen to the animal occupants of the house – and don't miss saying hi to the adorable spaniel-in-residence, Prince.
A respect for local ingredients, traditions and producers, a deep understanding and appreciation of the terroir, and a welcoming and generous spirit – it's all of these factors coming together that have formed the recipe for Hiša Franko's international success. Despite how many years it has been in the making, we get the feeling that there's a lot more to come from Ana and her team – will 2018 will be the year that we see a Slovenian entry in The World's 50 Best Restarurants? Be prepared to book even further in advance if so – but like Valter's passion for aging local cheese, some things are worth the wait.