We'll admit it – we don't usually review non-suite rooms as they mostly lack the x-factor and comfort that adds something truly special to your trip, but we loved Oslo's The Thief so much when we visited on a recent press trip that we simply couldn't keep this gem from you.
Our Deluxe Room afforded lovely canal views from it's 7th floor position, and despite being a compact 30sqm, was more than comfortable. In fact, it was so comfy and cosy we didn't want to depart. Dark tones, soft drapery, smoke tinted mirrors and plenty of Nordic touches made this a room that felt like a home. This is boutique at its best, with a bed that simply has to be experienced to be truly appreciated. Sinfully soft with silky smooth sheets, you'd be forgiven for not wanting to leave the room at all. Seriously, this bed…!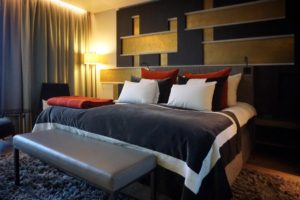 Lighting in the room is gentle and intelligent, the bathroom lights coming on via sensor when you enter (perhaps one of our favorite smart features of the room). A spacious bathroom with separate bath and shower features Carita Paris toiletries, and should you have forgotten anything, there is a 'mini bar' of sorts that sells everything from shirts to socks to eye masks and more (at Oslo prices though). The evening turndown service pops a large bottle of local water and slippers by the bedside, plus a couple of cookies and some sleep tea.
Breakfast is also a winner at The Thief. An excellent array of the usual suspects elevated with local faves such as reindeer salami and brown cheese, with plenty of gluten free options if that's your thing, plus an array of egg dishes are available à la carte. Come evening, the Thief Bar serves up excellent cocktails and atmosphere, with a rooftop open in summer that's perfect for sunset.
What could be improved? Well, the lack of international power points is a constant gripe, but two bedside USB ports were handy – only on the one side though, as often seems to be the case – a tad problematic if staying as a duo. Housekeeping also wasn't up to the standard we are used to at luxury properties such as the St. Regis, and one wonders why you bother with a sign that says 'put me on the bed if you don't want your sheets changed, blah blah environment', if you never intend to change the sheets during a stay anyway?
These small details aside, The Thief is THE place to stay in Oslo. It's got a lovely location on the waterfront and it's not too far from the central city shops, but bear in mind that most foodie destinations will be 2-3km walk (and taxis in Oslo are ridiculously priced). In the summer months this is a breeze, but ensure to rug up warm (and pack an umbrella) if you intend to stroll during winter. But at the end of the day, coming home to that bed is worth it…
The Details:
Style: Moody Modern Art Collector
Would I return? Yes – I would take the bed with me if I could!
Suitable for: Couples, solo travelers.
Room Type Reviewed: Deluxe Room
Room Size: 30sqm, King size bed
Room Amenities: Balcony, smart television, Nespresso machine, large bathroom with separate shower and bath, robes, slippers, air conditioning, fridge.
On request services: 24-hour room service & concierge
Hotel Facilities: Pool and spa facilities
Price Guide: From around 3290NOK (AED 1440, $390 USD, 335 EUR)