Mexican seems to the new Peruvian in Dubai, with La Carnita at Intercontinental Dubai Marina being the latest taco-centric street-food eatery on the block. The mood is dark and grungy (ok not really grungy, this is Dubai after all) with lashings of red neon lights to add that 'L.A.' vibe. It's a slick fit out, even if our window-side booth seating leaves us a touch too far from the table to be comfortable (some cushions would be a help).
We like the look of the cocktail menu, going with the mango-jalapeno-cilantro creation Gold Link (49dhs) and the Grand Daddy Purp (55dhs) first up. We are obsessed with mango-chili cocktails and while this one was not too bad, it lacked the punch we love from the combination – a little more chili and sweetness and this would kick serious butt. The gin-based Grand Daddy Purp fares a touch better, executing the combination of parfait amour, hibiscus grenadine syrup, blue curacao well with the help of some lemon juice to brighten up proceedings.
The menu really leans into the taco trend, but before we deep dive into the Mexican staple, we can't resist checking out the Street corn (38dhs) and Avocado mango salad (48dhs). Both are impressively priced for their sizes, the street corn arriving as two full-size large cobs instead of the two-small-cob portion commonly served around town. Nicely charred and topped with crema, queso añejo, árbol & ancho chili powder, the cobs are perfectly acceptable, just a little under seasoned, so didn't quite reach the potential we corn addicts had hoped for. Our Avocado mango salad (which is predominantly jicama) is a touch on the mushy side and isn't particularly bad, but doesn't impress.
With a round of Margaritas ordered (45dhs each and they're amazing), it's taco time and let us tell you, there's quite the selection (a whopping 9 tacos and 2 tostadas). Options range from 26-40dhs per single taco, with some impressive vegetarian and vegan options on offer. We'll make it simple by giving you the rundown on those we loved and those we'd skip next time around.
The victors of the Taco Trials 2019 were: Carne asada (juicy steak and avocado), Achiote chicken (topped with pineapple, jalapeno and crema), Crispy cauliflower (best when you add some hot sauce) and Crispy Oaxaca (that's deep fried cheese). We loved all of the above.
Those not making the cut were the Pollo frito (the peanut-lime sauce and cabbage just don't work) and the Mushroom tostada (super earthy, ridiculously mushroomy – not in a good way, and it just doesn't fit here). We're on the fence about the Short rib – tender for sure, but the flavour of the meat just wasn't a home run for us. The tortillas are thin, silky and a touch elastic (as opposed to the super traditional, super thick tortillas) and we have to say we rather like them.
We're pretty full as usual at this point in the meal, but for the sake of research order one main to share. The Beef short rib (165dhs) is a good size serving, very tender and tasty with it's sweet honey habanero sauce. We'd like a little more habanero heat as it's probably too similar to what's served at most Asian fusion restaurants, but the dish is certainly good. (Also topping everything with crispy sweet potato strands is getting a little repetitive and doesn't add anything to the dish.) Our sides of Slaw (28dhs) and Spiced fries (also 28dhs) are fine, but nothing to write home about.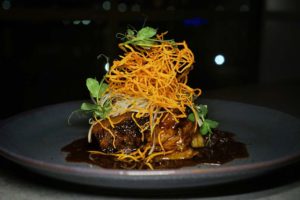 There's a lot to love about La Carnita. The fitout is cool, the service is great, the food arrives super speedily and we loved the cocktails. Overall the food is of a very good standard too, though we have to say there wasn't anything in particular that we'd be racing back for in a hurry (apart from those excellent margaritas, perhaps). Probably the best thing about La Carnita is the pricing – it's definitely fairly priced for the quality and would be a great spot to dine with a group of friends for a casual catch up or weekend night out. Sure, it's not as cheap as the likes of La Tablita, but the food, drinks and experience are miles ahead. Serious foodies might not get particularly excited by the offerings (we'd like to see more herbs and more chili to really get us salivating), but this is a venue that should have the whole table leaving happy and well fed without breaking the bank at the end of the night.
Facebook Comments