We've oft spotted Le Cirque when imbibing al fresco at neighbouring Flair no.5 in the Ritz Carlton DIFC, but despite the NYC import being on the Dubai scene for a couple of years, we've not managed to take it for a spin yet. We've done a little menu re-con and it's overwhelmingly classic French, which we'll admit doesn't usually get us going particularly, but we've read good things about Le Cirque from trusted friends so we figure it's worth a shot. (Here are our dear friends OutAndAboutUAE and She Dined in the Sun's reviews.)
We arrive early on a Thursday evening (6:30pm to be precise), which is so early that the kitchen isn't open yet (it opens at 7pm). Never fear though, Le Cirque has our pre-dinner hunger pangs taken care of with their impressive aperitivo spread. Little known fact: if you drink at the Le Cirque bar Tues-Thurs 6-10pm, you can help yourself to their impressive antipasti spread that includes burrata, duck speck, stuffed peppers, Italian breads, cheeses and more…it's quite impressive and I only wish my cheese boards at home looked this good.
The atmosphere is well, interesting. We'll admit we're rather unsettled by the creepy clown decor – the paintings, even the balloons feel more 'It' than 'it's the circus' to us, but luckily the front annexe where we are seated features none of said clown art. From the floors to the curtains to the lights, it all feels like perhaps a lot of this was leftover from the previous inhabitant of the space…it doesn't really feel as luxe as we'd hoped. We're fighting the urge to mentally redesign the decor, but according to my dinner date, the venue works best during the day (I hear their breakfasts are fab too).  Points also for the fact that the music is not 'Dubai loud' and we can easily hear the conversation from the diners at our table…but we can also easily hear the conversation from the neighbouring tables until the place fills up a little more to soften the acoustics. We hope the adjacent table found our mundane conversation about Instagram, photo editing apps and recent bad dishes we'd had entertaining.
Le Cirque earns points early on with the fact that they have a sommelier. That's a word you won't hear often in Dubai because most places don't bother to hire one. Probably because most wine in Dubai is so intimidatingly overpriced that few people stray further than the first few lines on the wine list, but I suppose when you're located in DIFC, the mecca for all the cash there is to splash on business expense accounts in Dubai (what's left of it anyway), perhaps you have the clientele to warrant it. Our lovely somm correctly presents the wines (as do the other staff throughout the night, kudos) and even checks the glasses – she spots a chip in a glass halfway through pouring and quickly excuses herself to replace it – this attention to detail has me mentally applauding. We start with a Valdo Prosecco that goes down a little too easily and continue with their Mâcon Fuissé, a Chardonnay so lovely and mineral that we elect to stick with it throughout the remainder of the meal.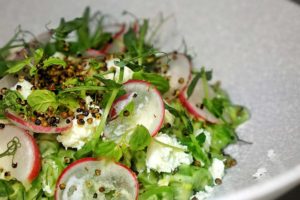 The thin slices of baguette that arrive to the table are accompanied by (we're assuming) French butter are excellent and all signs are pointing to a great meal ahead at this stage. For starters, we opt for the Steak tartare with charcoal egg and pickles (90dhs) and the Sugar snap salad with Persian feta, crispy quinoa and avocado & mustard dressing (70dhs). The sugar snap salad is the clear winner – it's fresh, crunchy, creamy and altogether simply delicious. It felt rather healthy too, so we feel zero guilt scarfing spoonful after spoonful of this delightful salad. The tartare on the other hand misses the mark. We love the hand-cut texture, but it's heavily sauced and has a distinct aroma of butane that hits you before you've even raised your spoonful. The overpowering gasoline note (we suspect this comes from the charcoal egg) makes this dish a hard pass for us, but thankfully there's plenty of the sugar snap salad to cleanse the palate before the next course.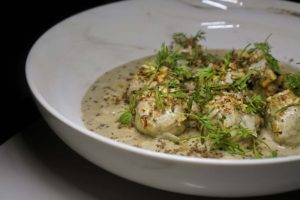 We sneak a pasta course in before the mains, not because we are feeling particularly gluttonous but because we were told we couldn't miss this dish – the Spinach and ricotta gnudi with summer truffle, crème fraiche, walnuts (125dhs). The thick, heavy cream sauce is pleasant in flavour enough if not a tad overly familiar, but the heavy, doughy gnudi are so large and dumpling like they feel more like matzo balls than gnudi, which should be light and fluffy. We'd also swap the walnuts out for hazelnuts as we'd prefer a sweet nutty note over the current bitter one brought by the walnuts. We didn't really understand the enthusiasm for this dish, but if you're really into creamy pasta dishes and carbs then this might be right up your alley.
For our main course, we choose the Duck à l'orange, breast & crispy leg, parsnip and orange marmalade (165dhs) and the Onyx beef striploin with confit onions and peppercorn sauce (255dhs). We've not typically been fans of the French duck classic, but after recently whipping up a fab recipe by Josh Emett at home in our Miele oven, we're converts. While the duck isn't particularly tender, the flavours in this dish are delicious. My only complaint is that I want more of the beautiful parsnip puree and orange marmalade. A lovely dish.
The beef, ordered medium rare, arrives medium-pushing-medium to well,  but it's tender and a decent serving size (as it should be for a hefty 255dhs). The peppercorn sauce, however, might be the most peppery thing we've ever tasted, with (we're guestimating) about 3-4 times the amount of pepper required to make this sauce peppery enough. It packs so much punch that it stops us dead in our tracks to seek out a beverage to cool the intense heat in our mouth. Perhaps a little overkill on the pepper here, we think.
It is suggested we order some sides to accompany our mains, and the selection offered is very classic – we elect to go with the Broccolini and the Fine beans (30dhs each). Whilst both are cooked nicely, neither has any seasoning present, at all, which really surprises us. Nothing has been done to bring out the flavour of the vegetables, so unless you add a large amount of salt you're not tasting anything much, really. A bit disappointed that this is standard for how the sides come out of the kitchen.
The dessert menu at Le Cirque is a good one, so enticing that it even has us salivating despite our total lack of a sweet tooth. There are plenty of options that we like the sound of, but the winners are the Apple tarte fine with vanilla sauce and cinnamon ice cream and the Strawberry vacherin with crisp meringue, whipped cream and raspberry, cassis sorbet (both 45dhs). The apple tarte is simple, classic and delicious, and the vacherin, with its beautiful beehive meringue, and wonderfully balanced, the cassis sorbet adding some fantastic depth to the dish. The meal definitely finishes strong here. (La Cantine du Faubourg, perhaps you should poach Le Cirque's pastry team?)
We end on with our traditional espresso martini, but the Le Cirque version (with no added sugar, apparently) lacks some body and depth and is a little heavy on the vodka note.
If you love classic French cuisine, and DIFC is a convenient location for you, then Le Cirque is a good choice. We thoroughly enjoyed the desserts and our mains were pretty good…but the dish of the night surprisingly goes to the Sugar snap salad. We can't help but feel that we might be a little young for this menu and that it's perhaps better suited to more mature diners who are looking for classic dishes and flavours that aren't too scary. The wine service is excellent, no typical Dubai pouring at the bar instead of the table here, and the wait staff are excellent . We definitely recommend popping down for a drink to experience their aperitivo offer too.
What's your favourite French restaurant in Dubai? 
Facebook Comments