For my first visit to China's island playground, I couldn't have chosen a better introduction than the St. Regis Macao. My love for the St. Regis brand is well known, and this new addition to their portfolio delivers on everything you expect from the iconic luxury stable.
Situated in what felt like the perfect location on the new Cotai strip, the St. Regis is easily accessible from Hong Kong, just a 45 minute journey on the Cotai Water Jet (first class tickets on which will have you nestled in an extremely comfy armchair with snacks, wifi, and rolling video of Psy's single 'New Face' filmed in Macao – be warned, it's terribly catchy).
The St. Regis is all about providing a luxurious base for you to head out and explore the wonders of Macau – whilst it's not as gastronomically focussed as some of the hotels on the island, with just one restaurant and one bar, these are done exceptionally well. The Manor serves up an incredible spread for breakfast that you don't want to miss, featuring a wide range of Asian delicacies and also a taste of Macanese cuisine, which takes inspiration from Macao's Portuguese history. Dumplings, sushi, noodle soups, pastel de nata, pork and pastries galore – it's fair to say you won't go hungry. Don't miss the fresh juices or the Bloody Mary shots either – the perfect cure for any indulgences the night prior. Lunch and dinner at The Manor is just as excellent, with plenty to please the fussiest tastebuds including lobster, Iberian ham and venison. Should you want to go out and hunt some acclaimed restaurants, you're in luck there too – the St. Regis is located directly across from the City of Dreams complex, where you'll find no.39 on Asia's 50 Best, The Tasting Room (click to read our review), and also no.32, the renown Jade Dragon.
Don't miss having a drink in the St. Regis Bar, where you'll find an extremely innovative cocktail selection. Currently you can experience cocktails from the 'A Date with Eight' collection, and take each for a spin before choosing the right cocktail for you by spraying bottles of the actual cocktail onto ingredient cards. Think perfumery meets bar (I highly recommend the Caramel). If something traditional is more your cup of tea, there's house-made Negroni on tap, or why not partake in St. Regis tradition and take their signature Bloody Mary for a spin. Macau's take on the St. Regis invention includes a unique blend of spices that showcase those brought to Macao by the Portuguese traders, served alongside a lobster Pastel de Nata and Spanish chorizo as symbols of Macanese cuisine.
Let's face it – if you're come to Macao, you're probably keen to have a flutter in one (or many) of the island's casinos. The St. Regis is part of The Sands complex, so you can walk straight from the hotel lobby into one of their many casinos, and continue onwards through the maze of shops that make up The Shoppes at The Venetian to access the main casino at The Venetian, the largest on the island. If you're looking to explore further, we loved the brand new Wynn palace just a two minute walk down the Cotai Strip. If you've ever wanted to enter a casino via gondola (the elevated kind, not the water type of Gondola you'll find cruising the canals at The Venetian) then you're in luck. Hop into your gondola cabin, take a scenic ride over expansive dancing water fountains a la Dubai Mall's version (even down to the same Celine Dion hits), swing past a giant golden dragon and into the luxurious complex. A little known tip is that most casinos in Macao will serve complimentary drinks while gambling – be sure to ask the attendants about this service!
If you're exhausted from all the casinos and shopping, why not head to the spa for a well deserved recharge? Macao's Iridium Spa offers something a little different in its signature gemstone massage, where the best gemstone essence for you is chosen via iPad questionnaire. Mine was Mother of Pearl, clearly I needed to de-stress – the massage, with its hot gemstones and gemstone essence, was just what I needed to do so.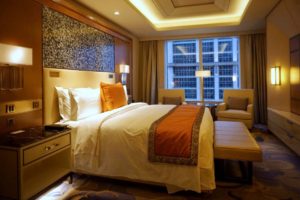 If all of this sounds like exactly what you need to have a fabulous holiday, you'd be right – but I haven't even told you about the amazing rooms at the St. Regis Macao! (If you need any more convincing, that is…) We fell head over heels for our palatial St. Regis Suite, a whopping 1141square feet of luxury. The spacious suite comprises a guest powder room, dining area, lounge, two large televisions, full size bath, walk-through dressing room, sitting area, double vanity, Bose sound system and full room automation via tablet. You'll also have access to a handy phone that you can take with you out and about in Macau equipped with complimentary calling and wifi (calls limited to certain countries) and you can have two garments pressed per day gratis. Should you be thirsty from all the unpacking (did you know your St. Regis butler will unpack and repack for you if you wish?) you can order on demand non-alcoholic beverages to your room free of charge also.
If you want all the convenience of the St. Regis butler service but privacy is of importance to you, St. Regis has thought of that too. The room comes fitted with a 'butler box', where your butler can drop off pressing, drinks, ice, really anything you've requested – without you even having to open the door.
My most important feature of the room, the bed, is perfection. St. Regis knows how to make a comfy bed, and of course the sheets are heavenly too. You'll sleep extraordinarily well in this plush suite! The bathroom is just as indulgent, spacious and luxurious, decorated in not one but two types of marble. When you manage to drag yourself out of the wonderful bed, make sure to take in the gorgeous views overlooking The Parisian's 'Eiffel Tower' at night – kitsch, but cool all the same!
I enjoyed my stay at the St. Regis Macao beyond my wildest expectations. I absolutely can't wait to return to this special place, and I think you'll love it just as much as I did. A trip to China or Hong Kong just isn't complete with out a visit.
The Verdict:
Style: Asia-luxe meets Vegas
Would I return? In a heartbeat!
Suitable for: Couples, singles, friends
Room Type Reviewed: St. Regis Suite
Room Size: 106sqm, One King Bed
Room Amenities: Butler box, full size bath, double vanity, mirror-inset TV in bathroom, guest powder room, dining area, two large televisions, WIFI, full tablet-controlled room automation, Bose sound system, WIFI equipped smartphone, electronic blinds, Remède toiletries, Illycaffè machine, minibar, robes, slippers, bottled water, air conditioning, fridge, safe.
On request services: Personal butler, garment pressing (two items pressed per day per person), complimentary non-alcoholic beverages, packing services.
Hotel Facilities: Spa, two pools, fitness centre, casino, bar and restaurant.
Details:
Facebook Comments