Stuck in self-isolation due to COVID-19? Let us bring a touch of fine dining to your home with a series of recipes from our favourite restaurants from around the globe…our COVID-19 Kitchen Quarantine cookbook.
The fifth in our series of gourmet recipes comes from Zennon Christian of much-lauded Paris Butter in Auckland, New Zealand. Read more about this amazing up-and-coming Kiwi chef in this recent feature in NZ's leading culinary publication, Cuisine. Paris Butter recently received a perfect 20/20 score from NZ Herald restaurant critic Jesse Mulligan and serves up modern French-styled tasting menus injected with a good dose of 'Kiwi'. We've also got another recipe from Paris Butter's Nick Honeyman that's a little more French country-style if that's more your thing – you can find it here.
Paris Butter at Home during Level 3
If you're under lockdown at home and feel like a break from slaving over a hot stove, Paris Butter has you covered. They're going back to their roots, offering a three-course menu of French classics that changes weekly for nightly for pick up from their Jervois Rd restaurant. You'll receive their wonderful bread and truffle butter, a classic French main and a French dessert to heat and eat at home for just $30 NZD per person. (Check out this recipe from their first menu!) Orders are accepted before 5pm and can be picked up between 3pm – 8pm nightly. They've been selling out on a constant basis so ensure you order early for a meal that will make quarantine much more palatable!
Head to Paris Butter's Instagram for more information on their menu. 
Dining in at Paris Butter during Level 3
Due to the government-enforced lockdown of non-essential businesses in New Zealand under Level 3 restrictions, Paris Butter remains closed for dining in at this time. If you would like to support Paris Butter, why not make an advance booking or purchase a gift voucher for a future dining experience.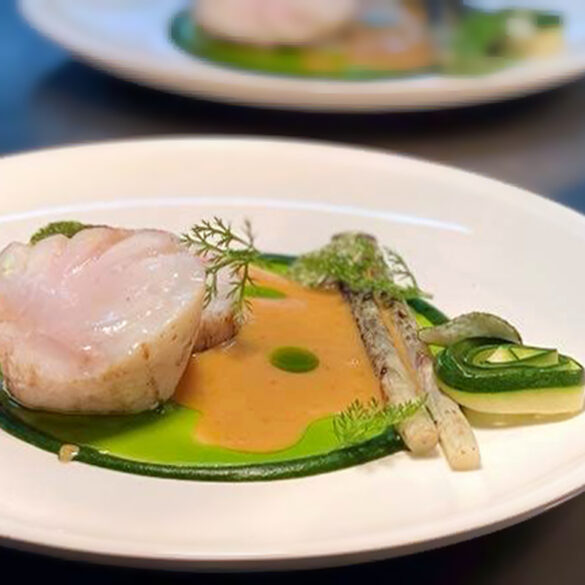 Ingredients
SOY BEURRE BLANC
100ml Tsuyu (Tsuyu is a soy sauce infused with kombu and is available at most Asian supermarkets. If you don't have this available, normal soy sauce will do the trick!)
100ml cream
200g cold unsalted butter (2cm dice)
Juice of quarter of a lime
------
PARSLEY PUREE
250g Italian flat-leaf parsley
250g baby spinach
1 ice cube
------
PICKLED DAIKON
100ml rice wine vinegar
50ml water
25g castor sugar
1 daikon
------
HAPUKA
500g Hapuka fillet
1L cold water
100g salt
100g sugar
------
ASPARAGUS
1 bunch of White Asparagus
Instructions
To prepare the fish:
First, make a brine by dissolving sugar and salt in cold water. Cover the fish with the brine for 20 mins, after which remove fish from the brine and rinse under cold water for 3 mins. Pat fish dry with a paper towel. Set aside and let the fish come to room temperature before cooking.
To make the soy beurre blanc:
Reduce the cream and Tsuyu by half then take the pot off the heat and slowly start whisking in the butter 2cm cubes at a time, until the butter is emulsified in and has a silky texture. Season with fresh lime juice.
To make the parsley puree:
Blanch both parsley and spinach in boiling salted water for 5 mins, drain, then refresh in an ice bath. Once it is cold, remove parsley and spinach and squeeze out any excess water. Blitz in a blender on high with one ice cube until smooth. Season with salt and white pepper.
To prepare the pickled daikon:
Make a basic pickle liquid by bringing vinegar, sugar, and water to the boil. Slice daikon on a mandolin at 2mm, cut into perfect circles using a circle cutter. Pour hot pickle liquid over and set aside.
To prepare the asparagus:
Trim the bottoms off the asparagus 1 inch from the base. Blanch in salted boiling water for 1 min, remove and refresh in ice water to stop the cooking process.
To cook the Hapuka:
Cook the fillet sous vide in a water bath* at 58C for 10 min. Once cooked, remove from the bag and finish cooking over coals. At the same time you are BBQing the fish BBQ the asparagus, rest fish for 2 mins before portioning. *Alternatively, if you don't have a water bath you can roast the fish in the oven for 6-8 mins at 180C, adding the asparagus after 4-5mins.
To serve:
This one is completely up to you, at Paris Butter we use a record player to get perfect circles! Alternatively, spoon the parsley puree onto the centre of the plate, arrange fish and asparagus on each side of the puree, drizzle soy beurre blanc over the fish and top with pickled daikon.