It's no secret that Emirates delivers a brilliant business class product. When it comes to comfort, service and attention to detail, their J class is hard to beat. There's been one niggling issue however – the B777 business class hard product just didn't match that of the superior A380. The A380 business class seats offer a huge amount of space, especially the single-set A/B and J/K seats that offer additional window-side storage boxes (go for A or K if you can as these seats are shielded from direct aisle view). With a mini bar and storage tray, large seat-side table area, bigger screen size and tablet controls, the A380 product made the B777 look like a poor cousin. Thankfully, Emirates is tackling this disparity in 2018 with the release of an updated B777 J class fit out.
From the moment you step on board, it's very clear things have changed. Yes, it still has the inherent issue of being set in a 2-3-2 configuration (why they didn't take the opportunity to eliminate the dreaded E middle seat that no-one wants is beyond us), but it's definitely not as much of an issue as it was previously. The first thing you notice is the impressive new seat design, featuring quilted leather stitching a la Bentley, offering a seat pitch of 72″ that converts into a 78" long lie flat bed and measures 20.5" in width.
The new design offers hugely improved privacy – the seat walls extend much further towards your feet, and the partitions between you and your neighbour rise higher and deeper than the previous product – more than ever, you are completely shielded from those next door. No more having your ear talked off by the seat-mate you can't hide from (unless that's your cup of tea). The seat pan is noticeably tilted lower towards the back of the seat, making it feel much more cosy. It's also more manouverable, with three zones that can be manipulated – seat back, lumbar (effective enough that we even ditched our pillow) and leg rest. Finally a seat that gives you the option to have your leg rest fully extended without having to recline the seat back to match. It's definitely the comfiest J class seat we've come across and adds a lot to the experience.
The new seat finally gives the B777 product it's own mini bar, offering the same selection of drinks as the A380 (sparkling water, juice and soft drinks). Power is not an issue here, with a whopping three USB charging ports (two under the armrest and one above the headrest), a HDMI input and International powerpoint. There are two seat-side lights, an ambient light and a spot light, both impressively offering two brightness settings. Fabulous for working during night flights.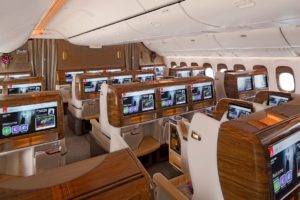 There are two seat control panels for easy access whether upright or sleeping, and the armrest panel also provides a pause/play button so you needn't reach for the tablet panel control (another A380 feature that has now been added to the B777). Gone are the clunky cup holders, replaced by a slide out panel from the end of the divider wall. It's the perfect place for pre-takeoff Champagne, but it's really too far away in flight to be used as a drink rest. You'll have to either delicately balance your drink on the leather arm rest or open the tray table. Speaking of arm rests, the arm rest that doesn't house the controls and power outlets can be raised, lowered or set anywhere in-between. We liked the option to lower it to perfect laptop-arm-rest height, and lowering it completely gives just a little more space when sleeping. The new tray table is shallower than the previous but spans the entire width of the seat and does move back and forth – but it's set too high for comfortable laptop work. It doesn't have the option of being folded in half, so it's all or nothing. On the upside, we could still see the entire ICE screen over the top of our 15′ MacBook though when placed on top of the tray.
It's not just the seat cubicle that has changed – the footwell of the seat is much renovated also. A vertical magazine pocket has been added, a much safer and user friendly design compared to A380 horizontal hanging pouch that risked a stored laptop flying out and attacking you at any moment. Screen size is much enlarged, offering one of the best business class screen sizes in the industry at 23″, and there's also a mesh pouch under the foot rest – it doesn't have a bottom so isn't suitable for storing small objects, but it's perfect for storing shoes or clothing. There's one small storage space under the mini bar too for those small items. Bathrooms are also upgraded with an extra wide sink and stylish new matte gold decor.
The improvements to the B777 hard product are so impressive that the Boeing no longer feels like an inferior J class product when compared to it's double decker stablemate. The change is so marked that even the middle seat doesn't seem so bad anymore – but happily we hear that a 2-2-2 Business Class configuration is coming to the new 777-200LR that will be flying the Fort Lauderdale route. We're a big fan of this new Emirates styling – fingers crossed the remainder of the B777 fleet will be upgraded soon.
What's your favorite business class?
Image credit: Emirates.com