Seat (2H)
KLM's Business class seat is comfortable if not remarkable, the B777-200 featuring a 2-2-2 configuration. Whilst the cabin is airy and spacious, the seats lack decent privacy from your neighbors and cabin-mates, with only a small privacy screen dividing seats and a shared arm rest. A small storage space by the headrest houses one international powerpoint and one USB charging port, with a little room for headphones and small items. The 207cm lie flat bed does the job for overnight flights, with a very comfortable pillow, though extra tall or fidgety sleepers might find the very small footwell troublesome. The lights came on rather abruptly to signal breakfast, rather than gentle wake-up of other carriers.
Amenities
The amenity kit (female) is by JANTAMINIAU, providing the basics – eye mask, socks, toothbrush, ear plus and a lip balm housed in an attractive Dutch themed orange and forest green envelope pouch. KLM's signature ceramic house containing Bols was thoughtfully provided in a bag sealed and certified for those continuing on another air connection.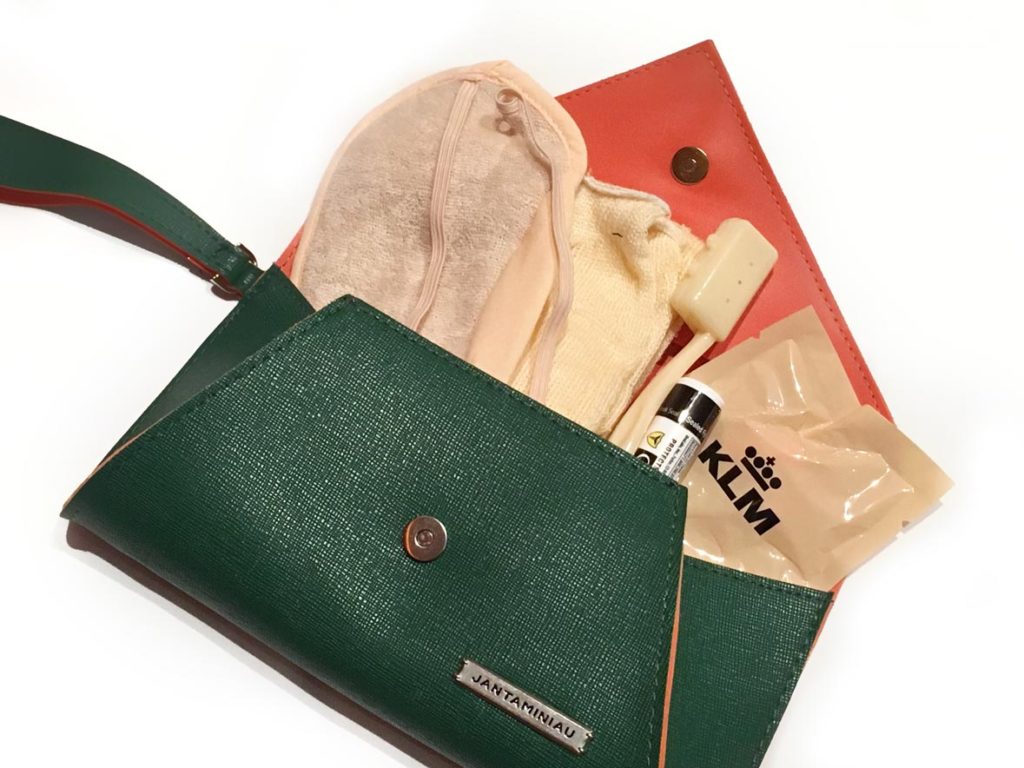 Entertainment
A 17 inch screen showcases a wide range of TV programs, but it's little lighter on the recent movies than some carriers.
There was no WiFi onboard our flight.
Food & Beverages
Nicholas Feuilatte is the house champagne, served before takeoff in lovely crystal-look glasses with large slabs of rather tasty Dutch cheese, a nice touch (so good I even requested more of the cheese for dessert later). The 'light meal' was surprisingly Arabic, even though it is a flight originating from Dubai. A selection of five wines is offered – three white, two red, plus Taylor's Late Bottled Vintage Port and Lillypilly Sweet Harvest from Australia as two post-dinner sweet wine options. Champagne isn't on the breakfast trolley surprisingly, but is available on request. The Cognac offered is is Couvosier VSOP and KLM's beer of choice is Heineken.
Breakfast had three options, of which I chose the crepes, which were too sweet and jam-like, needing a creamy accompaniment of some sort. I resorted to the croissant, which didn't really resemble a croissant in looks or flavor – more like a hard, cold bread roll. I expect better pastries from a European airline (by contrast, the croissant on KLM business Amsterdam -> Berlin was spectacular).
Service
Service is polite but a tad brusque, and I found myself having to request drinks, food etc from the crew rather than be offered.
Lounge
KLM utilize the Skyteam lounge in Terminal 1, a spacious (though often very busy) lounge that offers good quality food offering including hot dishes, soup, snacks and desserts as well as an unusually wide range of beverages. On our visit there was no Champagne, instead Zonin prosecco is provided, but there were around 7 different wine choices which was a welcome surprise.