As an avid fan of Thai food, I had been a little disappointed at the serious lack of Thai restaurants in Dubai, let alone good  Thai restaurants. Set spectacularly on the Dubai Fountain lake, one would be forgiven for thinking that Thiptara at The Palace Downtown Dubai might be all show and no substance when it comes to serving up fine Thai cuisine.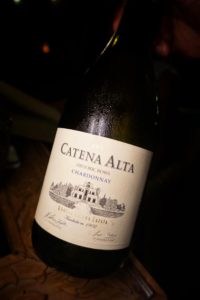 The interiors of Thiptara are beautifully appointed, but given the amazing fountain and Burj Khalifa views, one just cannot go past dining alfresco. We were dining on the first night that the terrace had been reopened for Autumn so temperatures were high, but thankfully there was an amazing cocktail list to cool us down. I can honestly say this is one of my favorite cocktail lists in Dubai – the Truly Passion (vodka, lemon grass, ginger, passionfruit, orange juice) and Oriental Garden (vodka, fresh lime, mint leaves, ginger, ginger beer) were exactly what one needed on a balmy Dubai evening.
There's a well considered, albeit not huge, wine list available that provides almost all of the options one needs to accompany Thai flavors, and should you wish to consult a sommelier, the knowledgable somm from Asado is more than happy to pop over to assist. We were recommended the Catena Alta Chardonnay (715dhs) and it definitely delivered on the big buttery chardonnay characteristics we had requested.
Thiptara's menu is traditional Thai, and offers two amazing set menu options if you truly want to experience (almost) everything they have to offer (11 dishes for 358dhs or 398dhs). We dined a la carte, our Satay Gai (78dhs), Poh Piah Phak (vegetarian spring rolls, 68dhs) and Tom Kha Gai (58dhs) all authentic, fresh and delicious. My autocorrect attempted to change Tom Kha Gai to Tom Khalifa Gai and I think perhaps given the amazing Burj Khalifa views afforded by Thiptara, that might be a great addition to the menu.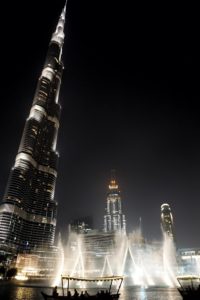 The scallops in our Phad Char Hoy Shell (spicy sautéed scallops, thai herbs, oyster sauce, 178dhs) had my co-diner raving, while my Pad Thai (128dhs) was probably the only misstep of the night, tasting more like Pad See Ew than Pad Thai and really missing the tamarind kick of the Thai noodle classic.
The complex and fragrant curries conjured up by the Thiptara kitchen are a must order. Our Gang Kiew Wan Gai (chicken green curry, 128dhs) and Gaeng Phed Ped Yang (roasted duck red curry, 148dhs) were utterly amazing. I only wish I could make curry this good at home.
Desserts can be a low point when dining at traditional Asian restaurants, but my Gluey Horm Thod I-tim (tempura banana, honey, coconut ice cream, 48dhs) was a superb end to a sensational meal.
Given the views afforded by Thiptara, expect prices to be higher than your local Thai joint, but Thiptara truly delivers – service and food are seriously impressive. This is no tourist trap, rather nirvana for lovers of Thai cuisine.
Facebook Comments