Dubai is all about the staycation, this we know – but not all staycays are created equal. Sometimes you end up feeling like you've simply inconvenienced yourself. You've packed a bag (no doubt forgetting an essential or two), packed the car and arranged for someone to mind the pets, to only end up with a bed less comfortable than your own and scenery none too different…all the while paying for the privilege. This, however, is not the case with there spectacular Ritz Carlton Al Hamra Beach Villas. Quite to the contrary, this is a property that makes you feel entirely transported. A world away, if you will. From the boat ride to the resort, to the buggy ride to your villa, to the amazing service the moment you set foot on the property, the journey to your private haven at RC Al Hamra makes you feel like you've travelled somewhere far, far away…yet it's only an hour from downtown Dubai. It feels like you've embarked on an island getaway, one that has echoes of the Maldives without the time and cost of flights, sea planes and speedboat transfers. Sure, you might not have the vast marine wildlife of such glamorous locations but inside your villa compound, it's pure, unadulterated paradise. And once you're inside your villa compound, you won't want to leave anyway.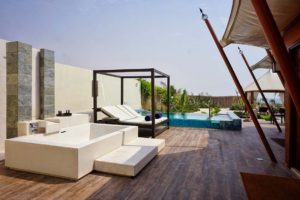 Our Al Naseem Tented Beach Pool Villa, the more private of the two villa types on offer at RC Al Hamra, places an emphasis on al fresco enjoyment. The huge outdoor space encompasses an beautiful oversized bath, shower, double day bed, pool, dining area and ocean-facing pavilion with loungers – it's a challenge just to utilize all of the amazing features the villas offer during your stay (a challenge we were more than happy to take on). At 1.3m in depth, the 6x4m private infinity pool is one of the most well designed we've seen, perfect whether you want to laze, soak, converse or work poolside on your laptop. (Private pools are our office of choice, ok? Just don't blame us if that pool water drips on your electronics…) It's the ideal summer escape from the scorching Dubai heat – the oceanside location brings the temperature down just enough and the summer sun keeps the pool warm enough for use long into the evening.
Clearly we're infatuated with the expansive outdoors of the villas, set amongst swathes of pristine white sand, but don't think that the indoors of the villas are any less spectacular. The villas themselves are perhaps more compact than most we've visited, but they're perfectly designed – a great example of good (fabulous) things coming in small (ok, not really that small) packages. The villas are open plan, with a gorgeously comfortable four poster bed holding centre stage. The shower, washroom and vanity are situated behind the bedhead and a lounge area placed in front, divided by a gorgeous chest that holds not only the mini bar but a well-disguised flat screen television that rises out of it at the touch of a button. A feature wall of gorgeous cabinets that incite serious we-wish-these-were-in-our-house envy holds more than enough space to hide any luggage you and your nearest and dearest brought with you, as well as luscious Ritz Carlton robes (though we'll admit, we expected a little more luxe when it comes to the slippers (Ritz Carlton, please see Wynn Palace, Mandarin Oriental and St. Regis for how you do slippers like a boss).
The villa grounds have been impressively designed so they are private enough that you can holiday like no-ones watching, whilst still sneaking a peak of the ice-blue ocean just meters away from the perimeter of your villa. The provided bluetooth speaker means you can chill to your own tunes poolside, and there's no need to leave for refreshments when Ritz Carlton's In-Room Dining team will bring you anything you desire. We definitely enjoyed our visit to the resort's restaurant, Shore House, but when you've got a villa this luxe, we don't see any reason to leave! The only downside of dining by your own private pools that cocktails and sushi can't be delivered during summer days due to the mercury rising about 40 degrees daily, but we had our favourite Shorehouse sushi delivered at night no problems. You really need to try the sushi – the vegetarian options we sampled were so good we ordered them at every opportunity during our stay. The quality of food on offer by the Shore House team is superb whether you dine-in or dine-out – and impressively, hot dishes are delivered to your villa in a high tech hot box that keeps the food in perfect just-come-out-of-the-kitchen shape. Even our fries were delivered just as crisp and tasty as our dine-in experience (but the bread needs a little work).
Facilities aren't the focus here at Al Hamra Beach which is understandable – you really won't want to leave the comfort of your private villa. There's a small gym, but apart from some basic cardio equipment it's probably not going to be enough for most gym goers – just take a break from the routine, we say. Of course there's a spa, and a main pool and a bar attached to the resort restaurant which looks lovely, but given the season it was too hot and humid to experience during our June visit.
Service certainly doesn't disappoint – in fact from the moment you enter the property, you are reminded of just why the Ritz Carlton brand is held in such high esteem. This is highly attentive, butler-style service in akin to St. Regis, as opposed to the more laid back atmosphere of Alila from which we had just journeyed. The difference in styles is immediately noticeable and really raises the luxury factor of the experience.
We absolutely love the unique offering that Ritz Carlton Al Hamra Beach Villas provides – especially so close to Dubai. If you want to get away to your own private slice of paradise with all the creature comforts that seasoned luxury travellers come to expect, then look no further. This is truly one of the Middle East's finest luxury resort properties.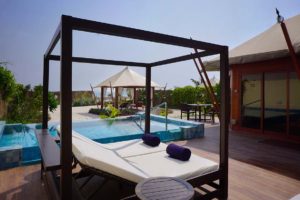 Facebook Comments