You may be surprised that this 'project', located on the new Bluewaters Island off the coast of the Dubai Marina, has pretty much nothing to do with London, save for a gin bar. Or, you may not be surprised, depending on how long you've lived in Dubai.
Bluewaters Island, home to Caesars Palace (and its mind-numbingly safe Ramsay concept, Hell's Kitchen), is the latest in a string of waterside dining and entertainment precincts to pop up in Dubai. With La Mer, The Pointe and Al Seef all launching in the past 12 months, this is a segment that's becoming very heavily populated very quickly. Luckily, Bluewaters has the additional attraction of the new Ain Dubai to set it apart, though the constant delays mean you won't be seeing any action from the new Dubai icon any time soon.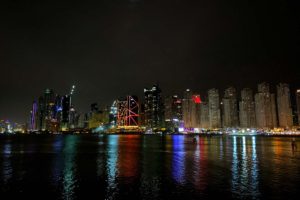 The London Project, or TLP as I shall henceforth abbreviate it to, is a three-story behemoth with multiple dining rooms, a casual adjunct serving baos and sliders (The London Slide) and the aforementioned Gin bar (which is very pretty we might add). The views from the terrace are rather stunning, but it was the depths of Dubai winter (so around 19 degrees Celsius) and we just weren't rugged up enough. Inside it is, but this needn't be a detracting factor – the interiors are lush, in a lots-of-foliage way, that reminds us of a pared-back version of the jungle-esque Mamazonia.
Our first taste of TLP's food is the Buttermilk Chicken with chipotle aioli (55dhs) and while the chicken is juicy and tender, we prefer battered chicken to crumbed so texturally it's not working for us and the aioli is much too smoky for our taste.  The Pulled Beef Soft Shell Tacos (70dhs) don't fare much better, sadly – they're undeniably pretty to look at, but the pulled beef has a very 'beef stew' flavour rather than the Latin flavours we're hoping for, so this dish doesn't really work for us either.
The Slow Cooked Lamb Bao (75dhs) would be our pick of the starters that we tried. The menu says it contains pickled cucumber, roasted cashew nuts & wasabi yoghurt, but we couldn't find the yoghurt – adding some more of it into the mix should make this an excellent dish.
Heading on to mains, we try the Wild Mushroom and Truffle Gnocchi with wild mushrooms, slow egg & porcini beurre monte (120dhs) which is been loved by our friends AtoZaatar and OutAndAboutUAE.  While we liked the texture of the fluffy gnocchi, we weren't that enthused by the dish as a whole – perhaps it was the slow-cooked egg (something we are well over).
The Hazelnut Crusted Chicken with smoked a la Grecque carrots & paprika brown butter (110dhs) felt like it should be served at a health retreat – it just wasn't indulgent enough for us. We're not fans of chicken breast (too bland) and again, the chicken was crumbed (the hazelnut crust). Like the buttermilk chicken, the smokey note that we're not into was back again – it's not something we'd reorder but if you like chicken breast, then maybe this is for you.
The accompanying Strawberry and Avocado salad with gem lettuce, cucumber, strawberries, toasted macadamia & creamy avocado dressing (90dhs) sounded utterly amazing on paper but had the consistency and taste of cardboard on the plate. We're just not sure where this one went so wrong, going by the ingredients it sounds right up our alley.
The same issue reared its head with TLP's 300g Chocolate Fed Wagyu Strip Loin (520dhs). Apparently, it's Wagyu hailing from Australia's Mayura Station, but it had no flavour whatsoever. No seasoning, nothing. To be honest, I'm not even sure we'd have picked it for steak had we tasted it blind. Cue cravings for the 25dhs NZ Rib eye steak (from Kibsons, FYI) that we cook at home on our Staub grill pan…it annihilates this dish that clocks in at a whopping 20X the price. The Miso asparagus (30dhs) that accompanied the steak unfortunately also fell flat.
In an unusual turn of events, desserts might have been our favourite part of the meal – something that is definitely not usually the case! The Caramel and Bergamot (40dhs) featured Earl Grey ice cream, poached apricot, dulce de leche cremeux, sesame tuile & popcorn powder…and we loved it, the best of the lot by far. We also tried The Gin Garden (55dhs) which had a lot going on but was nice and fresh, featuring vanilla yoghurt parfait with strawberry sorbet, strawberries, yoghurt crisp & gin granita. The last dessert was Queenie's Chocolate Torte (55dhs), served with frosted hazelnuts, Queenies estate coffee ice cream & raspberries. As far as chocolate cake goes, it was a pretty good one – but we'll admit chocolate desserts just don't get us going.
The cocktails on offer are fab, however – here's what we tried, all of which we enjoyed:
Bricklane (77dhs) Ophir Spiced Gin, Spiced Ginger Solution, Coconut Cream & Pineapple Juice
English Rose (69dhs) Hendrick's, Berry Caviar, Rose Petal, Premium Tonic, Botanical
Citrus Tipple (73dhs) Tanqueray no.10, Pink Grapefruit Caviar, Lemon, Orange, Elderflower liqueur, Premium Tonic & Botanical
We think TLP probably justifies a visit for the views and the cocktails alone. Would we return for the food, no, not at this stage – flavour and seasoning wise, it's just not our cup of tea. So far, Bluewaters shaping up to be a fun island, but not one for foodies just yet. Perhaps we'll take it for another whirl once Ain Dubai is open…
Have you been to The London Project? Let us know your thoughts! 
Facebook Comments