At over five years of age, Depot is somewhat of a stalwart on the Auckland dining scene. From the stable of NZ celeb chef Al Brown and until recently helmed by Kyle Street (who has gone on to open Culprit on Wyndham St, at the site of the former Black Hoof), it's casual and cosy, serving up Kiwi inspired seasonal fare.
You'll usually struggle to get a seat, and you can't book – so best arrive early, put your name down and perhaps pop across to Sky City Casino to try your luck at winning your dinner bill back. We managed to get seated at the bar straight away, and that's probably your best bet if you're a table of two. Tables are very much on the cramped side, so unless you're a larger party you're not missing out on much by sitting at the bar – the service is pretty friendly there too.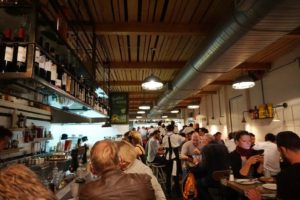 Depot hangs its hat (and part of its full name) on its oysters – but tonight, a sign outside reads, "Shucks, we have run out of oysters!". We were informed of this again when requesting a table also, which is great service – you'd hate to come with a hankering for slippery molluscs and be disappointed. Strangely, for an oyster bar, their website also mentions oysters are off the menu – so it seems like more than just a one-night sell-out. I'd love to know the reason behind the omission. Must make proceedings a little tricky for the staff, but luckily Depot is not a one trick pony in the least. There plenty of options for meat lovers, a couple of smaller plates and sides options for veggies, but the menu is fairly compact on the whole if you take out the raw section.
It's been a good three or four years since I've taken Depot for a spin, and I'm surprised to see the two large plates and one of the sides I had on that visit are still on the menu. The side that I really loved, however, and have adopted into my home repertoire (maple glazed kumara with Al Brown's own Whitestone smoked butter), is absent, with just four sides on the menu now. In all honesty, I expected that the menu would look quite a bit different after such a long period of time, and sometimes I feel that can be a potential pitfall of being one of many restaurants in a celeb chef portfolio. I do suspect, however, that I may have just happened to memorise the most loved dishes on the menu and they've remained on the menu due to their popularity. (I'm probably not noticing all the other new additions, especially if they are in the seafood department). Saying that, it doesn't look like the masses are too unhappy that the menu stays fairly consistent, as it's packed as always. New Zealand does seem to excel in the 'dishes I want to eat more than once in my life' category though, so perhaps Depot has the formula just right.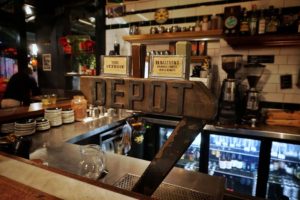 With all that demand, I can understand why Depot crams in as many diners per square foot as possible – but due to this, as I previously mentioned, tables are small. It might pay to order in batches as it's not easy to fit everything on the table if you have multiple diners. To save space (or perhaps just for hipster aesthetics) wine is served in tumblers, which I just cannot do. Nope. No point buying a good wine and drinking it out of a thick $1 tumbler, am I right? If you read my reviews you'll know I'm a stickler for the right wine glass so my views should come as no surprise on that topic. Never fear, though, just ask for a stemmed glass and you shall receive – despite the fact that they are short and small and from the sports-club-industrial-dishwasher-friendly family, they are Spieglau and the bowl is made from pleasingly thin glass, so your fine wine won't be totally ruined. Speaking of wine, there are some well-priced options on the menu and I was pretty pleased with our bottle of Framingham Chardonnay for a very reasonable $52.
Complimentary pita bread is served to start, and from what I can gather, the accompaniment changes regularly. On our visit it was red bean puree with fennel oil, certainly different. Can't say I come across fennel oil often, and I rather enjoyed its sweet flavour paired with the earthy red bean.
I'm a bit rib-mad at the moment, and I'm especially fond of the lamb variety – so I was pleased to see lamb ribs with skordalia on the menu. They didn't disappoint – flavoursome with just the right degree of tenderness, reminding me somewhat of a similar dish at NYC's much lauded Estela. You'll be fighting over the last rib.
Our side of street corn was fantastic value with four small cob sections coming in at a tiny $6.50, and they were so delish I definitely could have demolished an additional plate had I the stomach space. They weren't piping hot however, and nor was our main of pork hock surprisingly, even after factoring in my (unusually quick in this instance) photography time. Speaking of the pork hock, it was cooked to perfection, falling off the bone whilst still retaining good structural integrity. (Can you describe meat as having structural integrity? Why not, I say.) The apple and horseradish salsa verde was a great foil to offset the richness of the hock, though I would have liked it amped up a bit in the seasoning department (a little salt made it really come to life). Speaking of salt though, I was a bit disappointed to see battered table salt shakers at an establishment of this calibre – as 'casual' as the ethos may be, at the end of the day good food deserves good salt to reach it's full potential.
Depot serves up well-executed, hearty kiwi food in a casual kiwi atmosphere, its longevity on the scene a testament to the quality of food coming out of the kitchen. Come early, expect a wait, and bring a group so you can try as many of the sharing style plates as possible – I'll certainly be on the look out for some new protein dishes on my next return. Don't forget to pop next door to Sky City and try your luck – rather pleasingly, we won our bill back after dinner. But even if you're not as lucky as we were at the on the gambling front, your meal at Depot is sure to be a winner.
Details:
86 Federal Street
09 363 7048
7 Days from 7am
Facebook Comments